If the siding of your home is starting to look drab, it may need a new exterior house color. If you're wondering which paint color (or colors) to choose, the answer depends on your home's architecture.
When buying exterior paint for your humble abode, pay attention to the style of the house. Do you have a Cape Cod? A colonial? Or perhaps a farmhouse or contemporary home? Each architectural style has a color or color scheme that suits it best, so if you're looking to up your property's curb appeal with a different color, consider the style before buying a can of paint!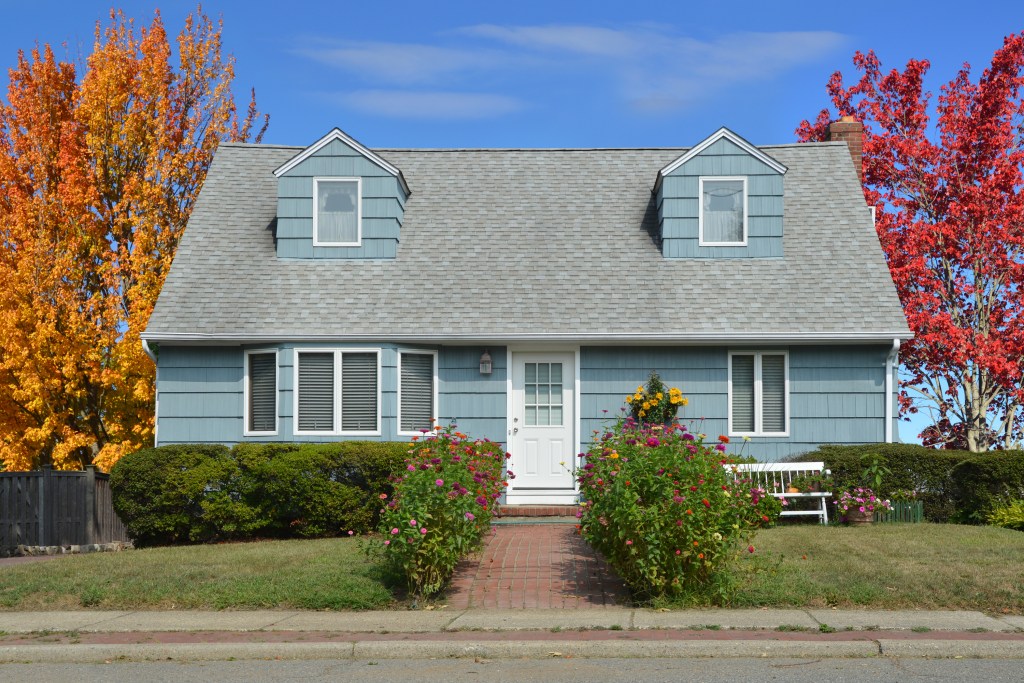 Cape Cod
For the most part, Cape Cod houses are pretty traditional. There's nothing too ornate about the exterior of these homes, so there's an opportunity to make a statement with a pop of color.
To respect the ar while adding a touch of personality, you can't go wrong with pale yellow or a baby blue. These fun colors will bring out the simple accents of the house without being too ostentatious. If you're feeling especially bold, consider painting your front door a dark, bold color to contrast the lightness of the exterior paint. Colors like forest green, sapphire blue, and burnt orange can add a little excitement to your home without overdoing it on color.
Colonial
The colonial home is similar to the Cape Cod style, only more uniform in style. To match the stately facade, we suggest painting the exterior with a dark, warm yellow or a deep blue-gray tone. Whether your colonial features brick or wood shingle siding, these moodier hues can bring attention to the traditional features of the home, especially when paired with white window shutters.
Farmhouse
For farmhouses, we advise using a light cream or beige for the exterior. Farmhouses give off a light, airy, and natural vibe. You want the exterior to reflect that, so keep it simple, clean, and minimal.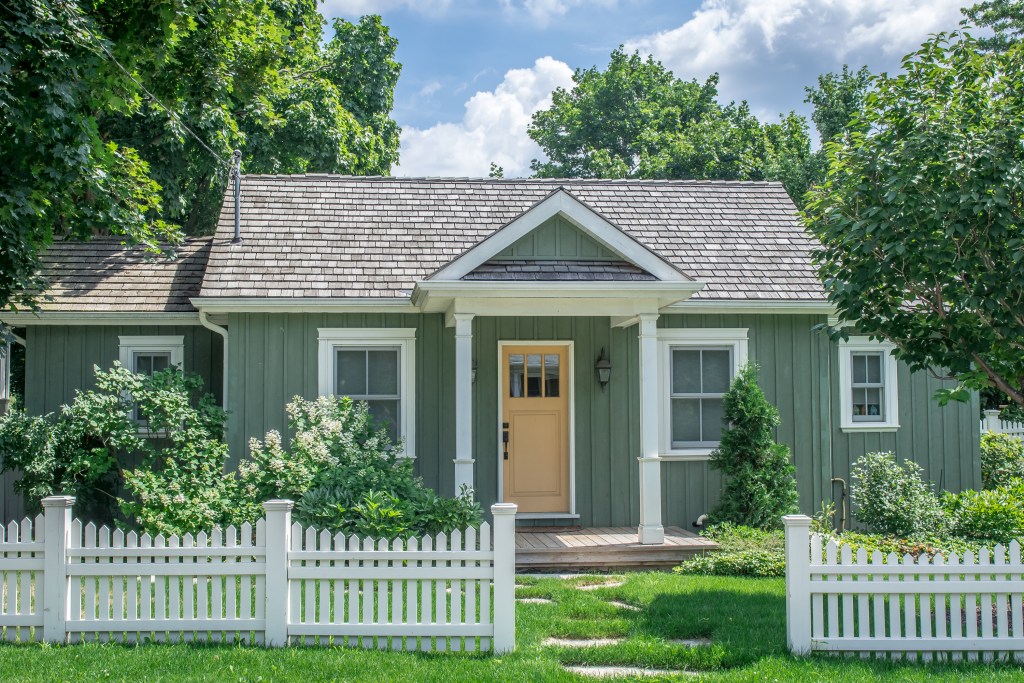 Cottage
Cottage homes are cute and chic, so you will need a fun, playful color like mint green or light pink. These types of homes are evocative of springtime, open fields, and nature, so try to incorporate those elements into the exterior. While many cottages have a white or pale gray exterior, adding a fun, light color can give the home some much-needed curb appeal and excitement. Cottage-style homes tend to be smaller, so stick with lighter shades to catch the light and make your house appear a bit grander.
Ranch
Ranches are generally angular in style, with at least one — and often more — pointed rooftops. Because of all those hard edges, you'll often see ranches in neutral colors without anything too bold, as it can make the house look uninviting. However, you don't need to shy away from color altogether. We suggest opting for forest green or navy blue, two colors that will keep it neutral while showcasing your style. Plus, adding forest green siding will complement the light beige or brown accents that often adorn the exterior of these homes.
Victorian
Victorian homes are beautiful works of art, and anyone who owns one is surely proud of it and wants to show off its delicate and intricate exterior design. Traditionally, Victorian-style homes have dark-colored exteriors as they are a cousin of gothic architecture, but the tones tend to not be so dark. We suggest going for a mid-toned maroon to help your Victorian home shine in all its glory and show off its unique features.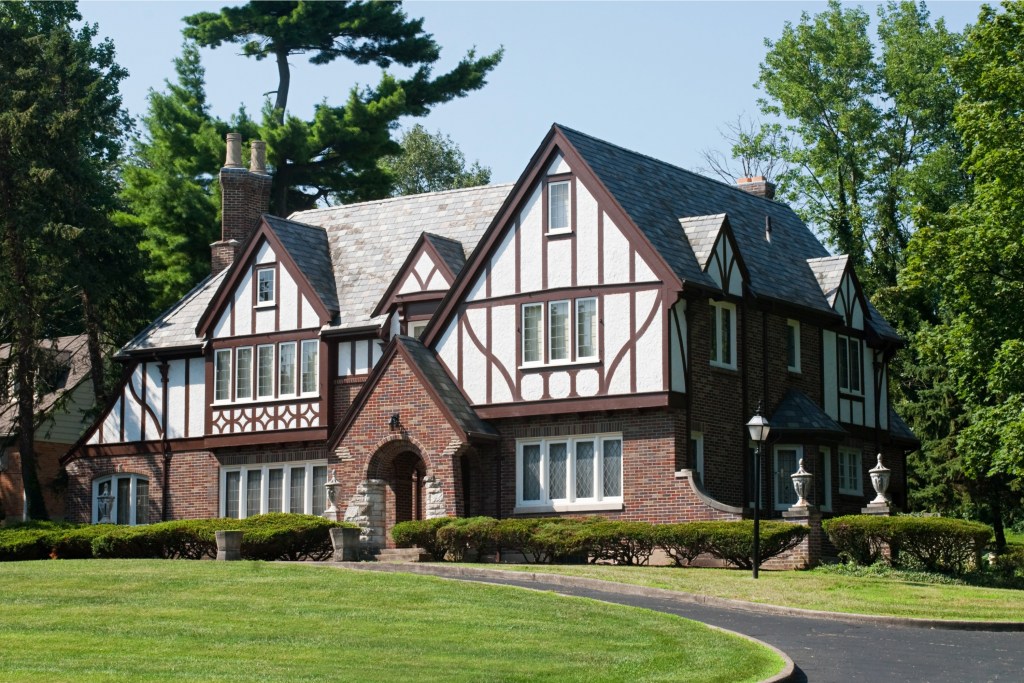 Tudor
When it comes to Tudor homes, we say stick with the basic browns and beiges. Typically, Tudors are two-toned, though, so there is always the option to switch it up by incorporating lighter and darker shades of the base hue.
Contemporary
Similar to Tudors, contemporary homes have a tried-and-true color scheme that we suggest sticking with. Sleek black, white, and gray colors are perfect for a contemporary home's modern design. If you do want to switch it up, consider trying gray, blue, mauve, or other understated tones.
Choosing an exterior house color can certainly be tricky. It's a big decision because you need to commit to buying a lot of paint and staring at the color every single day. It can also impact the curb appeal of your house and potentially its property value when it comes time to sell.
No pressure though! Just remember what the architectural style says about your house. Each type of home has its own best colors that work nicely, so whether you own a Victorian or a cottage, you can pick the right shade without a second thought.
Editors' Recommendations