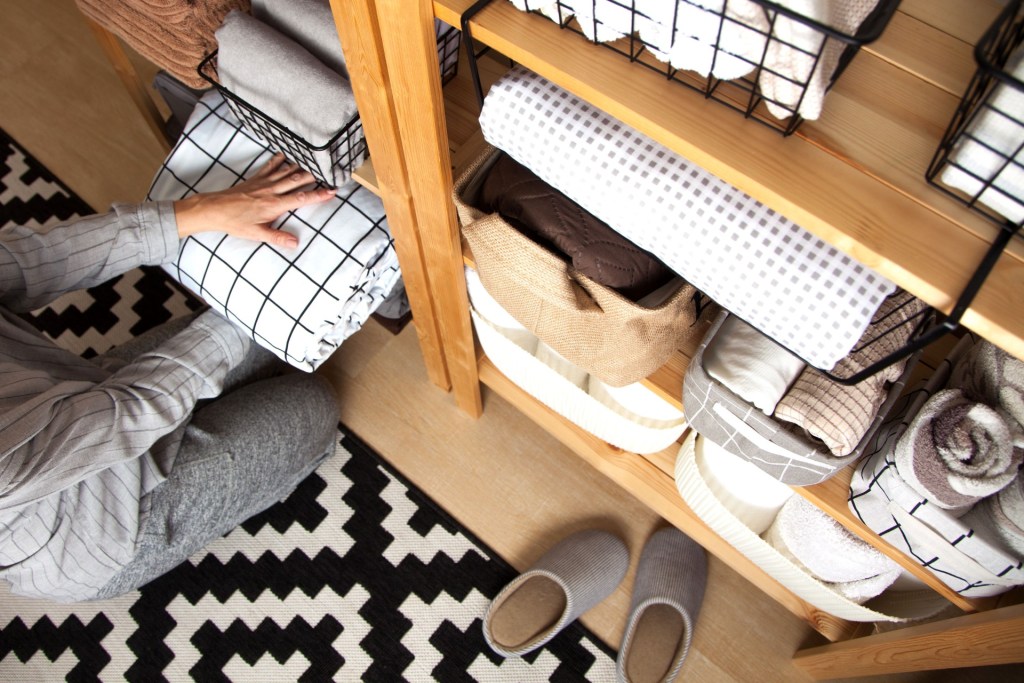 Linen closets tend to be a catchall space that holds everything from towels and sheets to toiletries and first aid. They need to hold a wide array of items and be arranged in a way that makes them easily accessible. Sound like an impossible task? The key is creating a well-organized system that keeps everything in its place. These Amazon space savers will get your linen closet tidy and keep all its contents in order.
Add more storage in otherwise unused space. Make the most of vertical space with this Simple Houseware Organizer Tray. It attaches tool-free to the bottom of shelves and gives you the perfect spot to store wash and hand towels or other small items.
Amazon.com: 2 Pack – Simple Houseware Under Shelf Basket, White: Home & Kitchen
Sometimes you just need to outline the perimeters. These Evelots Wire Shelf Dividers will help keep everything in line. Establishing sections will help keep towels and sheets in orderly stacks and define zones in your linen closet.
Amazon.com: Evelots Closet Wire Shelf Divider-New & Improved-Separator-Easy Clip-Steel-Set/8: Home & Kitchen
Double your shelf space with the mDesign Stacking Storage Shelf. Fold sheets or large bath towels underneath and place smaller matching pillowcases or hand towels on top. Another bonus—it can be easily moved to give you flexibility if you want to change your setup down the line.
Amazon.com: mDesign Farmhouse Metal Stacking Storage Shelf – Closet, Cabinet, Countertop 2-Tier Raised Organizer – for Bedrooms, Bathrooms, Entryways, Hallways – Graphite Gray: Home & Kitchen
Hang this MISSLO Organizer on the back of the door to create storage where there was none. Its 80 clear pockets are perfect for holding nail trimmers, ponytail holders, cotton swabs, and other small items.
Amazon.com: MISSLO Hanging Jewelry Organizer 80 Clear Pockets & 7 Hook Loops Storage for Storing Jewelries, Earrings, Necklaces, Makeups, Hair Accessories organizers in Closet, Travel, RV: Home & Kitchen
Need another spot to check yourself before heading out for the day? These Beauty4U Self-Adhesive Mirror Tiles will instantly stick to your linen closet door—no tools required. You can arrange them in a variety of configurations to fit the space you have.
Amazon.com: Beauty4U 4-Piece 12 Inch Wall Mirror Full Body Mirror Wall-Mounted Frameless Mirror Hanging Door Mirror Home Workout Gym Mirror for Wall Glass Mirror Tile Self Adhesive: Kitchen & Dining
You can store extra shampoos, soaps, and other toiletries in this Madesmart Two-Tier Organizer. We love the slide-out baskets that allow you to see all the contents easily. The baskets have dividers to keep everything inside in its place.
Amazon.com: madesmart 2-Tier Organizer Bath Collection Slide-out Baskets with Handles, Space Saving, Multi-purpose Storage & BPA-Fre, Large, Frost-with Dividers: Home & Kitchen
If you prefer a more uniform closet, these StorageWorks Bins can be placed on shelves and hold rolled towels or larger items such as cleaners and extra toilet paper. Their wire frame is wrapped in a strong canvas, and their modern, sleek design will make any closet instantly more upscale.
Amazon.com: StorageWorks Storage Bins For Shelves With Metal Frame, Rectangle Storage Baskets, Large, Beige, 2-Pack: Home & Kitchen
Getting your linen closet in order can be a challenge, but taking advantage of every inch of space and keeping it tidy will save you time and make it easier to keep it that way. With these Amazon closet organization tools, you can order and implement them within a few days.
Editors' Recommendations