If there's an attic that's going unused in your home, you've got an opportunity on your hands. While their angled walls can make attics a little wonky at times, many often come with plenty of natural light and character for miles. An attic's charm can make it the perfect place for a cozy bedroom for kids, guests, or, if they're big enough, even a main bedroom. Adding a bedroom can not only increase the property value of your home, it can also be an economical alternative to putting in an addition.
There are tons of cozy attic bedroom ideas to get you thinking about how to make the most of your space. Because most attics aren't huge, using the space in a mindful way will allow you to get all the basics necessary (i.e., bed, closet, dresser, lighting) without sacrificing any of the charm factor. Here are a few we love.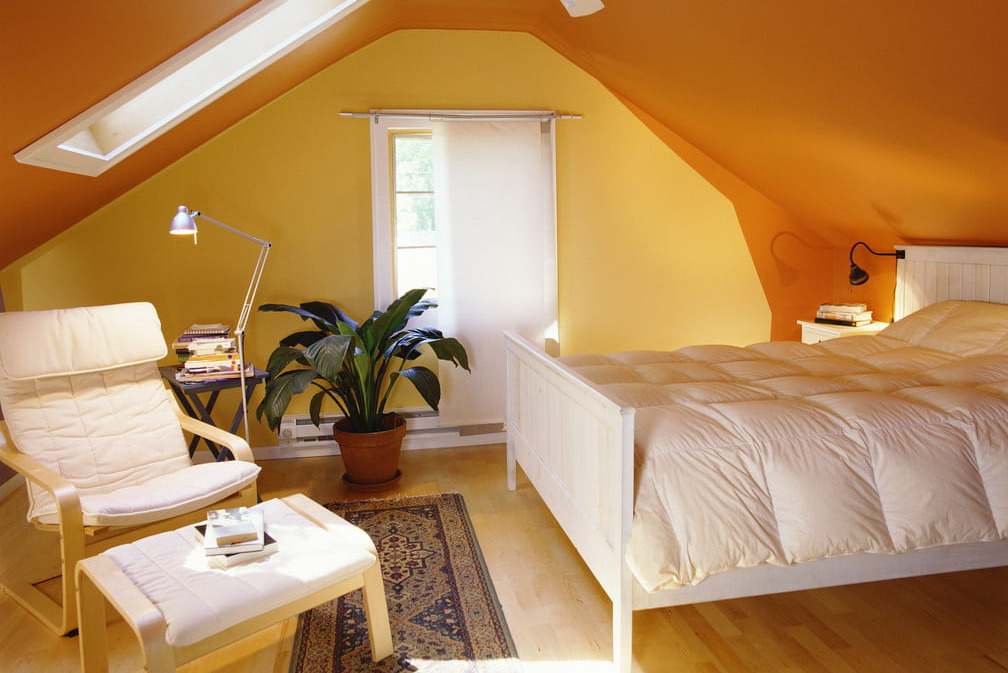 Small attic bedroom ideas you'll love
Because an attic has built-in character already, use that to your advantage when decorating. If your attic has slanted walls, paint them light, bright colors, and then accent with bold colors in your pillows, duvet cover, and bedroom rugs. That will keep the space feeling open and airy but cozy at the same time. If you have room, add a window bench that can be used as a reading nook or place to sit when you're not sleeping. You can also add built-in shelves under the bench for added storage for clothing.
Minimize furniture
Because attics are small, less is more when it comes to furniture. This could mean choosing a smaller bed without a bed frame (consider wallpaper on the wall behind your bed to frame it), a hanging hammock chair (like this one from Amazon) rather than a sturdy armchair, and dresser drawers built into the wall versus a large dresser.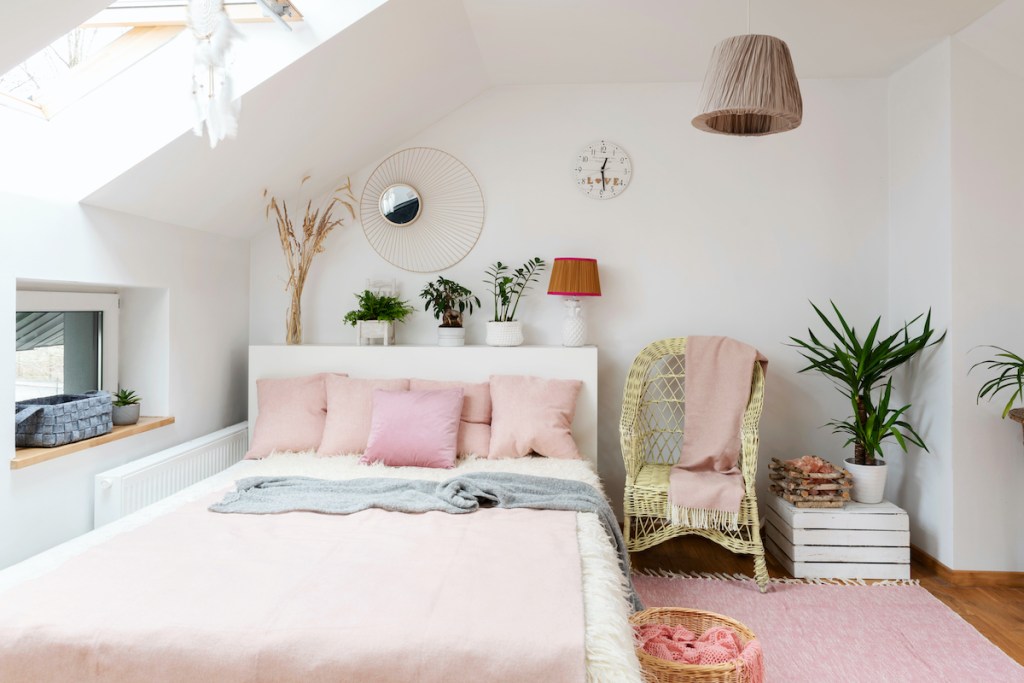 Use the character of the space
Use the character of the room to your advantage. If your attic has wood beams, give them a good cleaning and refinish them, so they come to life. If you have a small transom window, add stainless to restore the original charm. Find the quirkiest parts of the room and use them to your advantage when designing the space.
Don't forget about storage
If you've been using your attic for storing holiday decorations, suitcases, furniture passed down from generations, and other odds and ends, you may be worried about giving up the space for a bedroom. In actuality, if you're savvy about creating purposeful storage areas, you can have the best of both worlds. It may cost a bit more than store-bought solutions, but putting custom built-ins on one entire wall will allow you to make the most of the space and give every item in your room a purpose.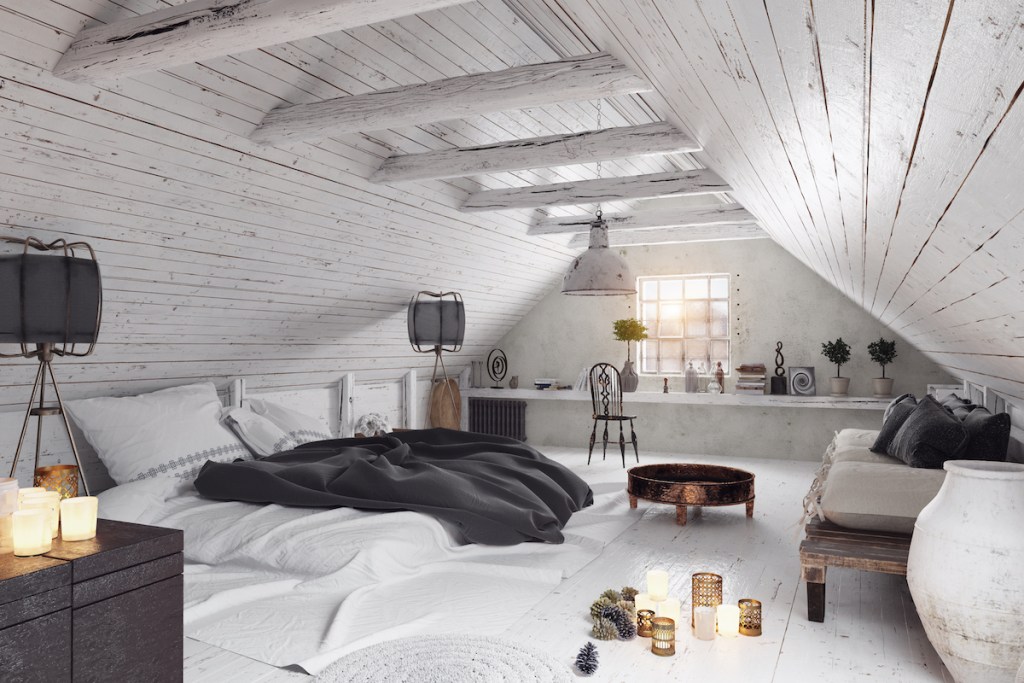 Embrace attic bedroom lighting
Lighting is key because attics can often be darker and feel closed in. If you don't have a large window to let in natural light, consider other light sources that will complement the space. This could mean hanging one large chandelier from a wood beam in the center of the bedroom, using track lighting on the ceiling over the bed and dressing area, or putting sconces on either side of the bed if there isn't room for bedside lamps. Floor lamps are also a great idea in a small bedroom because they can be put in corners or next to a reading chair and take up minimal space. You can also brighten things up with decor like house plants, candles, and mirrors that reflect light back into the room.
There are so many unique and interesting ways to design an attic, so don't be afraid to experiment. A small space may seem overwhelming if there are too many patterns and textures being used, so pick one or two and use the colors from them to add accents like pillows and wall hangings. Texture can be brought in many different ways, especially in an attic. If you have exposed brick, wood beams, or a chimney running through the room, take advantage of those elements and draw design choices and colors based on those. If you live in an old Victorian home, for instance, it's important to maintain the character of the past by keeping elements of the old while bringing it into today's design trends.
Your attic is a space that should be a usable part of your home, and a cozy bedroom is a perfect idea to transform an old storage room into an enjoyable space for family or guests coming to stay.
Editors' Recommendations