While the spare room is often reserved as a guest bedroom, not everyone hosts relatives or friends overnight frequently enough to require one. If this is the case, the spare room sits to gather dust, taking up valuable space in the home and only fulfilling its purpose once or twice a year.
If you're a homeowner who doesn't host many overnight guests, you might consider switching out the guest room for a more entertaining alternative: a movie room.
One way to use this space is to create an at-home movie theater, perfect for family movie nights. The at-home theater not only offers an amazing aesthetic perfect for binge-watching, but it can give a facelift to the traditional television room. Below are some steps you can take if you want to swap out your unused guest bedroom for an at-home theater instead.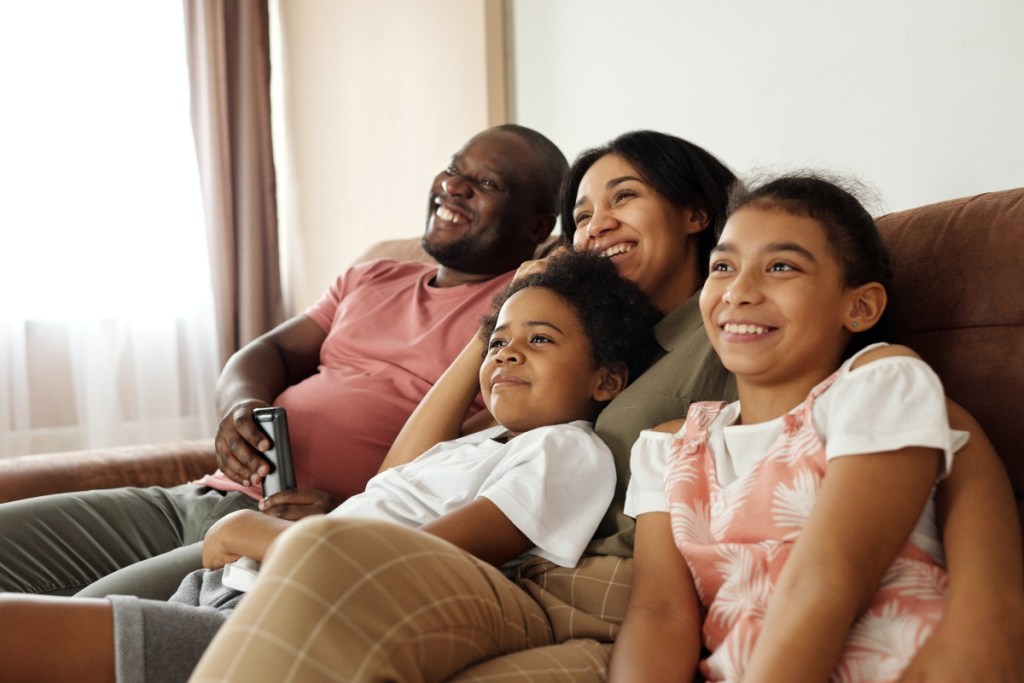 How to create an at-home theater
Step 1: Consider whether you want a movie projector or a TV.
One of the first things you'll want to consider is whether you prefer a projector or a traditional television. There are some things to consider when determining which will best suit your needs.
Square footage. If you're working with a smaller room, a movie projector might be more beneficial than a large TV. A projector screen can hang flat against the wall, while you can mount the projector from the ceiling or prop it up on a shelf. This is a much better solution for saving space than a bulky TV, which requires a console table and space away from the wall to sit properly and accommodate wiring.

Cost. When it comes to cost, projectors are typically more affordable than televisions. However, if you already own a working television, then you'll save money if you choose not to purchase a movie projector. Additionally, TVs often have built-in apps to allow viewers to access video platforms like Prime Video, Hulu, or HBO. If you opt for a projector, you'll also have to get an Amazon Fire TV Stick, Roku, or DVD player to watch your favorite shows.
Step 2: Ask yourself what aesthetic you're aiming for.
Your aesthetic might sway your opinion on whether to choose a projector or a TV. For example, if you like the idea of a classic popcorn machine, vintage movie posters, and an old-timey feel, you might gravitate toward a movie projector. They create a vintage feel with the light projecting through the air and the childlike wonder of seeing images on something other than a digital screen. However, watching movies during the day will not be as successful, as projectors require a dark room for proper viewing.
However, if you prefer modern aesthetics like contemporary, minimalism, or more tech-inclusive design styles, you might want to use a television. Large flat-screen TVs can feel ultra-high tech. TVs give off a modern and tech-savvy vibe with fancy sound systems, a sleek digital display, and so many customizable options to personalize your device.
Step 3: Determine whether you want surround sound speakers.
Surround sound speakers can offer an amazing viewing experience. It creates a movie theater feel right in the comfort of your own home. However, surround sound speakers can be costly and aren't a solid choice for every homeowner. Cost and space availability could be a concern to consider before making your choice.
Additionally, external speakers aren't necessary for TVs and some projectors. However, many projectors won't work without some sort of external speaker system, so keep this in mind when making your decision.
Step 4: Pick the right furniture.
When choosing pieces to furnish your movie room space, you want to consider your style preference, the comfortability of the piece, and any cool features that give the room a more "theater-like" feel.
Slouchy couches, reclining chairs, and large family sectionals are all great options for adding comfort to your movie room. Additionally, features like built-in cup holders, LED floor lighting or baseboard lighting, and carpeting can really add to the movie theater aesthetic.
Step 5: Consider the lighting.
Lighting is one of the most vital aspects of a successful movie room. We recommend skipping the overhead lighting — at least while watching movies. Instead, use low-light lamps or LED lighting along the "walkway" in your room, or simply skip additional lighting in favor of the television and projector instead.
Sound-synchronized lighting is also a fun tech addition to at-home theaters. If you're a tech-savvy person, this can be a great way to enhance the movie-viewing experience.
Step 6: Add some fun decorations.
While you could go for a simple, minimalist aesthetic in your space, some homeowners might find adding fun decor can really enhance the overall vibe. Movie posters, bookshelves with DVDs, neon signs, a movie ticket box, vintage film cameras, or signs that feature movie theater motifs can be amazing choices for decorating your space.
Step 7: Get an organizer for DVDs if you have them.
For some homeowners, DVDs are not just a thing of the past. Sure, we have digital movie platforms today, which we can use with only the push of a button, but some of us are still hoarding all of those DVDs we bought years ago. Instead of shoving them in a box in the attic, you could get an organizer and display your favorite films in your at-home movie room.
Step 8: Have a snack or drink bar.
Snack and drink bars can really amp up the look of a movie room. Having a table filled with your favorite treats or keeping a mini fridge with some tasty drinks in the room can reduce unnecessary breaks to run to the kitchen. This is particularly useful if your spare room is upstairs.
Additionally, a snack bar can be a great way to get creative and make a unique home theater setup. Also, a popcorn machine is practically a must-have. If you have the space for one, this is a fun way to really spruce up the room and create a unique, entertaining experience for you and your family.
The at-home theater can be ultra comfy and provide an amazing aesthetic that really amps up movie night with the family. From sound-synchronizing lighting to a vintage popcorn machine, there are tons of ways to create a luxe and incredible at-home entertainment space.
Editors' Recommendations