Smart home tech is everywhere these days. From light bulbs to refrigerators, these gadgets can make everyday life a little easier and much more efficient. But for every practical smart device, there's another one that is so niche it makes you ask yourself, "Who is this even for?"
As quirky as these devices may be, they're not always impractical. And after reading our list of the most unusual smart tech, you may realize that the person they're made for is you! If you're looking for out-of-the-box smart home technology, check out these strange and incredibly cool gadgets.
Technology for entertaining
While smart doorbells may help you greet your guests remotely, a lot of smart home tech can keep them entertained when they're visiting. One of our favorite devices is the Samsung Freestyle, a new portable projector introduced at CES 2022. This adorable gadget can instantly transform walls, ceilings, and any other flat surface into a television. Plus, it weighs less than two pounds and comes with a USB-C portable battery, so you can use it anywhere you want, indoors or out.
For those who throw frequent get-togethers (or just enjoy a stiff cocktail now and then), you'll want to check out the Bartesian Cocktail Maker. This smart gadget is like a Keurig but for making alcoholic beverages. Add water and your choice of spirits to the machine, insert the cocktail capsule, place the proper glass under the spout, and wait for your mechanical bartender to do the work for you!
Tech out your bathroom
Who doesn't love singing in the shower? There's a gadget that can make playing tunes in the bathroom even easier. The Kohler Moxie showerhead has a built-in Bluetooth speaker. You can pair the device with your smartphone to stream music and rock out while bathing. The speaker portion is removable, too, so you can recharge it without removing the whole showerhead.
Though they've been around for a while, smart toilets are still fairly uncommon, thanks mainly to their hefty price tags. But advancements are made every year to make these appliances better, cooler, and sometimes a little weirder. One of the most interesting smart toilets is TOTO's Wellness Toilet. The smart toilet will scan users' bodies and waste to analyze health data and offer wellness recommendations. While still a concept product at this time, it just goes to show just how far smart home tech has come.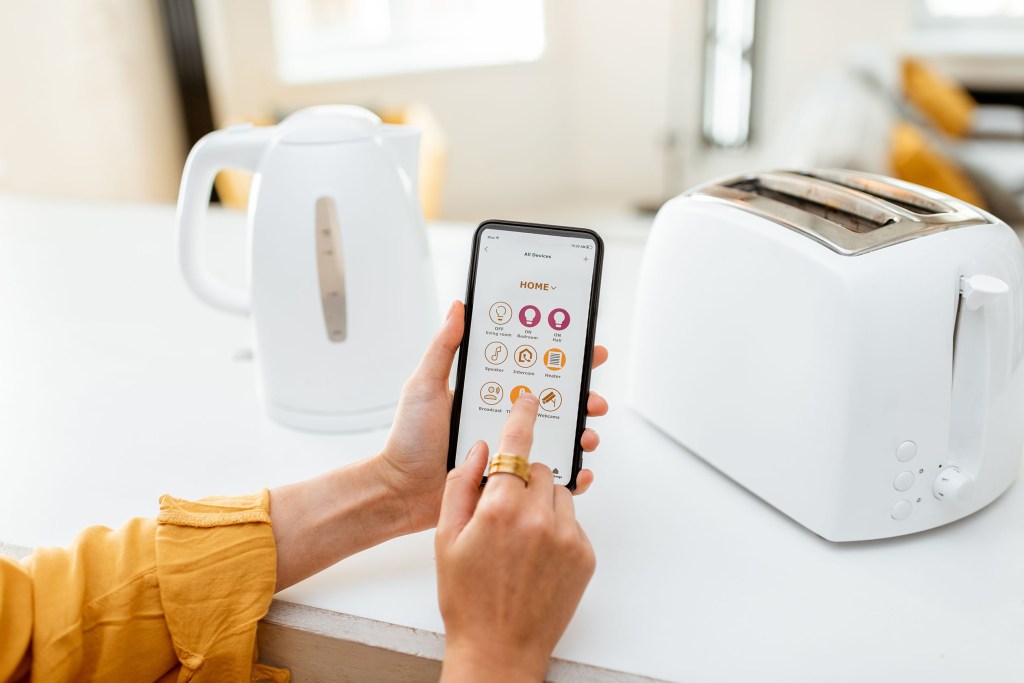 Kitchen smart tech
There is a huge range of smart kitchen products that can make precision cooking easy, help you stay organized, and aid you in tracking your nutrition goals. Here are a few of the weirdest kitchen gadgets you may not have known existed.
Smart devices for the rest of your home
But wait, there's more! These next three devices are designed to solve super-specific problems.
For busy pet parents
If you're always rushing out the door, the PetSafe Smart Feed Automatic Pet Feeder can be a godsend. The dry food dispenser connects to your smartphone, so you can fill your cat's or dog's bowl anytime from anywhere. You can also schedule meals or try the "slow feed" feature for pets that have a habit of scarfing down their kibble.
For avid online shoppers
Package theft is, unfortunately, a pervasive issue. If you get a lot of deliveries, consider buying the Danby Parcel Guard smart mailbox. Its WiFi connection, tamper alarm, and live stream camera keep packages secure. The durable plastic mailbox can also be bolted to the ground for added security.
For chronic oversleepers
Do you hit the snooze button more times than you remember every morning? This smart alarm clock rug may be just what you need to get out of bed every morning. The Ruggie Alarm Clock only shuts off when you stand on it for more than three seconds. Plus, you can set the alarm to play your favorite tune or an inspirational message for even more motivation to get out of bed and start your day.
Companies create smart tech devices to address common problems and simplify everyday tasks. Some gadgets fix issues that almost everyone faces. A smart thermostat, for example, can automatically manage your home's heating and cooling to keep the temperature comfortable and your energy bills low. Other devices, however, cater to less common wants and needs, like watching a movie outside or making breakfast without burning your toast. Though these devices may not be as widely appealing, they still make for some of the coolest and most interesting smart home gadgets on the market.
Editors' Recommendations