Most of us gather with family for our annual Thanksgiving Day feast, but Friendsgiving is just as important — after all, what are friends if not the family you've chosen? There's no set date for Friendsgiving (though it usually occurs on a weekend in November) but you get to gather with your best friends and give thanks for all of the fun memories, wild times, love, and support.
Much more laidback than a traditional Thanksgiving dinner, Friendsgiving is more about fun times, without the awkward table conversations with Aunt Gladys. It's about blending your family recipes with the family recipes and traditions of your friends, and gathering together to eat, drink, play games, and laugh, days, or even weeks, before the actual holiday rolls around. If you've been thinking about hosting and want to wow your friends with a fantastic Friendsgiving celebration, we'll show you how!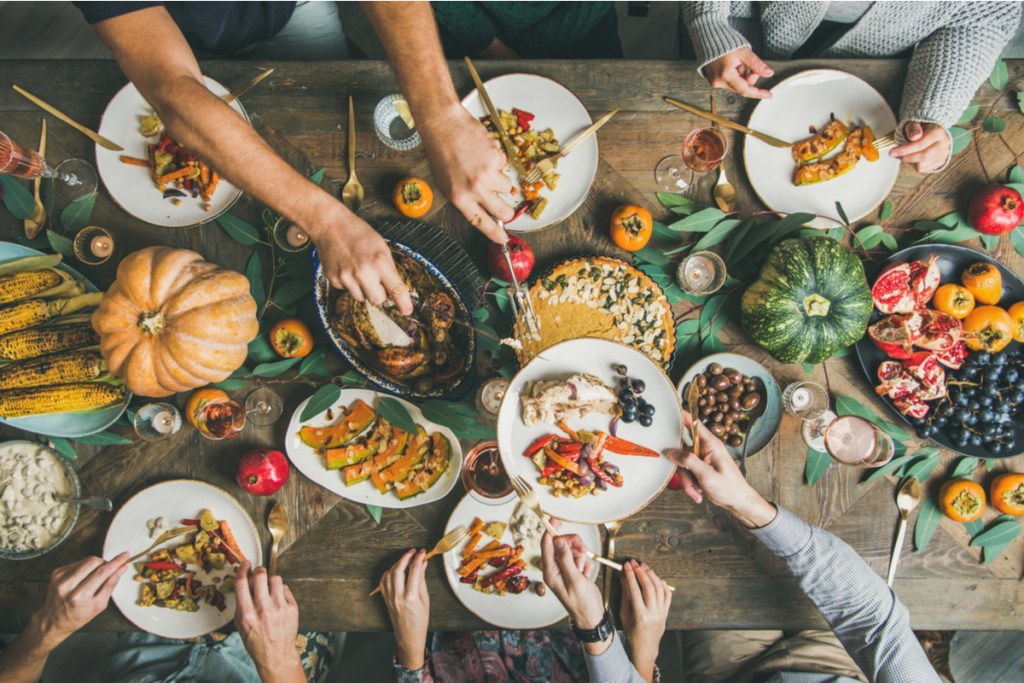 Friendsgiving ideas to help make your event a success
Plan ahead
Start by sending out invites as early as possible. If your group is relatively small, a group text should suffice. Provide details on the day (usually a day other than the actual Thanksgiving holiday) and time, and a general idea of what they can expect. Maybe call out that it will be a potluck event and that everyone should start thinking about what they would like to make/bring. Give your friends plenty of time to plan (or procrastinate) depending on your friends.
Delegate
Hosting any type of event can be hard, but a full-blown Thanksgiving meal is particularly challenging. Friendsgiving celebrations are meant to be potluck events, with everyone contributing something to the occasion.
As the host, you get to set the tone for the holiday. Draw up a general idea of what you'd like included in the meal — the number of appetizers and side dishes you would like, if you'll be having turkey, chicken, ham, or another main course item (not everyone wants to do two big turkey dinners in a short time frame), which types of desserts you'd like, etc., and then open up the discussion for volunteers.
Keep a current list of who is bringing which item/items to avoid duplication and ask everyone to bring a beer, wine, or mocktail beverage of their choice. To stay organized (and avoid having to deal with a lot of redundant questions) set up a Google Docs for everyone to have access to the online signup sheet — it's free and it's easy to use.
Make sure there is food for everyone
A good host wants every guest to feel welcome — and well-fed. So check with your guests to make sure that there aren't any dietary restrictions (peanut allergies, gluten sensitivities) that you should be mindful of for guests or their significant others. If one or more of your guests are vegetarian, be sure there is at least one dish hearty enough to serve as a main-course alternative. Hopefully, the non-meat-eater will offer to bring it.
Decorate
Set an attractive table — even if you're using disposable plates and napkins. After all, Friendsgiving is a once-a-year event. If you have china, why not pull it out of storage to use? China always makes a meal feel more special.
Create a simple centerpiece of autumnal flowers, mini pumpkins and gourds, fall leaves gathered from the yard, and votive candles. For longer tables, consider creating several smaller arrangements along the length of the table.
Accept help when it's time to clean up
Your friends don't want to see you working hard in the kitchen while they're having fun. That's why it's perfectly okay to accept their offers of help when it's time to clear off the table, wash the dishes, and pack away the leftovers.
Speaking of leftovers… Stock up on disposable containers for leftovers, so each of your guests can leave with a few edible parting gifts.
Arrange a time for games
Once everyone has had their fill of food, it's time to get the party games started. You can pull out some classic board games, play trivia games from phone apps, or a rousing game of charades that can become an annual tradition. If your event is during the day, you can organize a game of touch football at the park to help work off those holiday calories and fend off the inevitable nap.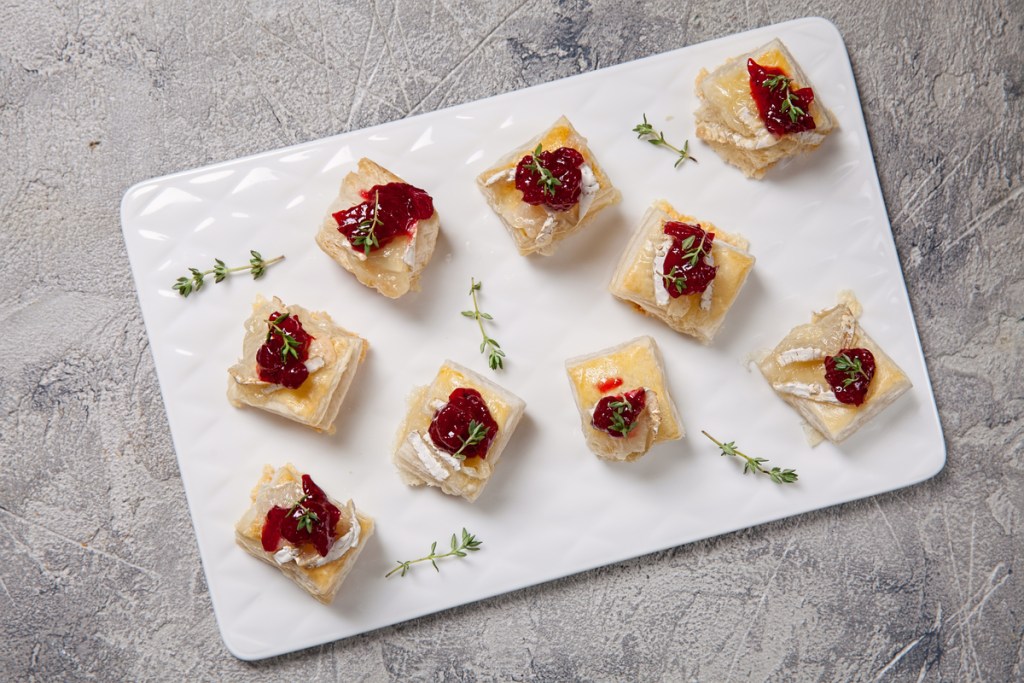 Make a signature holiday appetizer
Try this truly elegant — and super easy — appetizer recipe and prepare to wow your friends. No one needs to know that it's just three ingredients and is virtually foolproof!
Cranberry Brie Bites
Ingredients
12 frozen mini phyllo cups (you'll find them in the freezer section of your grocery)
6 teaspoons triple cream brie
6 teaspoons cranberry sauce (homemade is best, but if using canned, use the whole berry type)
Instructions
Preheat oven to 350°F.
Place the phyllo cups in a mini muffin tin.
Fill each cup with about 1/2 teaspoon of brie.
Bake for 10 minutes, until cheese is melted and cups are golden brown.
Remove from oven and top each cup with 1/2 teaspoon cranberry sauce.
Friendsgiving is all about honoring the bonds of friendship with some of the people you care about most in the world. By following our tips, you'll throw a truly memorable Friendsgiving, minus the stress, so you can enjoy every moment with your friends.
Editors' Recommendations