If you're a self-proclaimed bookworm, you might be drowning in paperbacks and hardcovers. Books take up a lot of space, and the fact is, staying organized in a space like that is a little tricky. From utilizing unused space to ordering practical furniture, we're here to show you how to organize books in your home. Take a look at these three smart ways to organize lots of books in a modest space.
Order a floor-to-ceiling, custom built-in shelf
Built-in shelves are life-savers when it comes to learning how to organize a library that's wanting for space. These custom furniture pieces fit specifically to your wall and can be placed anywhere where there's extra space. A whole wall is a sensible choice if you have the space, but consider building around a doorway, a mantel, or even around your headboard if you don't.
Keep in mind that you might need permission to build directly into walls if you're a renter. In this case, wall-to-ceiling stand alone bookshelves achieve the same effect and look just as great.
Invest in secret compartment furniture
If you want to keep your collection of texts out of sight, secret compartment furniture is the answer. Think benches with flip-top lids, coffee tables with cabinet doors, and under-the-bed sliding drawers. You can also find sliding drawers to tuck under your couch or end tables. This way, all the textbooks and novels won't have an effect on your home's aesthetic.
Still short on space after shopping for some secret storage furniture? Transform an unused hallway or bedroom closet to a mini library. Choose a standalone shelf or a mini dresser to maximize the space without building any custom decor. If you can't hide the library you've built on over the years, Apartment Therapy suggests using a bookshelf as a 'wall' to section off a room.
Create a hallway library
If there's no way you can fit more furniture into your living room or sleeping space, don't worry – there are plenty of unused spaces you might have missed. You can utilize hallway space by hanging floating shelves across its length. Thin, freestanding shelves also work, and you still have enough space to comfortably pass through.
If you're lucky enough to have a little extra room in your hallway, consider cube shelves. You can use the cubes for lots of books and the extra space on top for more decorative pieces.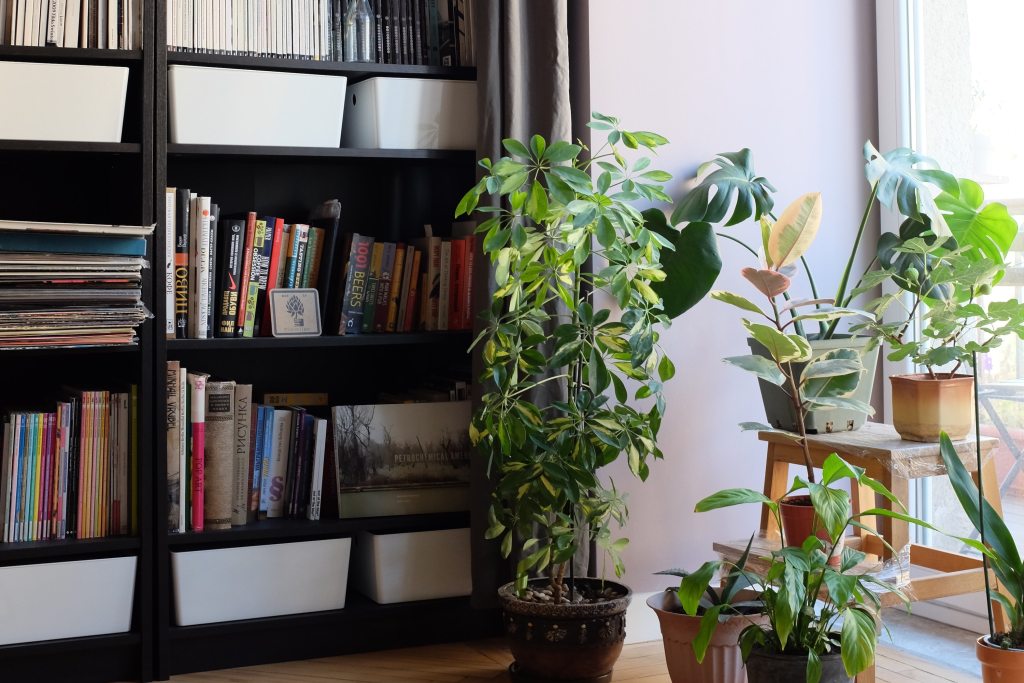 How do you organize a bookshelf with a lot of books?
Lots of books means lots of different ways you can organize your shelves. Serious library buffs will alphabetize by category and by author. Another idea is to organize by color and create a rainbow palette on your shelf. Stack books both vertically and horizontally wherever there's space. In any other situation, this can look haphazard and messy, but with books, it looks quirky and personalized.
You can also organize your books by the order in which you read or will read them. For polyglots, you can categorize them by language if it's easier for you to keep track that way.
How do libraries organize books?
Libraries typically organize books through the Dewey decimal system, but seeing as nobody will be "checking out" books out of your home with a scanner and serial numbers, we can tweak the method a little. The Dewey system categorizes books by genre and then by alphabet corresponding to the author's last name, states Britannica.
If an author has multiple books in the same category, the books are organized alphabetically by title. The Library of Congress uses a similar method and within each category, there are even more subcategories for extra distinction. Of course, when you're dealing with millions of books, it doesn't hurt to be specific.
How do books stay organized?
Learning how to organize books is really a personal journey. Try one method, stick to it for at least a few weeks, and assess how much your personal library is (or isn't!) organized. We humbly suggest that when you're finished with a book, put it back to its designated spot.
We repeat: put the book back where it belongs, and don't fall into the trap of leaving one on the coffee table, thinking you'll get to it later. Next thing you know, the single book turned into a stack of ten with five others scattered around the room. We know, we've been there.
Your tablet might be full of unread works, but there's nothing like flipping through the pages of an analog book. Keeping your collection neat can be challenging, especially in an apartment or full house, but that's about to change. Now that you're armed with new knowledge about how to organize books in a small space, we hope your space stays as organized as your favorite public library.
Editors' Recommendations