Lunches are a great time for crisp, healthy meal selections. Heavy comfort food, while certainly warm and delicious, is not wise in the middle of the day, since it tends to leave you tired and overly full. A light, nutrient-packed lunch, however, gives you the energy and focus you need to finish off your day strong. Japanese cucumber salad, also known as "Japanese pickled cucumber salad" because of its distinct vinegar flavor, is a perfect side dish to your soup or sandwich, and it's super easy to make.
Japanese cucumber salad recipe
With crisp Japanese cucumbers, flavorful rice wine vinegar, and crunchy sesame seeds, this cool side dish has an excellent combination of flavors and textures. This simple recipe takes minutes to make, and you'll be grateful for the easy and nutritious addition to your lunch.
Ingredients
2 Japanese cucumbers
1/4 cup rice wine vinegar
1 tablespoon soy sauce
1 teaspoon sesame oil
2 teaspoons sesame seeds
1 tablespoon sugar or honey
Salt and pepper, to taste
Instructions
Slice cucumbers as thinly as possible, and then cut them in half to create half-moons.
In a mixing bowl, add cucumber slices, salt, and pepper, and mix until the seasoning is evenly coated.
Add in sugar or honey, rice wine vinegar, sesame oil, and soy sauce, and mix until all cucumbers are evenly coated.
Let the cucumbers marinate for roughly 20 minutes.
Sprinkle sesame seeds on top of the salad and serve chilled.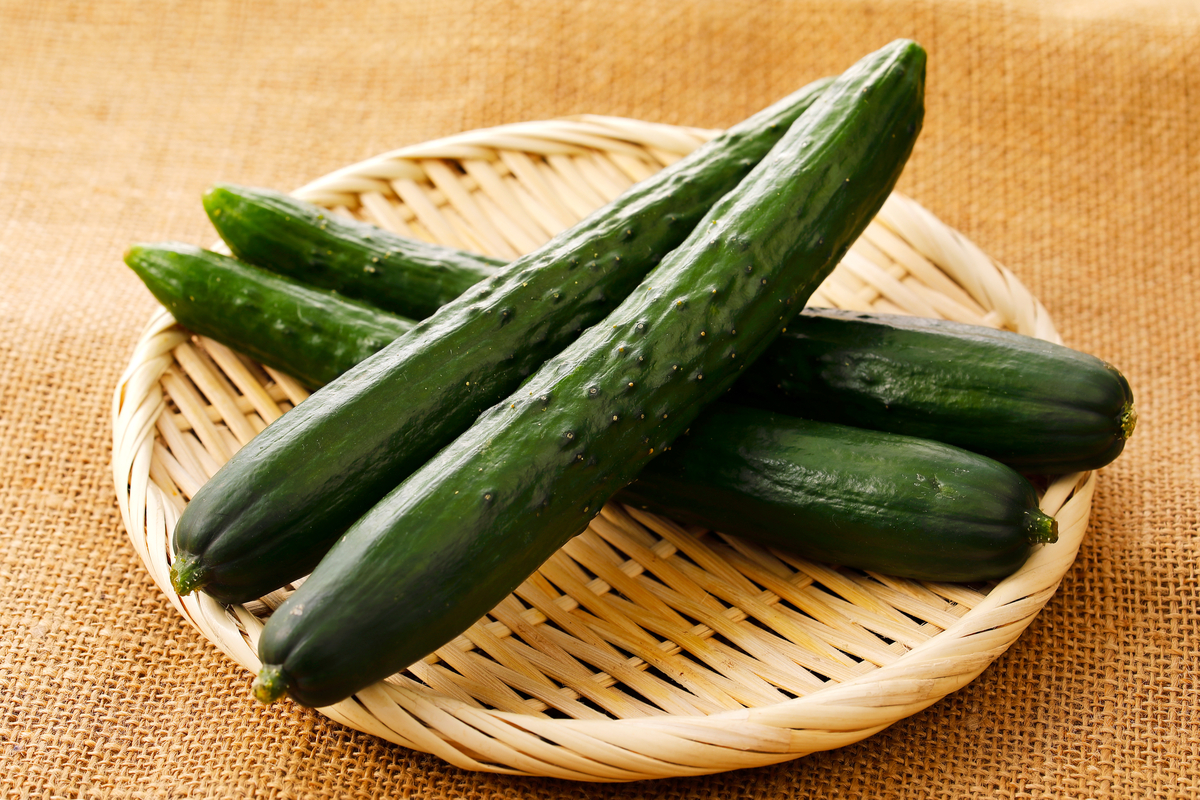 Tips for the perfect Japanese cucumber salad
Choose the right cucumber variety
While standard cucumbers are delicious and perfect for some recipes, this particular cucumber salad requires either Japanese or Persian cucumbers. These varieties are crunchier and contain a lot fewer seeds. When using regular cucumbers, you would have to remove all of the seeds, and it would still be a lot less crisp than when you use the Japanese or Persian varieties.
Toast the sesame seeds
Sesame seeds can be sprinkled on the salad raw, but toasting them gives a smoky, nutty flavor. To toast the seeds, add them to a dry skillet over low heat and stir constantly for about two minutes. Once they're golden brown and smelling amazing, remove them from the heat and let them cool before adding them to the salad.
How to make Japanese cucumber salad ahead of time
The marinade on this salad does soften the cucumbers and makes them a bit mushy before long. If you're planning on serving it in several hours or even the following day, simply make the marinade separately and refrain from adding the cucumbers to it until roughly 20 minutes prior to serving.
How to make Japanese cucumber salad spicy
If you love a little spice in your life, you can easily make this zesty dish a spicy one. Simply add a teaspoon of hot chili oil to the marinade, sprinkle red pepper flakes on top with the sesame seeds, or add a drizzle of sriracha before serving. Do all three for a Japanese cucumber salad that's super hot and spicy.
Add some protein and make it a meal
While great as a side dish, you can turn Japanese cucumber salad into a well-rounded and low-calorie meal by adding some protein. Mild flavored proteins like tofu or grilled chicken pair well with the salad, and they keep the calorie count low.
Lunchtime is arguably the best time of the day. You can take a load off, eat some tasty food, and reenergize for the rest of your day. Having a light, healthy lunch goes a long way in helping you feel great, and this Japanese cucumber salad is the perfect way to get some zesty nutrients in your diet.
Editors' Recommendations