There's so much to love about the holidays. Between the presents, and the decorating, shopping, and baking, Christmas is a magical time. And, it's also one of the busiest social seasons of the year. With the cocktail parties, dinner parties, unexpected drop-ins, and (of course) the big day itself, make sure you're always ready with an array of easy, go-to appetizer recipes you can whip up using ingredients you already have on hand.
We've pulled together some of our favorite holiday appetizer recipes that are certain to impress your guests. Plus, they each take less than a half-hour to prepare, from start to finish, so you can get back to enjoying your guests.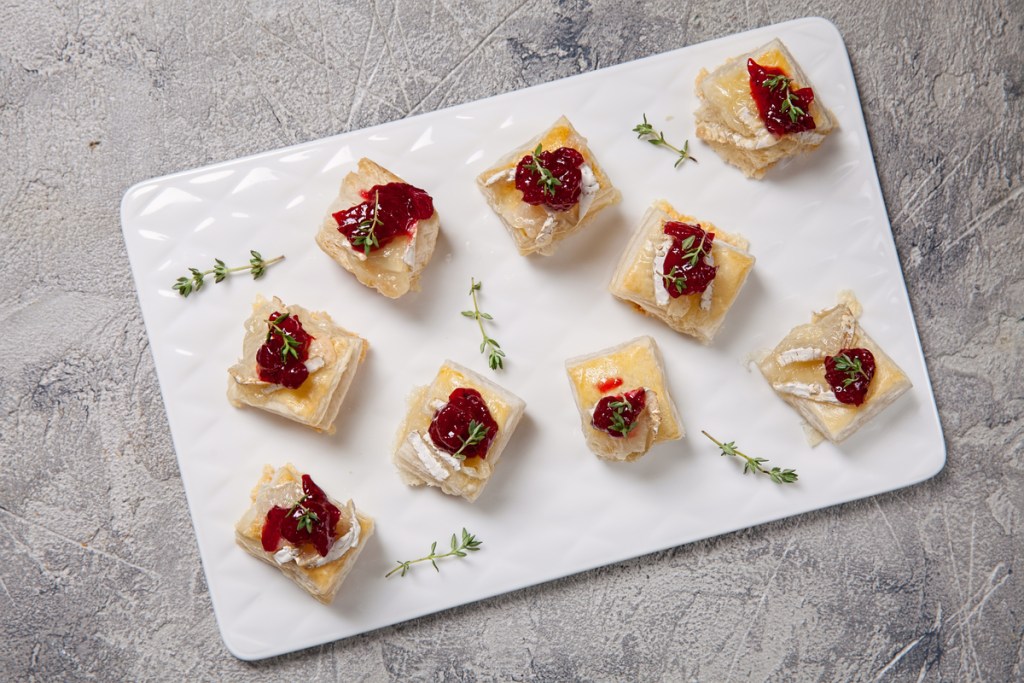 Easy Christmas appetizers you can make in 15 minutes or less
When guests are arriving, who has time for complicated recipes or long lists of ingredients? Give these simple yet tasty appetizer recipes a try and free up some time for other holiday fun!
Cranberry brie bites
These cranberry brie bites look incredibly elegant — and oh-so festive, too — but they are super simple to make. Just three ingredients — miniature phyllo pastry shells, cranberry sauce, and a wheel of brie cheese — and you'll have one of the tastiest appetizers you'll find at any Christmas party.
Tortilla pinwheels
One thing we really love about these quick tortilla pinwheels is that you can prepare them days in advance if you want. Serve with a hot or mild salsa to wake up the flavor. Holiday tip: Swap out the regular tortillas for spinach tortillas for a festive red, white, and green treat.
Caprese salad skewers
These are perfect for holiday gatherings. Pick up a large container of mozzarella balls at your local Costco store, so you can pull this cold appetizer together at a moment's notice, using nothing more than some cherry tomatoes and a few wooden skewers.
Warm brie with Fuji apple, pear, and melba toast
These are irresistible when you want to add a warm and creamy brie cheese to your table. You can heat up the brie inside your oven or do the quick heat approach in about a minute in your microwave. After the brie melts, place it on a festive platter surrounded by apples, pears, melba toast, or crusty French bread and watch how quickly it disappears.
Cheese-stuffed dates with prosciutto
The flavor contradiction of salty and sweet takes center stage in this incredibly easy and delicious recipe by Giada. Mascarpone goat cheese-stuffed dates, wrapped in salty prosciutto, are melt-in-your-mouth decadence.
Dips and spreads
One way to extend your shopping budget, and fill up your guests, is to include plenty of spreads and dips that you can pair with bread and crackers. The carbs are filling, the dips are flavorful, and the combination is perfection.
You can serve this slow cooker beer cheese dip right in the crockpot, so it stays nice and warm all night long. So flavorful, the recipe uses a few ingredients: beer, cheddar cheese, and cream cheese. You can also add chives for garnish. Put out an assortment of dippers, including chips, bread, veggies, and crackers, and you won't be able to keep your guests away.
Dips are delicious, but they can be messy, too. One way to help avoid the inevitable mess is to pre-top slices of crispy bread with your homemade dips or spreads before your guests arrive.
Here are three to try:
Hot pizza dip: You can assemble this effortless hot pizza dip in no time but be prepared for it to disappear really, really fast. You may want to make two batches, just to be on the safe side because no one can resist this one. Add some crusty breadsticks for a filling and delicious combo that will be the hit of your party.
Tomato goat cheese spread: This is packed with salty, creamy goodness. Serve it with plain crackers that won't fight with the rich blend of flavors, and then toss on a healthy dose of chopped parsley to enhance the Christmas color scheme.
Cream cheese fruit dip: You can even do a dip for dessert! This delicious cream cheese fruit dip is irresistibly good, with sweet flavors of vanilla, powdered sugar, and marshmallow creme. Pair with assorted fruits, diced pound cake, or pretzel rods for a fun take on a party dessert.
You don't need to spend a lot of time in the kitchen to pull together an assortment of delicious appetizers that will impress your guests at any holiday event you're hosting. Make a few ahead of time, and keep ingredients on hand for a few others, and you'll be ready for any kind of holiday entertaining that comes your way.
Editors' Recommendations