Who can resist a bouquet of fresh-picked lavender? Not many — lavender is colorful, fragrant, and simply beautiful, but you may be surprised to know that it's also edible. One of the 47 known species of flowering plants in the mint family, it's safe to consume every part of the lavender plant from bud to stem to leaf.
Cooking with lavender can be tricky, though. It's incredibly aromatic and floral in both taste and fragrance, so cooking with this herb requires proper restraint. Regardless of the risk of overpowering your dish, lavender offers far too many culinary benefits to shy away from it. It's time to take the intimidation out of this fragrant herb and check out some of these fresh-picked recipes you've just got to try.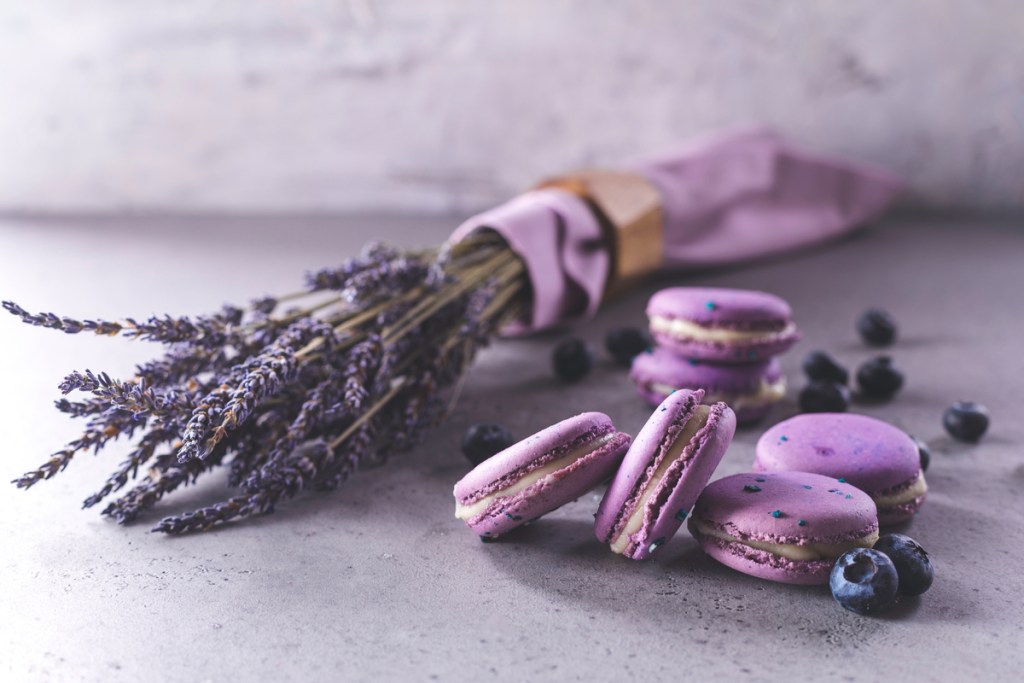 The right way to incorporate lavender into your recipes
As noted, lavender can add very powerful floral notes to foods, so it's important to use a light hand when incorporating it into recipes. To make sure your food doesn't taste like lavender soap, keep these few tips in mind.
Chunks of dried lavender leaves are the easiest way to spoil a dish. You can avoid the dreaded 'mouthful of leaves' taste by using a food processor or mortar and pestle to finely grind the leaves with granulated sugar. Otherwise, you can also soak the leaves in hot water to create a lavender 'tea' and filter out the leaves through a cheesecloth or fine mesh strainer. Be sure to preserve the lavender-infused water for your recipe.
Balance lavender's floral-sweet flavor by adding it to another food with an equally assertive flavor. Pairing lemon with lavender is very common, appearing in recipes such as lavender lemonade, lemon and lavender scones, and many other delicious foods.
To preserve the bright flavor of fresh lavender, pick the buds as close to mealtime as possible and place them in a jar of water until you're ready to use them.
Pro tip: When substituting fresh lavender with a dried variety, follow a ratio that is 1 part fresh to 1/2 part dried lavender.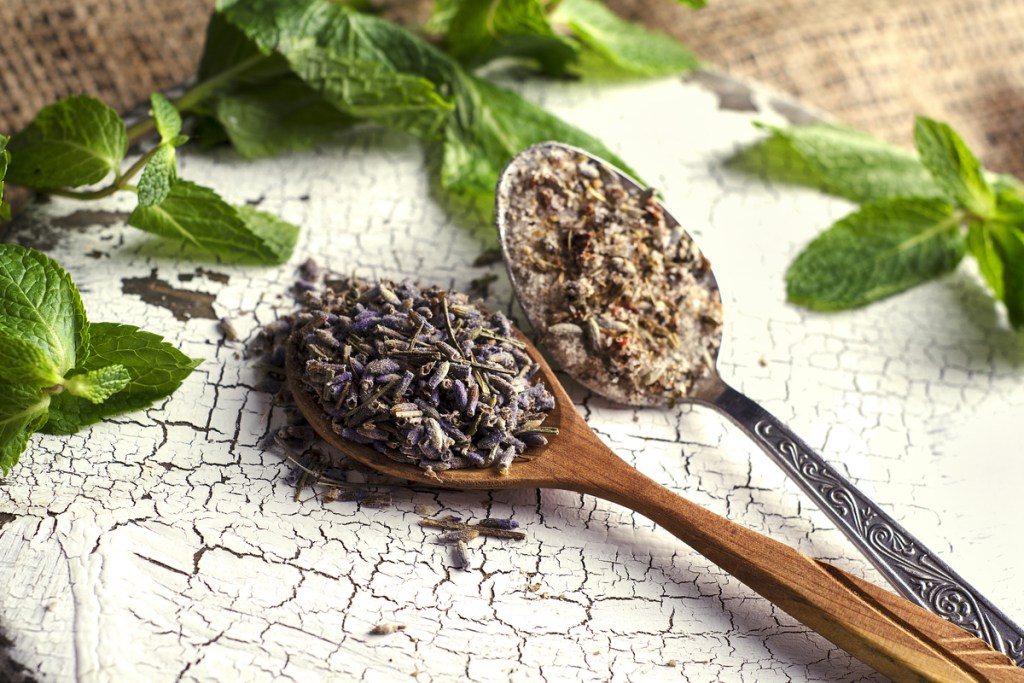 5 ways to use lavender in cooking
Main course
One of the best — and easiest — ways to incorporate lavender into your main course is to incorporate dried lavender into an herbal dry rub. Create your own homemade version of Herbes de Provence by mixing dried lavender with marjoram, rosemary, thyme, and oregano. A staple in French cooking, this versatile herb mix is especially flavorful on poultry and meats. Simply rub on your protein of choice prior to cooking for wonderfully fragrant, delicious results.
Dessert
From macarons to tarts, mousse to cheesecakes, you can find hundreds of recipes online that will put your fresh or dried lavender to good use. One of our favorites is this Lavender Cupcake recipe because it has that delicate, fragrant flavor that's a hallmark of baking with lavender. Additionally, it's a good exercise for more expert bakers, providing an opportunity to work on your icing skills and do some decorative piping work.
Ice cream
Yes, you will need an ice cream maker for this recipe, but this heavenly mix of cream, honey, and dried lavender will be well worth the investment. Though it will taste and look worthy of a five-star restaurant, this Lavender Honey Ice Cream recipe has only six ingredients and takes just twenty minutes to prepare (not including freezing time).
Cocktail
Looking for a new signature cocktail this summer? This Lavender Martini tastes every bit as good as it looks. Unlike the other recipes which utilize dried lavender buds, this one requires homemade lavender simple syrup to add a sweet flavor as well as the iconic pale purple hue.
Garnish
Lavender is so beautiful to look at — and as we now know, it's edible too. Edible lavender garnishes are a quick and easy method to dress up your desserts, main courses, and cocktails. This recipe for Candied Lavender Wands incorporates lavender stems, lavender simple syrup, and lavender sugar to create sweet little wands to stir iced tea, lemonade, or refreshing cocktails.
These recipes are just a few examples of the thousands of ways to incorporate lavender into your culinary repertoire. From novice cooks to expert chefs, there's something for everyone to try, master, and love.
Editors' Recommendations