Just because you're not having a big gathering at your house for Christmas dinner doesn't mean you can't do something special for just the two of you. A small and cozy Christmas definitely has its upsides. Less preparation, less expense, less work, and more time to concentrate on the one person who matters the most to you can make the day even more special.
If there are just two for Christmas dinner this year, you won't need huge portions, a dozen sides, or bottles and bottles of wine, but you can still create something special and festive. We have some easy-to-make recipes and decorating suggestions that will give you the merriest Christmas dinner just for you and your special someone.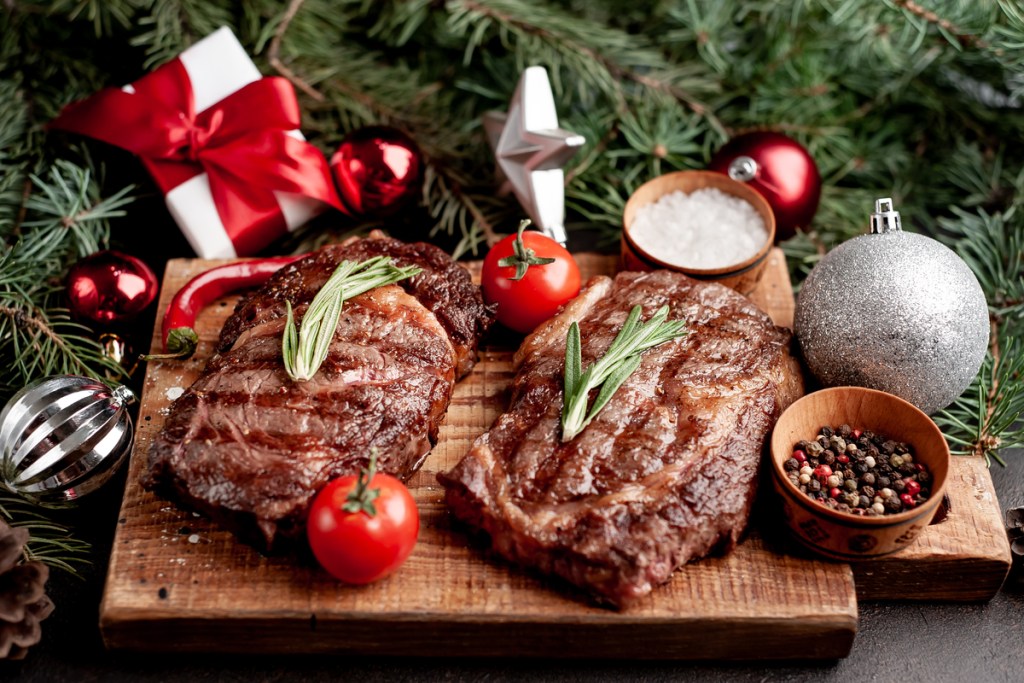 Christmas dinner ideas for two
Since it's just two of you dining, having several courses could give the meal a more elegant flavor. Try these first course, main course, and dessert suggestions.
First course
Homemade fettuccine Alfredo
Since Alfredo sauce is rich and filling, and since you'll be doing multiple courses for your meal, you'll want to keep your portions small for this easy fettuccine Alfredo recipe.
Butternut squash soup
Soup is always a good way to start off a meal, and this one is elegant enough to warrant a spot on your Christmas table. This recipe makes more than two portions, but that just means you'll be able to enjoy homemade soup for the next few days. Add ground nutmeg to the top of each bowl for added flavor and a festive look.
Caprese salad
The red of the tomatoes, the white of the mozzarella cheese, and the green of the fresh basil leaves make this appetizer Christmas-color ready. Drizzled with olive oil and balsamic vinegar, this light starter course is the perfect kick-off for your holiday meal.
Main course
After cooking your beef filets in a skillet, you'll use the same pan to create a rich reduction sauce made with merlot wine and heavy cream. This is a decadent and delicious main course that's worthy of your intimate Christmas Day celebration. Pair it with rosemary-roasted potatoes, oven-roasted asparagus, and a side salad to create the perfect main course meal.
No-fail roast chicken with lemon and garlic
A traditional turkey dinner may be too much food; however, this mouthwatering roast chicken recipe could be just what your dinner-for-two needs. Not only is it easy, but it's also incredibly delicious, with a copious amount of lemon, garlic, and melted butter to make your house smell heavenly and result in crispy-on-the-outside/tender-on-the-inside chicken. Whipped sweet potatoes, some crusty baguettes, and a side salad are all you'll need to round out your meal.
Easy vegetable lasagna
Not every holiday main course needs to include meat. This tasty lasagna recipe is loaded with healthy veggies and is so tasty, too. The tomato sauce is light, the cheese is liberally applied, and it has the comfort-food appeal that will warm you on a cold Christmas night.
Dessert
Individual flans
You can whip up this drool-worthy dessert for two in under 30 minutes, and it will be every bit as good as the ones you get at a restaurant. Make sure you have simple white ramekins on hand for creating the perfect dessert portion. The caramel sauce is store-bought, but your dinner companion will never know.
Deep-dish chocolate chip cookie for two
Just enough for two and rich with ooey, gooey chocolate, this cookie may be the perfect finish to your downsized Christmas dinner.
Warm carrot cakes with cream cheese sauce
This quick recipe lets you make two perfectly portioned cakes in ramekins. Add some shredded coconut and crushed pineapple to take the cake batter up a notch or two.
Creating a festive setting for two
Despite only having two at your celebration, you shouldn't forgo the Christmas ambiance. Christmas is the time to pull out all the stops and dress your table appropriately for the season.
Embrace your color scheme
Choose a color scheme and go all out with it. Do traditional red and green, glittery silver and gold, or a sophisticated white Christmas theme, and then set your table accordingly.
Dine by candlelight
Nothing sets the mood quite as well as dining by candlelight. Arrange an assortment of candle heights and sizes in a cluster at the center of your table or surrounding your centerpiece. Always be mindful of leaving lit candles unattended, and whenever possible, choose candles housed inside glass containers, such as votives, tea lights, or hurricanes.
Create a tablescape
Set your table as though special guests are joining you, because who could be more special than you and your dining companion? Cover your table with a cloth tablecloth, or use festive placemats or table runners to give the table a more formal look. If you have cloth napkins, use them, and add a couple of holiday napkin rings to help set the mood.
Use the fancy plates
Dress up your dinnerware. What day is more worthy of bringing out the "good dishes" than Christmas? If you don't have china place settings, your everyday dishes can still get the job done. Just make sure to dress your table with holiday cheer, and you won't even notice.
Christmas isn't about quantity; it's about quality. So make sure your special Christmas dinner for two is filled with quality food, lovingly prepared and enjoyed by the two of you. Turn on your Christmas tree lights and your favorite holiday tunes, relax, and take in all the beauty and peace of Christmas.
Editors' Recommendations