The airweave Advanced Mattress is crafted to provide superior breathability and support, and it has germ-free and dust-free properties. Its interwoven fibers allow for even weight distribution across the mattress, as well as excellent airflow throughout and minimal motion transfer. While also washable both inside and out, the airweave offers a sleep experience unlike any other. Extraordinarily firm and durable, the airweave is also customizable.
Overall, the airweave Advanced Mattress is ideal for those who prefer an exceedingly firm mattress, need extra back support, require cooling features, or simply prefer back or stomach sleep positions. If you're on the verge of replacing your mattress, remember that we're always looking to help our readers find the right one. We're also looking to enlighten our readers about sleep accessories – like the benefits of a knee pillow, for example. After all, we want you to achieve the kind of deep sleep that rejuvenates and heals. So be sure to check our sleep hub for more.
What makes the airweave worth looking into?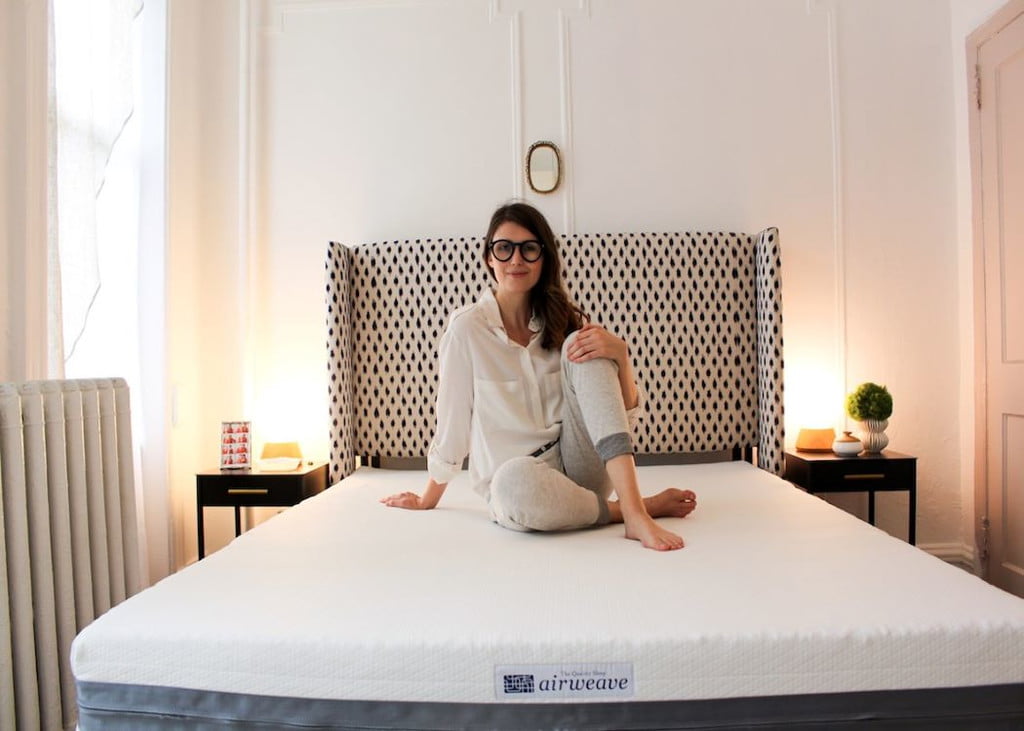 I was fortunate to be invited to try out the airweave Advanced Mattress, which is, without a doubt, the most interesting mattress I've ever experienced. It arrived in two large boxes, a surprise compared to the usual rolled mattress-in-a-box delivery provided by other companies. There was a little more involved with putting it together than the usual self-inflating process, too, but it was simplified by following their paper instructions precisely. There are helpful instructional videos on the airweave website as well.
Unlike the currently popular memory foam and hybrid mattresses, the airweave is uniquely comprised of the company's proprietary Airfiber, made primarily of polyethylene. Airfiber originated when airweave's founder and CEO, Motokuni Takaoka, began working with fishing line at his uncle's company in Japan. During this time, he discovered that the material's various uses and benefits went beyond just catching fish. These discoveries lead Takaoka to develop airweave, after which the company began making mattresses in 2004.
What are the details on sizes, storage, and firmness?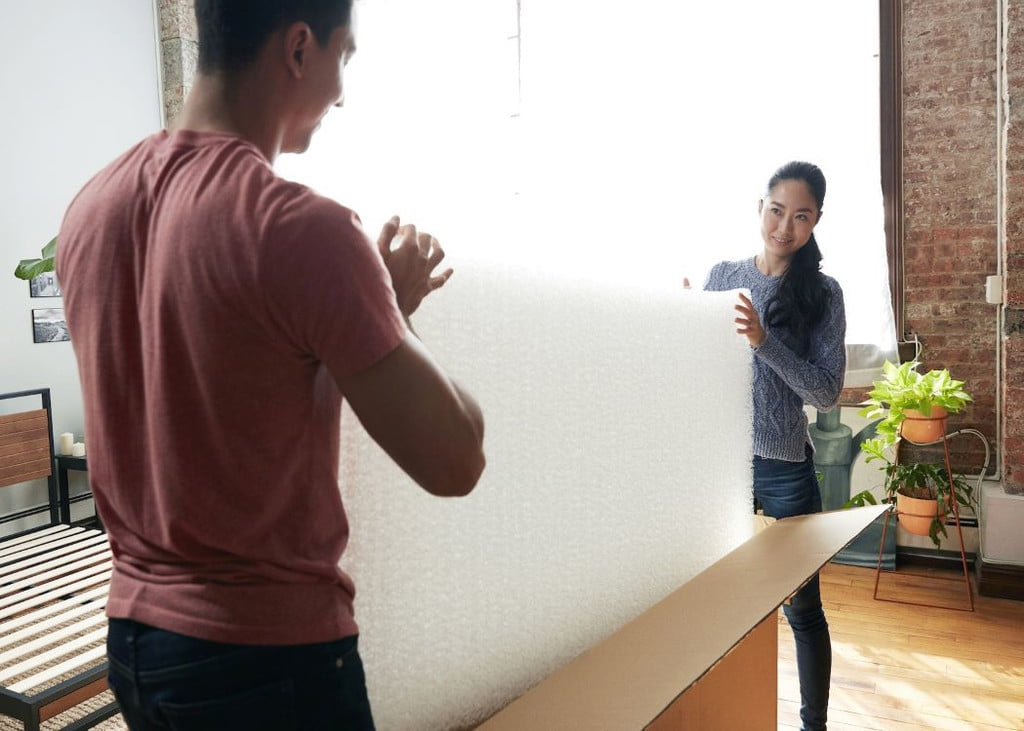 The airweave Advanced Mattress is offered in six sizes, ranging from Twin to California King. We tested a Twin, which weighs 43 pounds; has measurements of 39 inches wide by 75 inches long by 8.5 inches thick; and currently sells for $1,670.00.
Each size is simple enough to disassemble for storage when needed, especially if you keep the boxes they came in to protect them from gathering dust. No worries if they do get dusty, however — just a quick rinse-off in a cool shower, and they'll be as good as new! Soft covers can also be washed easily in the cool water, gentle cycle of your washing machine, then hung out to air dry.
You'll also have options on how firm — hard or regular — you want your Dual Mode Airfiber blocks to be while assembling your bed (follow the included paper instructions), although the airweave Advanced Mattress can be considered extremely firm regardless of this choice. This allows you to choose how much "give" your Airfiber blocks offer as you sleep.
About that 100% washability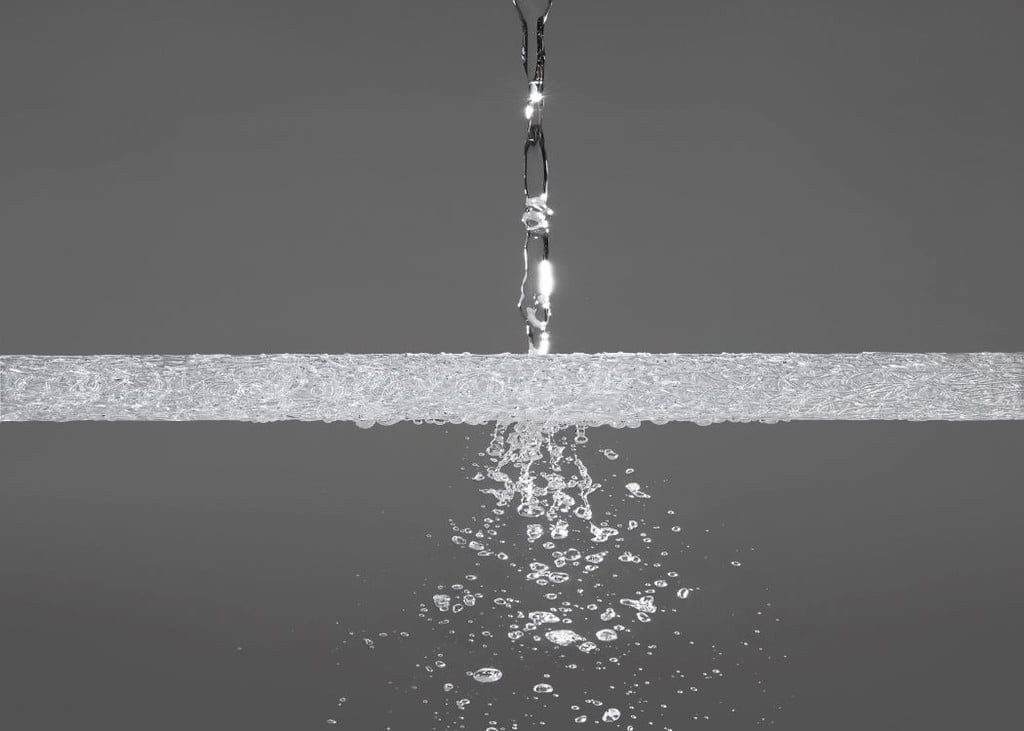 To wash your airweave Advanced Mattress inner core, simply place it in the shower and rinse thoroughly with cold water. To test ours, we drizzled tomato juice over part of it and let it sit for a few minutes. We then rinsed it out in the cold shower and found that it cleaned up easily within just a minute of running cold water. We let it sit on the side of the shower to air dry for a few hours and were able to put it back on the bed that night.
If you need to, you can also use a mild, gentle detergent with cold water to clean the inner core. You may wipe it down with ethyl alcohol for disinfecting as well. For the outer cover, simply machine wash in your cool water, gentle cycle, and air dry. Stay away from other chemicals and products when washing your airweave for the best results.
You can see in the image above how easily the airweave inner core is to keep clean — the cool water runs right through it, cleaning it both inside and out.
Who's it for?
The airweave is especially beneficial for those who need (or simply prefer) a firm mattress, anyone who needs the extra support for back pain, people who sleep hot and need the airflow of the airweave to help them sleep cool, and those who like the way it's so easily cleaned inside and out, limiting germ and dust build-up. Some may prefer the airweave if they're back or stomach sleepers. There's also minimal motion transfer with the airweave.
It's worth noting that airweave mattresses have been used in Japanese hospitals, medical facilities, and elder homes due to their 100% washable design.
It's also especially good for athletes
The firmness and even weight distribution of the airweave is beneficial for athletes in getting into spine-aligning deep sleep and allowing for its rejuvenating effects. According to Troy Taylor, the U.S. Ski & Snowboard team's high-performance director, "Sleeping well is an incredibly important part of an athlete's preparation and recuperation in training and competition. Having airweave on board with our team is vital."
Airweave is the official bedding supplier to the U.S. Ski and Snowboard Team and will also be used in the Tokyo 2020 Olympic and Paralympic athlete villages as their official bedding partner. It also provides dancers in training at the Royal Ballet with portable top mattress models in the student dormitories.
Airweave has been supporting British runners with the same portable top mattresses since 2016 as well. Studies conducted between 2014 and 2016 proved the airweave improved sprint times and coordination for athletes at the IMG Academy better than memory foam did.
What we like
While we were a bit thrown off by how firm the airweave was at first, we did immediately fall in love with some features.
It's 100% washable
This makes for a hypoallergenic, dust-free, and germ-free mattress experience, which appeals to our household, especially due to my son's allergies. Demonstrating how easy it is to rinse through the mattress while holding it up in the shower helped us all see how the airweave would benefit us.
It sleeps cool
Since our home's air conditioning runs on the expensive side, we try to limit usage as much as possible. Any type of cooling bedding appeals to us for this reason — and the airweave being highly breathable and comprised of mostly air definitely gives it bonus points in our book!
It has zero motion transfer
Getting in and out of bed won't wake your partner if you need a glass of water at midnight. Light sleepers can finally get in their full eight hours without being awakened due to the bed moving.
It offers great support
For those who experience back, shoulder, or other pain, the airweave offers the most support you can expect in any mattress we've seen. Consistently sleeping on its spinal-aligning firmness can help you on your way to pain-free slumber in no time.
There was no off-gassing
We love products without any chemical smell in this household, so we celebrate this bed's lack of off-gassing. No need to wait to sleep on it, no need to place it in a room with all the windows open for three days — just open it, put the bed together, and get to resting.
What we didn't like
It's extremely firm
That's not necessarily a bad thing, but to be clear, some have compared it to sleeping on the floor, which is a tradition for many — just not something with which we're accustomed quite yet. For many people, this firmness is a likely bonus and major selling point, especially if you need the support for back pain, so it's wise to decide for yourself how well you'll adjust to the airweave. With the 100-night sleep trial, you can do just that risk-free. It's just a matter of preference in our case, and to be thorough, the airweave actually did get more comfortable over the nights we slept on it for testing.
What customers think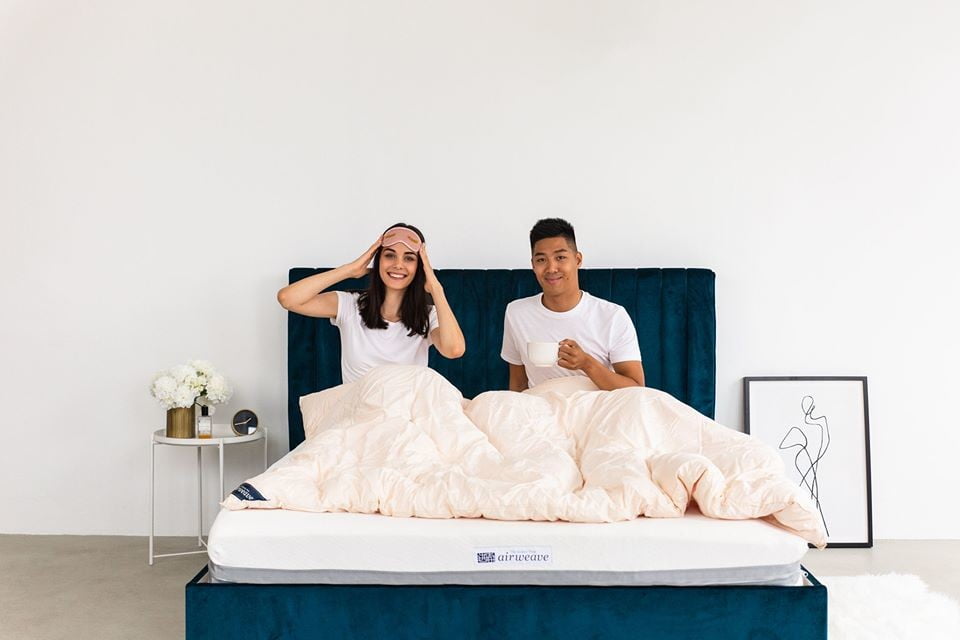 Reviews appear to indicate customers find this mattress to be high-quality, very supportive, great for cool sleeping, and pleasingly customizable. It's also rated high among those who like firm mattresses and for having little to no motion transfer. Some reviews indicated a preference for a little less firmness than the airweave offers, however.
Others mentioned loving how easily the airweave cleans up and the eco-friendliness of the recyclable plastic core compared with memory foam. Still, more customers were happy about the 100-night risk-free sleep trial, 10-year warranty, and free shipping within the contiguous U.S.
Note: You'll need to keep the mattress for at least 30 days to try it out before getting your sleep trial refund.
Should you buy it?
If you appreciate a firm mattress as an athlete, suffer from back or shoulder pain, or sleep on your stomach or back, the airweave Advanced Mattress might be great for you. Also, if you need a cooler mattress with plenty of airflow or a low motion transfer experience, you may really like this one.
The 100-night sleep trial lets you try it out free of charge, so there's no reason not to give it a chance. If it turns out to be too firm, just send it back after your initial 30 days are over (but before your 100th night — and do please keep your receipts and documentation), and you'll get a full refund.
Want to see more sleep-related topics? Check out our guide on choosing pillows that best suit your preferences.
Editors' Recommendations