One of the more frustrating things about cooking at home is the mess you make. Work as clean as you can, but there will still be dishes to wash and splashes of sauce dotting your countertops. Even more frustrating is when you get your clothes dirty.
Running the dishwasher was always part of the cook-at-home equation, but having to do laundry? That's a step too far.
Chefs wear coats for a reason. Not only do coats look sharp, but they also serve as de facto cover-alls for messy kitchen duties. All the random splashes coming from pots and pans mean nothing when you've got clothing meant for it all.
In the past decade, chef wear has trended more toward leisure than formal attire. This is why you see so many chefs in what appear to be shirts — not coats. Initially, those shirts were what dishwashers wore in a busy kitchen environment. Chefs adopted them because the shirts are lighter weight than a chef's coat while providing the same protection from marinara and hot oil. Over time, companies like Helt have bridged the gap between lightweight, comfortable dishwasher shirts and more protective chef coats.
The result? Helt's Utility Work Shirt . Part dishwasher shirt, part chef coat, the Utility Work Shirt might just be the kitchen-only garb you've been looking for. The antimicrobial fabric is breathable and stretchy (4-way stretching, Helt claims) with plenty of bells and whistles that will have you feeling like a professional chef. There's a chest pocket for your pens and thermometers, and the button closures make it really easy to rip off at the end of a long cooking session before dipping into the shower to feel human again.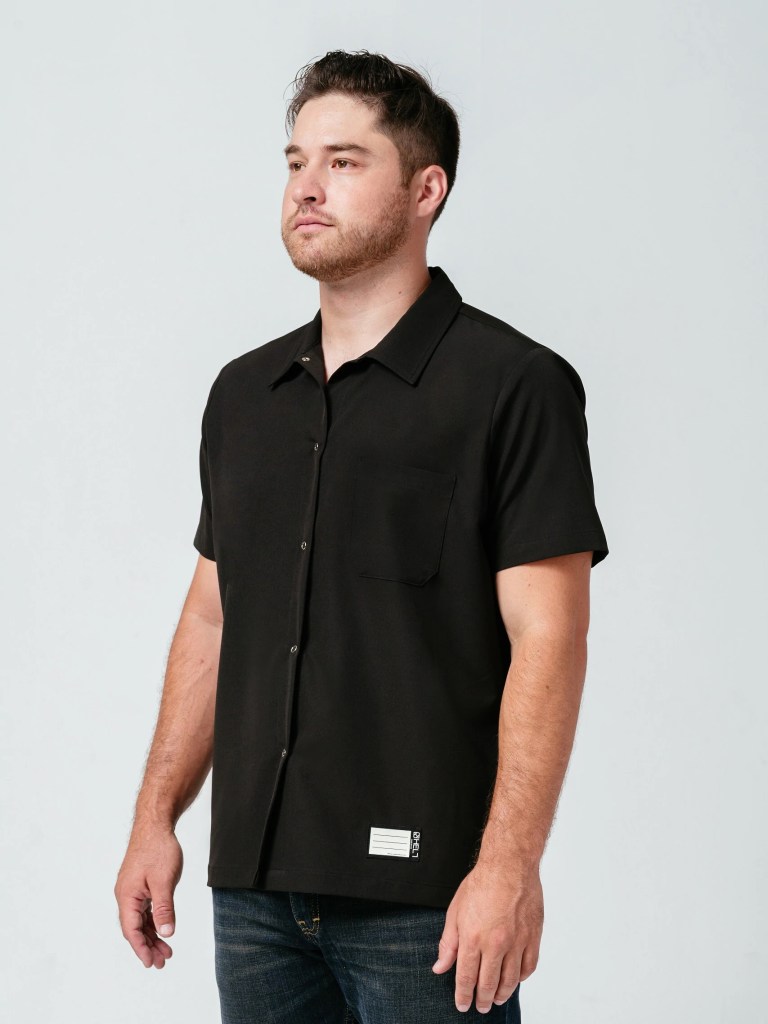 The brilliance is in its fabric, though. Helt uses "Crewtech-lite" fabric, which is water repellent, dries quickly, has moisture management properties if you get sweaty — and is rated UV 50+ in case you're grilling instead of hovering over a stove indoors.
We've been testing the Utility Work Shirt for about a month and only have great things to say. One caveat: it offers a slim fit, so be mindful of the sizing when ordering yours. We prefer a closer fit, but those who want something roomier may want to upsize. We've been using the black shirt, but it also comes in white if you want to keep that old-school vibe.
The shirt is resistant to water, but that doesn't mean it's going to give every liquid that hits it the stiff arm. That said, it's a utility shirt in both name and function so expect stains. It doesn't require any special care, either, so just toss it in the laundry when it's time. (Editor's note: Because this is a piece of clothing you'll treat indelicately, we suggest tossing it in with the towel laundry.)
Meant for professional use, we like the Helt Utility Work Shirt for home or the professional kitchen. There's a lot to be said for having a shirt solely for use in your kitchen or backyard grill pit. It keeps your wardrobe tidy and lets you go a bit nuts in the kitchen without worrying about making a mess on yourself.
As for the dishes — that's just something you'll have to get a friend or partner to help with. Helt doesn't have a solution for that — yet.
The Helt Utility Work Shirt comes in black or white, small to XXXL, and can be purchased directly from Helt for $85.
Editors' Recommendations