Having a cozy bed is one of the luxuries of life. Given the average person spends 26 years of their life sleeping, having a comfortable place to lay your head at night makes a big difference. Sleep can boost your immune system, improve mood and memory, and is critical to maintaining your mental and physical health. If your mattress isn't all you need it to be, but you don't have the means to replace it right now, there are simple things you can do to make it cozier.
We're breaking down how to make your bed cozy below, and with three relatively affordable, quick ways to do so, you'll be well on your way to a perfect night's sleep in no time.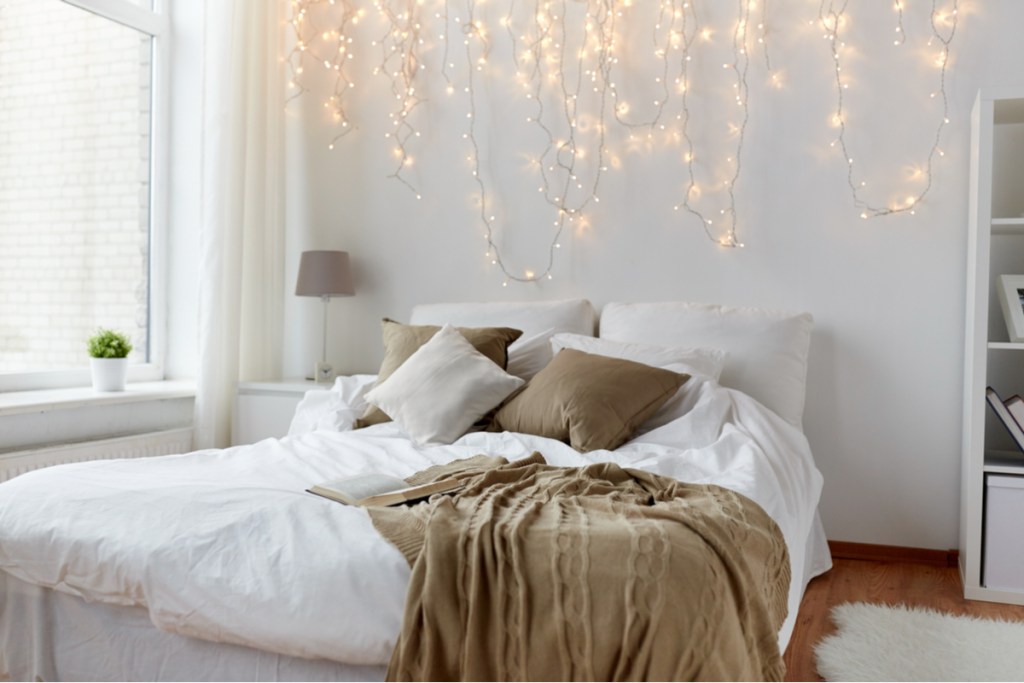 How can I make my bed more cozy?
If a new mattress is out of the question, consider buying a mattress topper. Mattress toppers can be made of memory foam, feathers, and other soft materials and can do wonders in making an old mattress feel brand new. Some also come with cooling technology built in to keep your body temperature regulated through the night. We love this queen mattress topper that's got a 100% cotton top and down-alternative fill. It's on Amazon, and for less than $50, you can have a bed that feels like you're sleeping on a cloud.
If you only buy organic, check out this natural latex mattress topper from Avocado Green. It's made with natural and organic materials, including GOLS organic certified latex harvested from their tree farms.
How can I make my bed soft and fluffy?
Another way to make your bed soft and cozy is with your bedding selections. We love flannel because it's super soft and helps keep you warm on long winter nights. While you should ultimately touch and feel sheets before you buy, we can assure you these UGG luxury flannel sheets are everything they're cracked up to be and more. They've received all five-star ratings, and you can find them at Nordstrom for $148 (for a queen sheet set). They come in stone or snow and wash up like a dream. You'll sleep on them once and wonder how you've managed without them in your life until now.
If you don't like the feel of flannel, we also recommend the Luxe Hardcore sheet bundle from Brooklinen. With more than 75,000 near-perfect reviews, these are hard to beat.
How can I create a warm, snuggly space to sleep?
Finally, you can't be cozy without a comforter to keep you warm at night. Whether you prefer a one-piece comforter, an insert with a duvet, or a coverlet, picking the right comforter is important. You'll want to know your preferences in terms of size, fill (such as down, down alternative, cotton, or wool), and weight to know what you should be looking for when you shop. If you have allergies, you may need to stay away from materials like down and wool, but down alternatives are as soft and warm as the original.
A couple of things to keep in mind is the fill power, which determines how lightweight or heavy it will be. Another is whether it's been Oeko-Tex certified, which means it's been manufactured without harmful substances. We love the all-season down comforter from Brooklinen because it's fluffy, warm, and worth the $359 price tag.
A comfortable bed is something we all strive to have, and the tips above will get you well on your way to getting the night's rest your body needs. Finding the right pillow is also important, which varies widely based on how you like to sleep. Plus, we love body pillows, and throw pillows abound to give your bed even more of a cozy feel; the more, the better.
Before you buy any mattress toppers, comforters, or sheets, do your homework on how often they should be cleaned and the best way to care for them, so you have set expectations going in. We also recommend reading through the reviews. You can garner a lot of information and get questions answered online, which can turn out to be helpful in making recommendations in color, sizing, and feel.
December is a good time to look for sales on bedding and bed items; oftentimes, you can find savings of 10% to 30% off. Many stores offer sales, so look around, and you may be able to score some seriously cozy bedding items for a deal.
Editors' Recommendations