Rugs are one of our favorite decor items. They can breathe life into a room with their color and style and add character to any space. Unfortunately, because they are often placed in high-traffic areas, they can take quite a beating. They need to be washed consistently, especially if located in an entryway or mudroom where people are tracking in snow, rain, and dirt or in a kitchen where things tend to spill.
Washable area rugs are, naturally, all the rage because they can be cleaned at home instead of by a professional. But what types of area rugs can you clean? And will they return to their pristine condition after washing? The short answer is yes.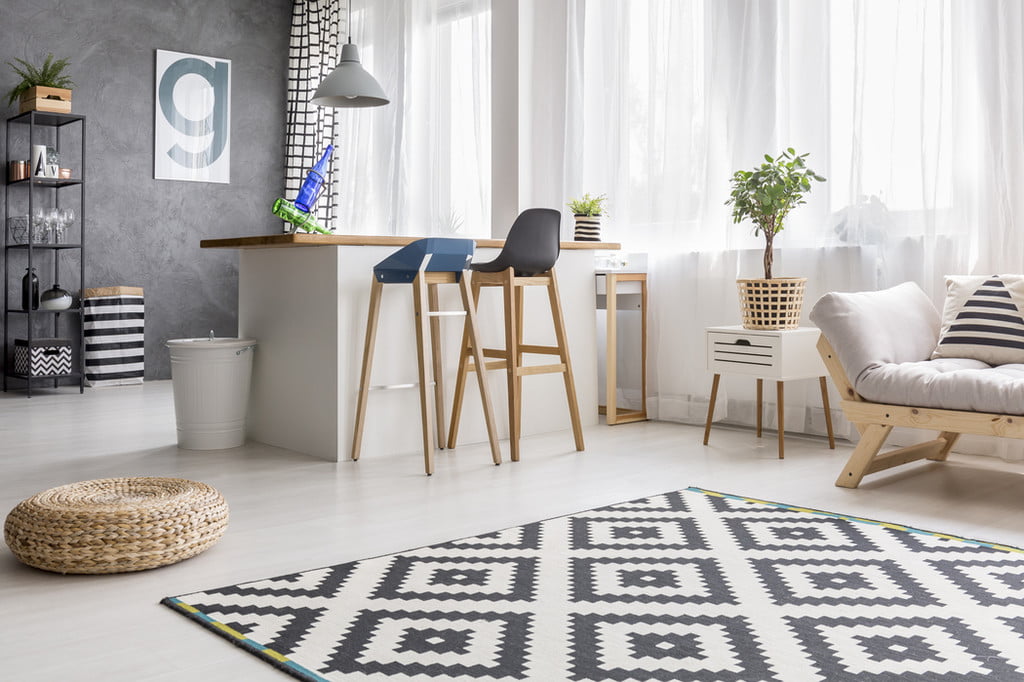 What rugs are machine-washable?
Rugs have to be a certain material to be washed safely in a washing machine. Cotton, though a natural fiber, can be safely washed at home. Synthetic fibers, like olefin, polypropylene, nylon, and polyester, also hold up well and can be machine washed. Always read the manufacturer's directions on cleaning, and allow them to air dry to achieve the best results (especially cotton rugs that will shrink just like cotton clothes in a dryer).
Some say you can dry these rugs but that will inevitably cause even more wear. You can also wash rugs with a rubber backing but this will break them down more over time than having them professionally cleaned.
Are Ruggable rugs the only machine-washable rugs?
No. Ruggable rugs are super affordable, and they come in many styles, colors, and patterns, but they aren't your only option. Other retailers like Amazon sell machine-washable rugs as well. Look for brands like DII, Gorilla Grip, and HEBE that are not only machine washable but stain-resistant and reversible. You can also find most of these brands on Overstock; always compare prices if one or the other is having a sale, especially during the holidays.
What is comparable to Ruggable?
The reason Ruggable rugs are so popular — besides their gorgeous patterns and design choices — is because they come in two pieces: a rug cover that can go into the wash and a non-slip rug pad, so it stays in place. The pads can vary in thickness but know Ruggable rugs (and most machine-washable rugs) are very thin, so you may want to go with a thick pad for comfort. The rug brands mentioned above are as good as Ruggable but do not come in several styles, sizes, and colors, making Ruggable the ideal brand if you want variety (we love their Folk Heritage and Nautical lines). They also have a ton of reviews by actual customers, so you know you're getting value for money.
Can you wash area rugs in the washing machine?
You can wash area rugs in a washing machine, but you'll want to be sure the label specifies they can be put into a machine and not hand-washed. Even if they can be machine washed, they aren't meant to be washed every day. We recommend only washing them when they really need it or there are visible stains. It can be hard to wait, especially if you have family members with allergens that suffer from dust and pet dander that can become trapped in rugs, but you'll end up replacing rugs much quicker if you opt out of spot treating them and throw them in the machine.
Rugs can be expensive to add to your home, especially larger area rugs. Depending on the size of your home you can spend hundreds of hard-earned dollars to get the look and feel you want. What's a little more daunting, is after you make the big purchase, you could end up spending even more over time if it's stained or ruined with no ability to wash or restore it. So, having a washable rug, while perhaps not the exact thickness or material you want, gives you the flexibility to put it in a high-traffic area and not worry about it. To have that peace of mind is critical when you have pets, children, entertain regularly, or want them in a place where people are constantly coming and going.
A rug made of wool, silk, and other expensive materials can look stunning in your home, but keep in mind that you need to have them professionally cleaned. And that can cost a pretty penny over time. It's not to say they aren't worth it, but depending on the rug's location and purpose, having an option to wash it at home can make all the difference.
Editors' Recommendations