With a wide variety of styles, materials, and features, you are sure to find the perfect wall key holder for your home decoration and organization needs. We have chosen the most stylish and useful varieties out there and compiled them on this collection.
Forget about lost keychains with a home key holder. A must-have for multiperson households that share house, car, or laundry room keys. Place it on an entryway or near the kitchen, and it will make life easier for all members of the family. Or, keep your housemates in check with one of these great options.
Franklin Brass Key Rail with Hooks
Best wall key holder overall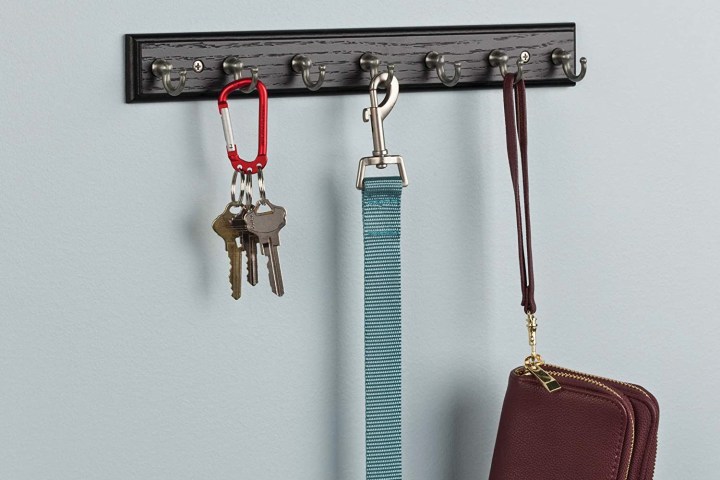 Elegance and functionality meet in the stylish Franklin Brass Key Rail with Hooks, a casual design style that features seven hooks for your keys, bags, coats, and hats. A versatile solution capable of holding up to 5 pounds of weight and matches your home decor. Perfect for entryways, bathrooms, kitchens, and the back of your dorm room door.
Comfify Key Holder
Best looking wall key holder
Make a statement and bring attention to where keys are supposed to go with the Comfify Key Holder, a cute and lovely fantasy design with a typographic motif. This vintage and unique design features four hooks, heavy-duty construction, and super-easy installation. This solid key holder will serve your family for generations.
mDesign Wall Mount Entryway Organizer
Best multifunctional wall key holder
The mDesign Wall Mount Entryway Organizer is one of our favorite key holders. It features five hooks and a super-useful organizing basket to store important mail, notes, and bills that need to be paid. It creates extra storage wherever you place it and adds a touch of rustic chic to your home.
Whether you are looking for a definite place to place your keys or a more robust organizing solution, our curated selection is sure to have the perfect model for you. We have included the most attractive and durable choices for you to find the option that works best for your home. For more, you can check out some of the best magnetic key holders.
Editors' Recommendations