If you're looking to upgrade your kid's bedroom just in time for the new school year, these gorgeous lockers from Scandiborn are just what you need. This Scandanavian-inspired children's decor store luckily ships to the U.S., as long as the order is over $200.
The wide range of retro-themed lockers come in so many colors and sizes that we can just about guarantee you'll find a perfect choice for your kid's bedroom. With the back-to-school season finally here, it's time to invest in furniture to store school items. Whether your child is engaged in remote, hybrid, or in-person learning, you'll always need a place to put their stuff. Beyond school supplies, these pieces can also function as unique nightstands to hold your child's favorite books, and they can place their water bottle, phone, or anything else they need handy right on top.
We encourage you to explore the whole Scandiborn website, but to get you started, check out some of our favorite options below!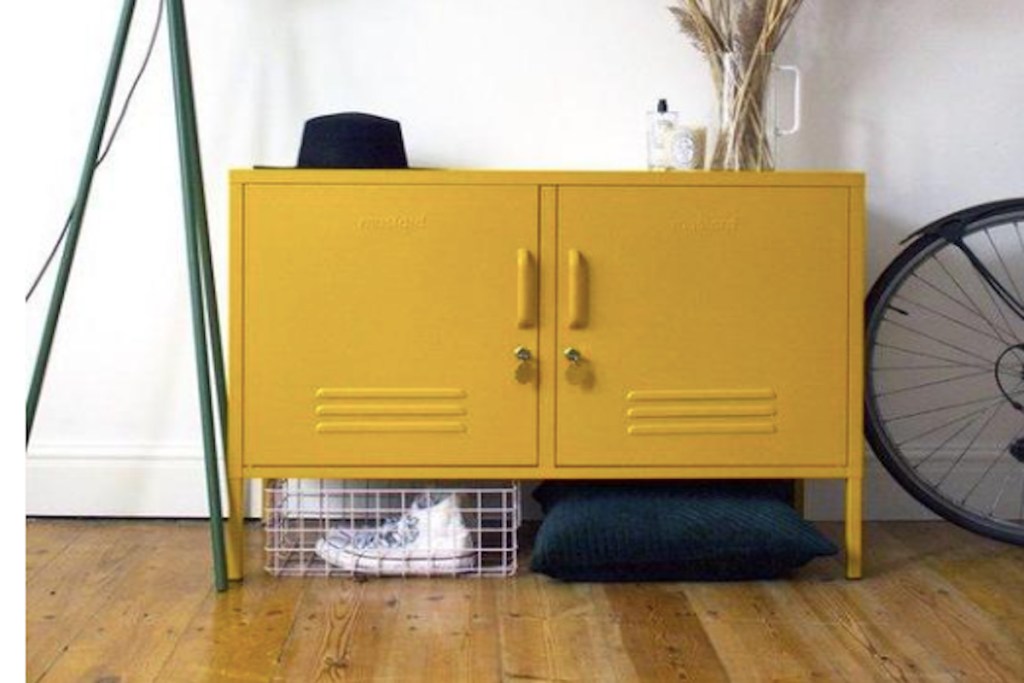 The Lowdown Locker
We're obsessed with the Mustard Made locker's old-school chic design. Perfect for a kid's room, it's large enough to double as a school locker and a children's dresser. It comes with:
One adjustable shelf inside
Two hooks for hanging hats, headphones, or other items
A cable hole
Wall screws (if you have a young one who may try to pull themselves up on it)
There is room underneath for shoes, pillows, or other items you want out of the way to give your little one more space to work and play. This unit sells for $365.99 and comes in sage and mustard, two trending colors this year.

The Skinny Locker
The Skinny Locker is perfect for a corner of a bedroom, and it comes in gorgeous shades of slate and sage. It stands six feet high and comes with:
A removable hanging rail
Four adjustable shelves for books, folders, notebooks, and other items
Two hooks for sweatshirts or athletic jerseys
A cable hole
Wall screw holes
The selling price is $336.99, qualifying it for free shipping if you live in the U.S. Instead of the bedroom, we recommend placing this in the home's front entryway to store your kids' hats, gloves, and scarves in the winter months. While these are great for kids, they're also super fun pieces of throwback decor, so you can place one in a lounge area to hold glasses, serving trays, and other things you need handy when entertaining.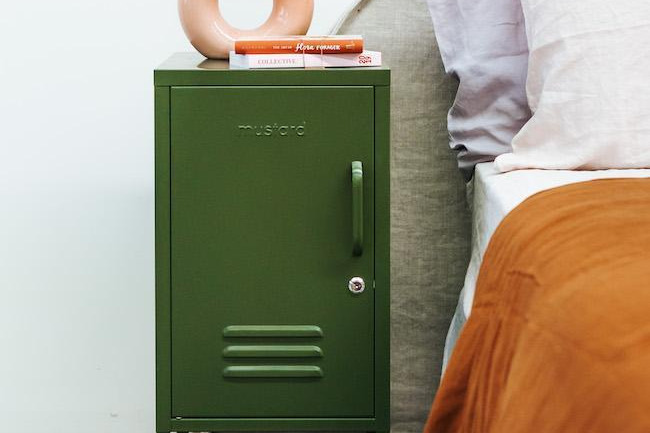 The Shorty Locker
The Shorty Locker is the best pick for those without a lot of space or who don't need a ton of storage. The design of all these lockers works with any theme, be it rustic, contemporary, or anything in between. This locker comes with:
Two adjustable shelves
One handy hook
A cable hole
Wall screw holes (again, for safety)
This locker is available in mustard, blush, navy, ocean (selling for $189.99), sage, slate, white, and olive green (selling for $194.95). It can work as a cool side table, storage space for school supplies, or a funky nightstand.
While these lockers add a fun touch to a kid's room, they're simple and chic enough to fit in any room that needs a statement piece, whether it's the kitchen, dining room, laundry room, bathroom, or main bedroom. As the name implies, they lock too, so you can keep everything secure. Last, you can customize most items to open from either the left or right. Small details like this are what make Scandiborn furniture top tier. These lockers are sturdy, well made, and we absolutely love the color palette the company chose.
The bottom line is you can never have too many multi-use pieces of furniture that provide extra storage space, especially if you have kids. These lockers make a great option for storing their toys, books, school supplies, and anything (and everything) else they tend to leave scattered around the house. If your babies are of the fur variety, these lockers also make a great place to store dog or cat toys, food, treats, and other items that they, too, leave laying around the house.
There are plenty more items for kids on their website, so make sure to check out all the other kid-friendly items while you're there.
Editors' Recommendations