Introducing a pop of color into your kitchen is a fun way to give the heart of your home a little character and life. It's the room where everyone gathers to eat, connect, and cook, so why not make sure it's vibrant enough to lift everyone's spirits? One color that's sure to do this is red, a tone that is representative of life, health, and love. When paired with pearly white, you can have a fun dual-toned kitchen that's bright, sleek, and full of character.
There are so many design options to choose from when selecting red and white kitchen decor, so you can make it as expansive or limited as you desire. Red is a bold color, so it's important to be smart when decorating your space to make sure it doesn't become overwhelming. To achieve a red and white kitchen without going overboard, try out a few of these ideas.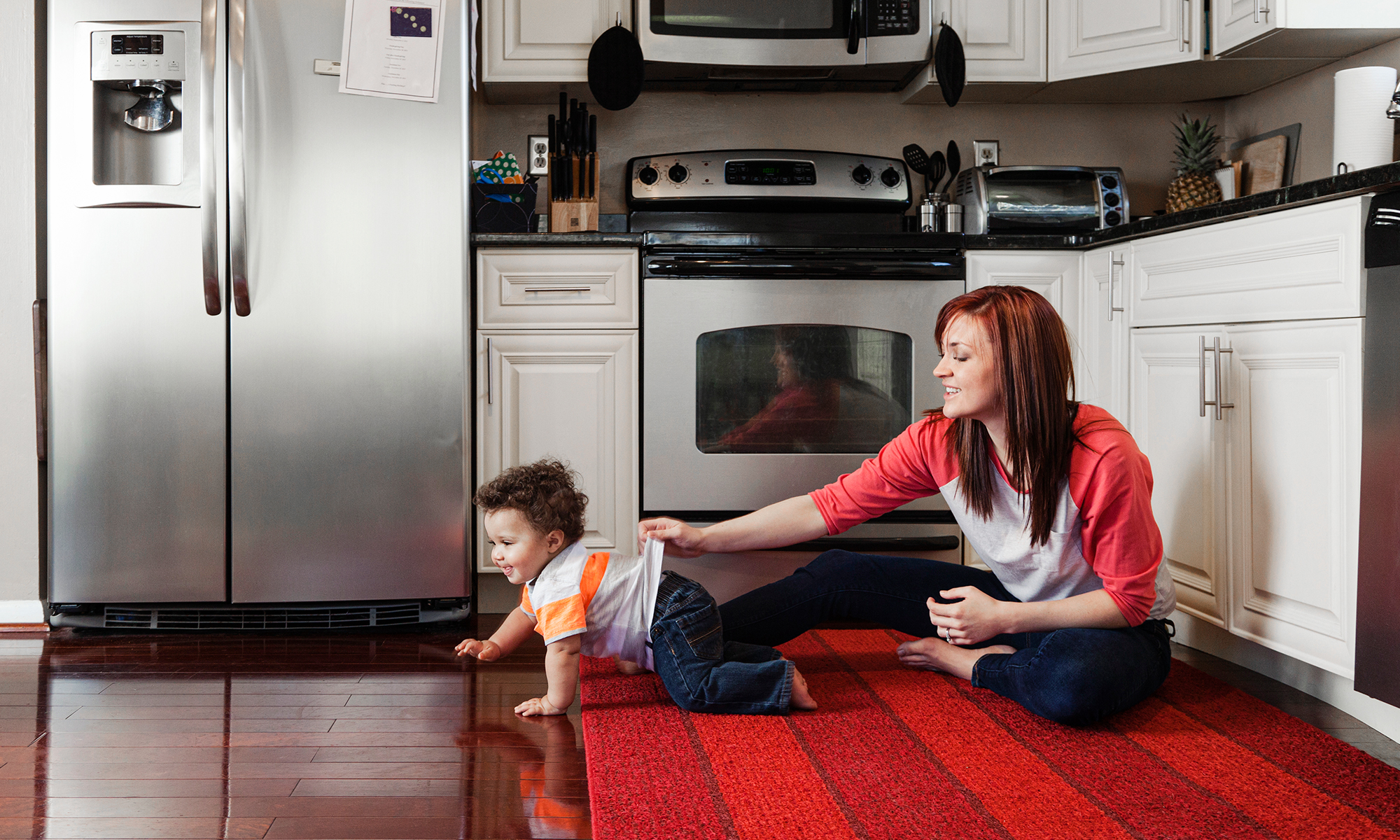 Kitchen rugs
Rugs are a great way to introduce red and soften up the bold hue with a soft, cozy fabric. If you have an eat-in kitchen table, consider placing this Santiago rug underneath it. It's a more muted tone so it adds a touch of elegance to the room, while the pattern keeps it visually interesting. It comes in tons of sizes, so you can also add a matching runner in the hallway. For another accent, check out these deep red padded kitchen mats from Wayfair to provide your feet with extra support when standing in front of the counter all day.
Accessories
Red is a fun color to infuse into plates and small appliances because it breaks up the monotony of silver stainless steel and makes for appliances that are as stylish as they are functional. We love these Gibson kitchen canisters from Wayfair with wooden accents and geometrical designs that pair perfectly with a farmhouse kitchen. If you love signs, check out this "Eat Here" sign from Amazon. It's a nod to the retro look, adding a vintage flair that doesn't look dated.
Put it on the ceiling
The ceiling is an unexpected place to find color but it adds a ton of character, especially when it reflects natural light. We love this ceiling fan from Build.com because it provides cool air on a hot summer day and draws the eye to the ceiling, making the room appear larger overall. While you're perusing all the options Build.com has to offer, don't miss these Golden Lighting red pendant lights that bring the '50s diner aesthetic into the 21st century.
Kitchen furnishings
If you're in dire need of extra storage, this Chili red kitchen pantry from Home Depot is spacious enough to hold any extra dishware or place settings, and the dark, dramatic red will stun against a white backdrop. It comes with built-in shelves and storage drawers, but if you don't need quite that much space, opt for a smaller cabinet that still brings color in a big way without taking up as much space.
Paint the walls red
If you really want to make a statement, paint your walls with a paler, matte red like this option from Magnolia Homes. If you're not ready to commit to the entire room, paint one accent wall and incorporate hints of red throughout your decor in the ways mentioned above. To break up the large block of color, consider installing white wainscoting on the lower half of the walls.
The red and white color scheme just makes sense. It's the perfect balance of bold, fun, color and a modern, scaled-back design. This color palette can find its way in any design, be it the glossy candy-apple red in modern homes, or the deep wines that accent rustic interiors.
While white and red are obviously the stars of this theme, feel free to experiment with other accent colors that add warmth like charcoal grey, sage, or cream that you can add to chair cushions, appliances, and wall hangings. The only thing holding you back is your imagination, so check out the options above and find one that speaks to you.
Editors' Recommendations