If you're an avid baker without a stand mixer, odds are you've experienced your fair share of cramps from hand mixing. So if you've had any hesitations about investing in this handy kitchen gadget, rest assured your tired arms will thank you. Even if you already own a stand mixer, it might be time for an upgrade, anyway.
We scoured the internet to find the best stand mixers on the market that are durable, easy to use, and full of enhanced features that will amaze amateurs and pro chefs alike. Read on to learn more about our three favorite stand mixers that are sure to level up your kitchen.
Good
Beginners in the baking world love the Hamilton Beach Electric Stand Mixer due to its lightweight design and easy-to-use features. At its compact size, it weighs in at only 12.48 lbs, making it a great addition to smaller kitchens. It won't take up too much counter space and can be easily moved and stored away. This mixer is a great gift for bakers who are just starting out or for children and teenagers who want to grow their baking skills. Best of all, it has similar features to higher-end mixers without the top-tier price.
What makes it different?
While it's lightweight and easily movable, this mixer also has suction cups at the bottom of the unit to keep it in place when in use. The top handle makes lifting and tilting the mixer simpler so you can easily add more ingredients without maneuvering around the beaters. Additionally, this kid-friendly unit comes with a cover that fits over the bowl to prevent splashing.
This 300-watt mixer has three mixing attachments, a flat beater, a dough hook, and a standard whisk attachment and can operate at seven different mixing speeds. The planetary mixing rotation is similar to that of higher-end stand mixers, creating a better mix with less bowl-scraping required.
Better
Experienced bakers praise Cuisinart's Stand Mixer for its solid and durable build, powerful motor, and quiet operation. The 500-watt motor is surprisingly quiet, and the high-quality attachments can cut through thick doughs like butter. This high-quality mixer also comes with a large-capacity mixing bowl and durable attachments that are easy to wipe clean at the end of a baking session.
What makes it different?
When it comes to quality and convenience, Cuisinart knows how to deliver. The large, 5.5-quart stainless steel mixing bowl includes a splash guard to minimize messes, as well as three mixing attachments with non-stick coatings for easy cleaning. Are you very particular about your kitchen decor? Well, you're in luck because this mixer comes in a variety of colors to match your aesthetic. For an antique-style kitchen, we recommend the retro-looking robin's egg blue.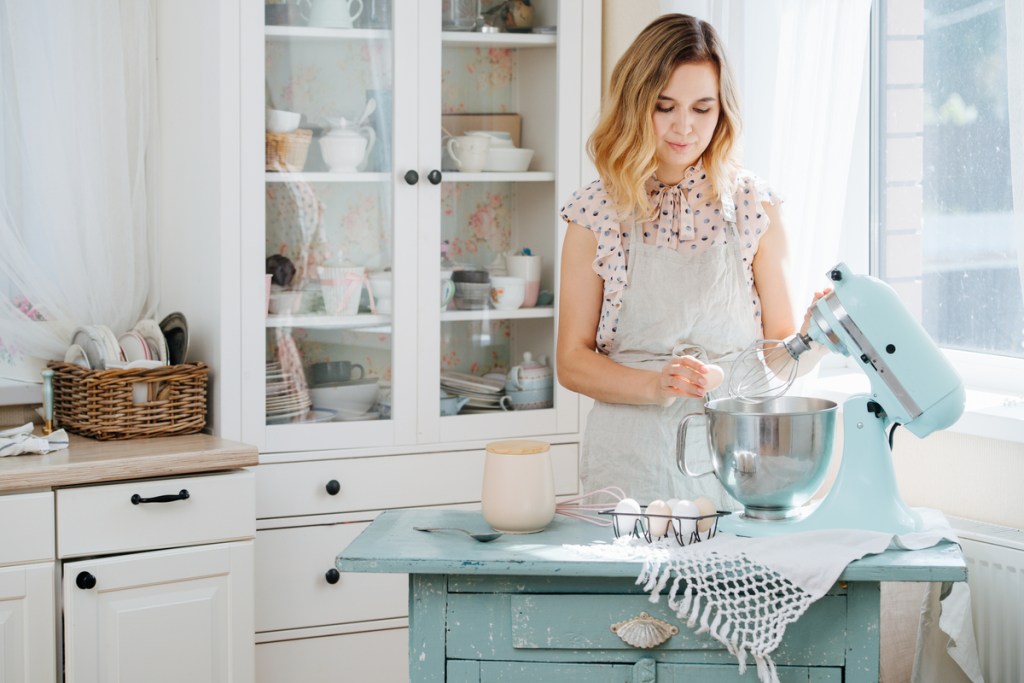 Best
KitchenAid is a fan-favorite brand for good reason. These mixers last for years, often being passed down to the next generation of bakers. Avid bakers love the high-quality materials used in KitchenAid's Design Series Stand Mixer as well as ten different speed options that make mixing a breeze.
What makes it different?
The unit itself is made to last with die-cast materials like zinc and aluminum, ensuring the mixer will survive generations of use. The large, 5-quart glass mixing bowl allows you to see your ingredients so you don't miss a beat. While this premium mixer includes three basic attachments (a dough hook, a flat beater, and a whisk), the Kitchen Aid website offers a plethora of additional attachments. Check out the website for yourself to see the extensive line of accessories including meat grinders, grain mills, spiralizers, pasta presses, and much more.
Simply put, a stand mixer is a must for your kitchen. While these appliances are a must for bakers, the host of attachments means your mixer can do more than just prepare your cookie dough. Understandably, you might experience some sticker shock: These gadgets can be quite pricey, with some costing nearly $500. However, they are built to last, even with daily, vigorous use, so you don't have to worry about replacing them every few years. With any one of these top-of-the-line stand mixers, your workflow in the kitchen will be much easier, and your tired arms finally have a much-needed rest.
Editors' Recommendations