Kitchens are often the pride and joy of a homeowner, and you want it to look its best at all times. While a full renovation of your kitchen can be an exciting way to give your eating space a facelift, there are some simple items you can invest in that will bring your kitchen's appearance to that next level of chicness. All without repainting the cabinets or pulling up the kitchen tiling. These six items from Crate & Barrel are all under $200 and will absolutely turn your kitchen space into the most organized, convenient, and sleek-looking room in your entire house.
Fruit storage
Fresh fruit, with all its lovely shapes and colors, is naturally beautiful. It's pretty unsightly, however, to have bags of apples or piles of fresh fruit on your counter. Consider displaying your fresh fruit decoratively by storing it in a gorgeous container. This Bendt Gold 3-Tier Wire Fruit Basket is not only stunning with its tiered style and gold finish, but it's also durable and functional. The sturdy iron material won't warp or discolor over time, and you can easily organize both large and small fruits and vegetables.
Wine storage
If you love to have a variety of wines hanging around for entertaining or even your personal stash, invest in a trendy wine display rack. This piece will not only keep your wine organized and on hand but will also contribute to the chic decor of your sophisticated kitchen. This 11-Bottle Graphite Wine Rack can be set up horizontally or vertically, depending on your surface space, and it can live on your bar cart, your wet bar, or your kitchen counter. It's made with solid iron and a graphite finish that is sure to enhance your stylish kitchen.
Pot or utensil display
Your stovetop cookware is vital to your everyday cooking routine. That's why it's important to store your pots and pans properly to extend their lives and add a bit of decorative flair to your kitchen. Display your beautiful pots and pans with this J.K. Adams 24′ Maple Oval Hanging Pot Rack and transform your kitchen island's appearance while easily protecting and accessing the items you need for cooking.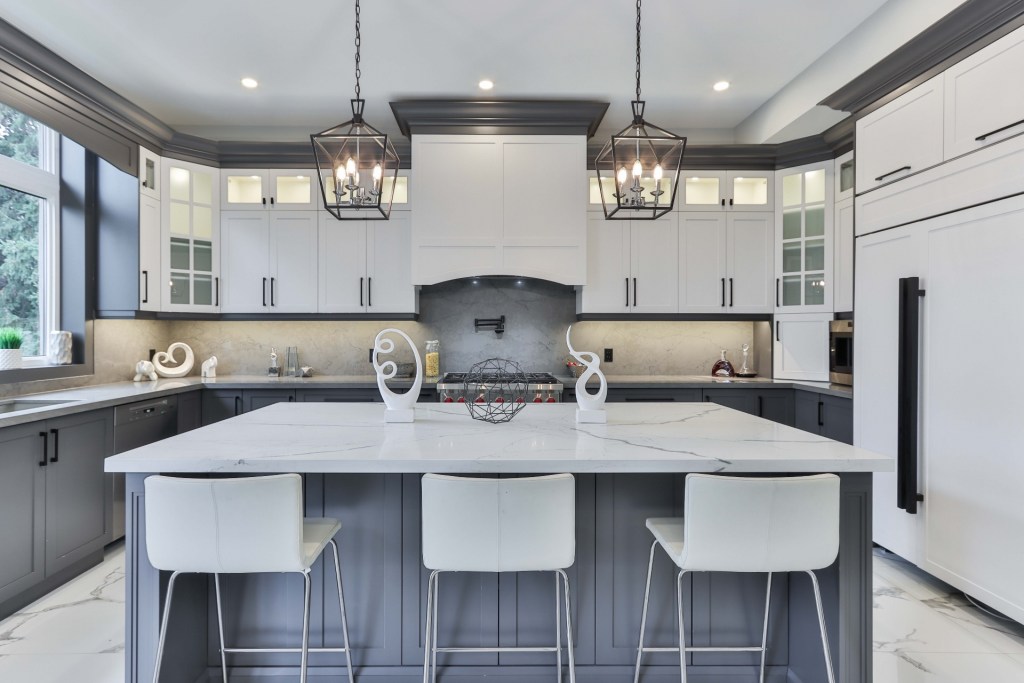 Pastry or dessert displays
If you've ever been to a trendy bakery or coffee shop, you've probably seen some gorgeous displays of cupcakes, biscotti, or scones under elegant cloches or covered cake stands. Transform your own kitchen counter into a stylish bakery by storing and displaying your muffins, cookies, or other pastries and desserts in a couple of these Baird Covered Servers.
Floating shelves
When it comes to wall decor, sometimes a photo or painting alone doesn't do justice to the room's decor. Kitchen accessories for walls, however, add some decorative flair to your kitchen without much hassle. Couple your existing wall art with a few of these Riggs 36″ Walnut Shelf with Black Square Brackets and add another layer of decor. Not only do these shelves look great, but they're also useful in storing cookbooks, spices, or even pictures or other decor.
Centerpieces
No kitchen table looks complete without a gorgeous centerpiece. Whether you're having a chic holiday party or just a romantic dinner with your spouse, this Lavelle Metal Taper Holder Candelabra will bring a touch of sophistication to the table. Made of iron and stainless steel, this candle holder is both sturdy and gorgeous.
Remodeling your kitchen is a big project, and you may not be ready to take on such a huge and complex task at the moment. However, that doesn't mean you can't give your kitchen the makeover it needs. With the six items on our list from Craft & Barrel, your kitchen will look chic, clean, and picturesque. You don't need a full overhaul to get the kitchen you've always dreamed of. You just need the right products.
Editors' Recommendations