If you haven't seen the new iMac, you need to run, not walk, to your closest retailer or hop online immediately. Not only are they the best that Apple has to offer in terms of speed, capacity, retina display, and brightness, but they also come in seven stunning colors that will make your office pop.
If you are an Apple user, you'll never buy another manufacturer again. The quality, support, updates, and capabilities are second to none. The 24-inch screen can bring everything on your screen to life, from that work presentation to your latest Netflix binge. If you ever needed an excuse to upgrade your computer, this is a pretty good one.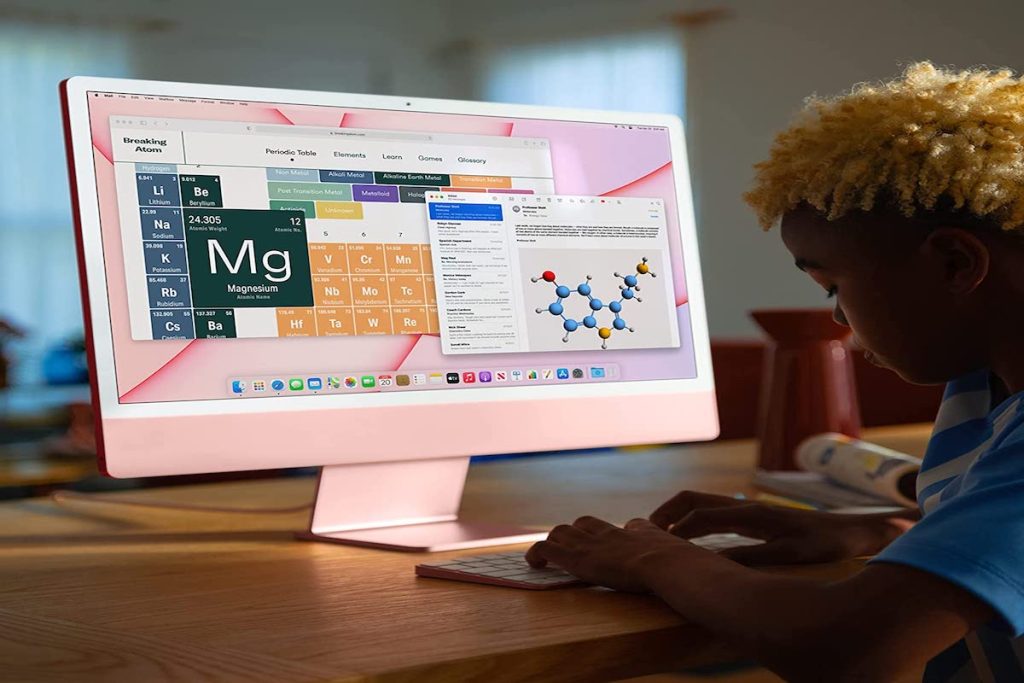 Heavenly hues
The iMac comes in seven screen colors with coordinating stands. Make your home office come alive with pink, yellow, green, orange, purple, or blue hues, and these bright, vibrant colors are sure to cheer up any space you put them in. The power connector (which connects via a magnet) also comes in matching colors, or you can pick another color to mix and match. If you're more of a traditionalist, don't worry; this set is still available in classic silver.
Speaking of color, the iMac also boasts a P3 wide color gamut, which means whatever is on the screen comes to you in over a billion colors and 500 nits of brightness. Its in-built technology "automatically adjusts the color temperature of your display to the ambient light of your environment" so your screen will adapt to the brightness of your outdoor office as well as the dim glow of the study.
Dimensions
Say goodbye to clunky monitors taking up precious space on your desk. The iMac is only 11.5mm thick, so you don't need a big space to accommodate it. Thanks to the M1 chip, this device delivers a powerful performance as it "integrates the processor, graphics, memory, and more onto a single chip," according to Apple's description. The small size of the chip allows the computer to be so thin and light — it weighs less than ten pounds, so you can easily move it from your home office to the bedroom, or wherever else you might need it.
Camera-ready
If all that isn't enough, the newest iMac has a stellar camera system. With better resolution, more light, and improved image quality, you'll be more than ready for your next Zoom call or FaceTime with family and friends. Additionally, with the auto-white balance, tone mapping, and auto exposure, you'll always be looking your best when on camera. With the number of video calls you're doing these days, a high-quality camera is a must. The microphone is also updated, so your calls will come through clearly every time.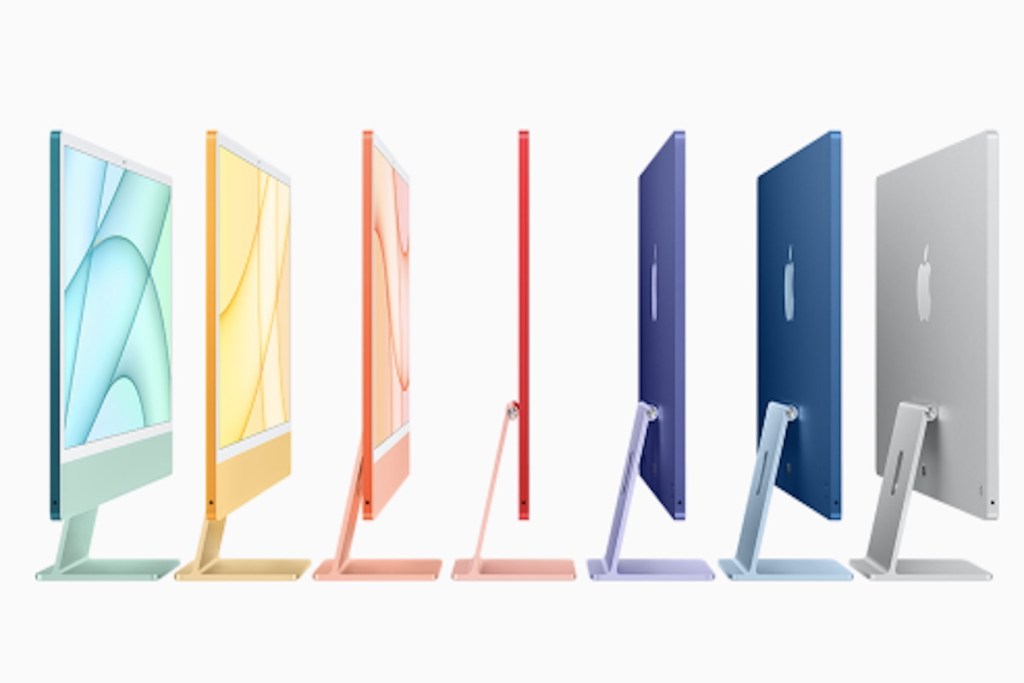 Details details
Picking the right model for you is about more than finding your favorite color. The price range is also an important component. The base model comes in at $1,299 for a 2-port model. That price goes up to $1,499 for the 256GB SSD model, and $1,699 for the 512GB SSD version. Every option includes the Magic Mouse and Magic Keyboard, so you can take advantage of the extended layout, document navigation controls, and full-size arrow keys at no additional cost to you. These accessories also come in the same color as your computer to keep your desk coordinated.
All of these next-gen features make the iMac's design second-to-none and are sure to inspire envy from everyone at the office. Not only is it smaller and lighter than other desktop computers, but the high-quality, large screen display makes it easy to work, play, and watch your favorite shows as well. The equivalent LCD on a standard desktop could cost almost double.
Whether you're an amateur photographer, graphic designer, editor, or student, if you're on the hunt for a new computer, look no further. With this model, updates are a breeze, and Apple's support team is ready to help if you run into any issues.
The bottom line? You're spending hours working at your desk every day, so you deserve a computer that will be aesthetically pleasing and powerful enough to finish everything on your to-do list. It's important to invest in things that will make your life easier and more fun, and the iMac checks both of these boxes in spades.
Editors' Recommendations