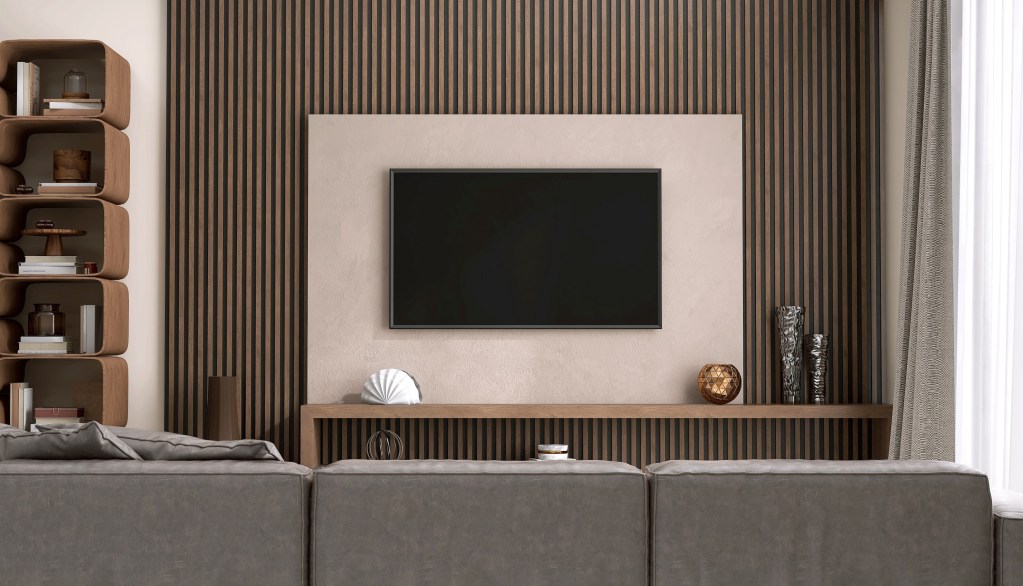 There are several living room trends that aim to add a luxe touch to our interiors, especially when it comes to dressing up the TV and TV stand. TVs can be a bit of an eyesore in the home, especially in modern designs that beg for more simplicity and elegance. While there are several fantastic trends like the picture frame TV or the classic built-in consoles that hide the TV behind a cabinet door, this idea from TikTok helps dress up the space without draining your wallet.
Here is an easy DIY project from TikTok that can help you turn your TV console space into a luxe and tasteful modern design.
Wall panels and a floating console stand make a huge difference
You don't have to hide the TV to make it look nice in your living room. @homebyfar on TikTok shares a simple project to help homeowners dress up their living space and turn the TV console into a gorgeous modern design.
Homebyfar uses slim, wooden panels from Aquapanels and a chic floating console cabinet—IKEA Besta—to make this modern design feel warm, sleek, and stylish. The wood panels give the wall behind the TV more dimension to help break up the white negative space in the surrounding room. Additionally, this provides a gorgeous backdrop for the TV, making it more inviting and less of an eyesore in the modern space.
The floating IKEA TV stand is also a great addition, opening up floor space while providing adequate TV storage. It also helps draw the eye away from the black mass of the TV to help streamline this modern design.
How to install the panels
Installing the panels is simple. @homebyfar shares their process by cutting each of the wooden panels to size to fit the space. The panels are then screwed into the wall with black backing for adding security, better sound quality, and a more stylish look.
Wood panels like these are an excellent choice for modern enthusiasts because they add more depth and coziness to the design. Modern designs tend to feel cold and sterile if there is too much white. So, wooden panels like these can help warm up the space and add a more organic touch. The TV wall mount bracket is then added to the wall paneling to give a nice floating effect, which matches the IKEA Besta cabinet.
Styling an IKEA floating console cabinet
The IKEA Besta TV stand is a floating console cabinet that is seamless, modern, and perfect for pairing with a mounted TV. This TikToker installed the cabinet below the TV, leaving roughly a foot of space from the ground and six inches from the top of the console to the TV. This helps break up the room without being too dramatic. It also gives the illusion of everything "floating" in place since it is all wall-mounted.
Floating console cabinets are perfect for minimalist and modern designs because they clear up floor space and look ultra-luxe in these aesthetics.
If you've been craving some new TV wall ideas, then this simple project by Homebyfar could be just what you need. Opt for some sleek wood paneling of your choice paired with a floating TV stand like the IKEA Besta cabinet for a luxe, modern look.
Editors' Recommendations