Over the years, entertainment centers have evolved — mostly out of necessity, as the old-fashioned CRT TVs of the past transitioned to wall-mounted plasma TVs. Today's entertainment centers serve as storage units, home bars, desks, bookshelves, and more, and can also be a gorgeous focal point for your living or bedroom.
Purchasing a new entertainment center can cost some serious money, but there are entertainment center DIY projects that will give you a customized, multipurpose entertainment center that suits your space, your decorating style, your budget, and your individual needs. Plus, you can design and paint them to match already existing furniture that will also save time and money.
There are basically two types of multipurpose entertainment centers: Floating and standard.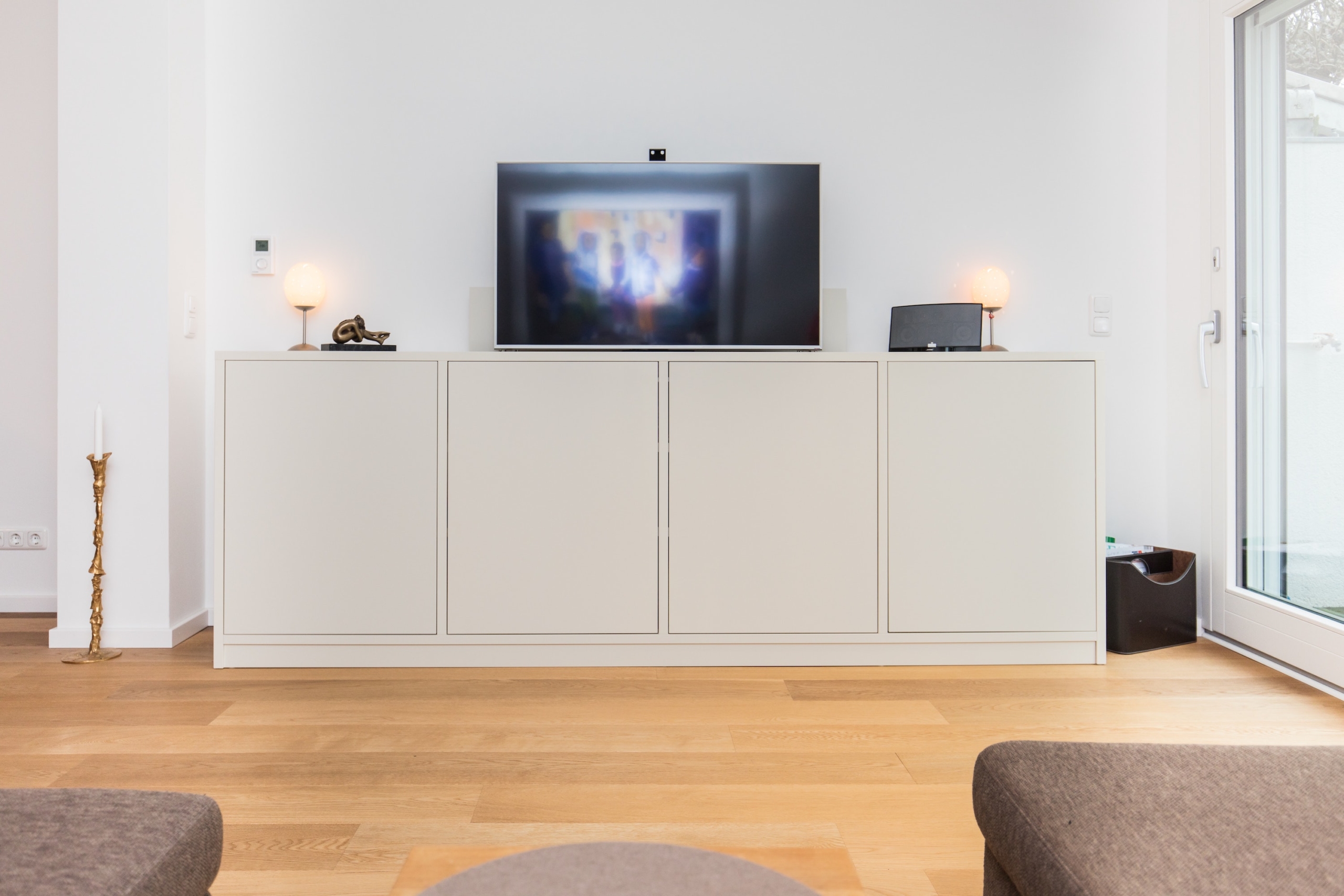 What is a floating entertainment center?
A floating entertainment center can be wall-mounted and doesn't take up any floor space — thereby earning the "floating" part of its name. Floating entertainment centers tend to have a more modern, minimalist style, and because they are wall-mounted, they can work in smaller spaces than standard entertainment centers. These days, DIY floating entertainment centers are becoming increasingly popular because even beginners can easily accomplish the task.
What is a standard entertainment center?
A standard entertainment center is a freestanding piece of furniture that houses a TV and other electronic components, as well as having storage drawers, shelves, and cabinets, making it very multipurpose. As it is an actual piece of furniture, it can require a significant amount of floor space that can be challenging in smaller rooms.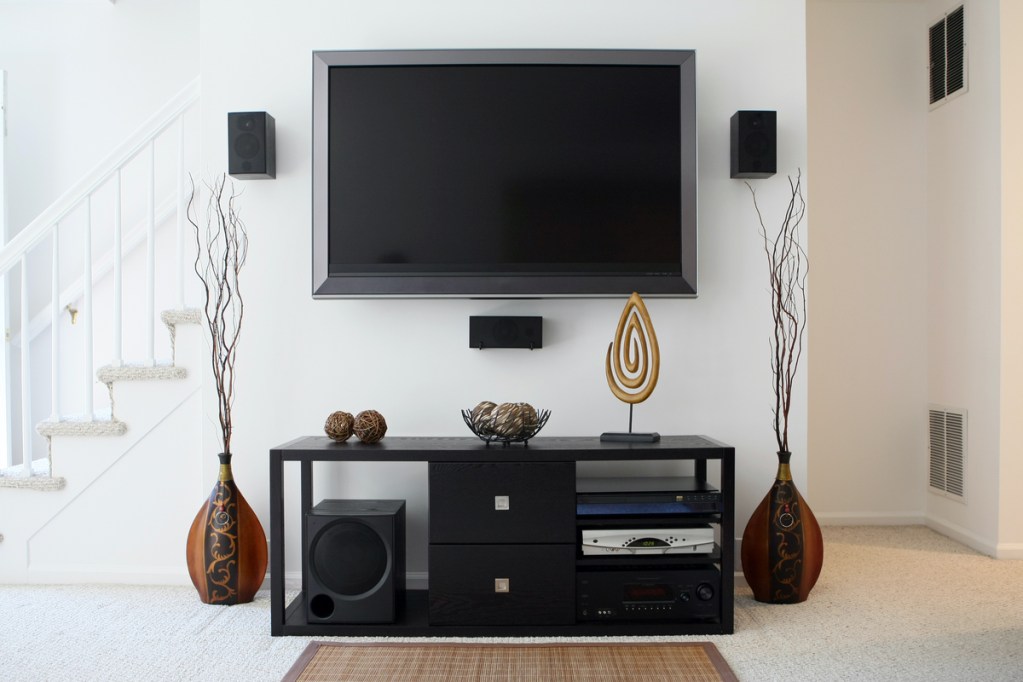 How to successfully master an entertainment-center DIY
There are literally thousands of entertainment centers — both floating and standard types — available at local shops and online retailers. But for some, there's nothing quite like building something, then enjoying using it every day.
Before tackling any DIY project, you need to make an honest assessment of your skill level and the amount of time you are willing to commit to the project. Don't bite off more than you can chew, or the end result might not meet your expectations and could potentially not be sturdy enough to support your TV or other items.
Start by measuring your available wall or floor space. After all, if you're going through the effort to build your own entertainment center, you'll want to customize it to your specific space needs.
Next, decide what exactly you want your entertainment center to do. Is it going to strictly be a place to house your TV and other entertainment components? Do you want your unit to also serve as shelf space for books, knickknacks, pictures, candles, and other decorative accents? Are you planning to turn a part of your multipurpose entertainment center into an at-home bar, with storage for glassware, bottles, and cocktail accessories? You'll want to build a different type of entertainment center depending on how you plan to use it.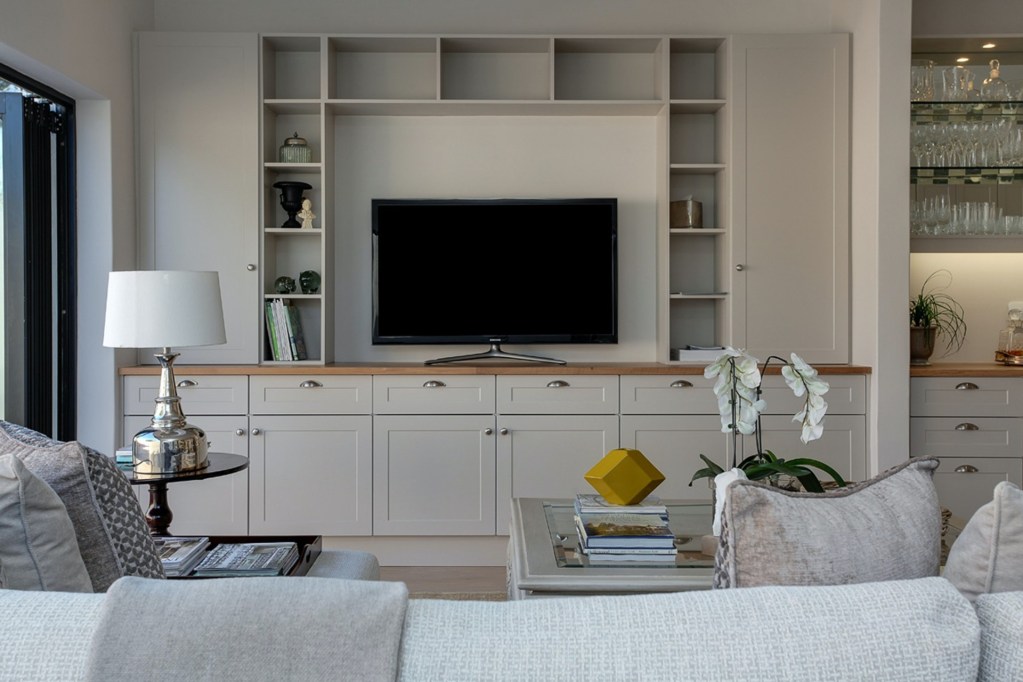 Tips for an entertainment center DIY project
You can find many different plans online for beginners to expert-level carpenter. The trick is to choose a plan you are confident you can do, with minimal stress and monetary investment. Some plans actually employ premade wooden cubes or cube shelving units that can be stacked and secured to each other in whatever configuration that suits your space, needs, and design aesthetic.
You may also wish to consider buying modular entertainment unit components. This method allows you to build your own, without actually having to build from scratch. You can purchase only the components that fit your space and your decorating plan, then piece them together to build the custom multipurpose entertainment center of your dreams.
Whether you work from an actual furniture-making plan and build something to make a carpenter proud, or you use an array of stackable cubes or premade modular components, creating a multipurpose entertainment center will add years of function and style to your home.
Editors' Recommendations