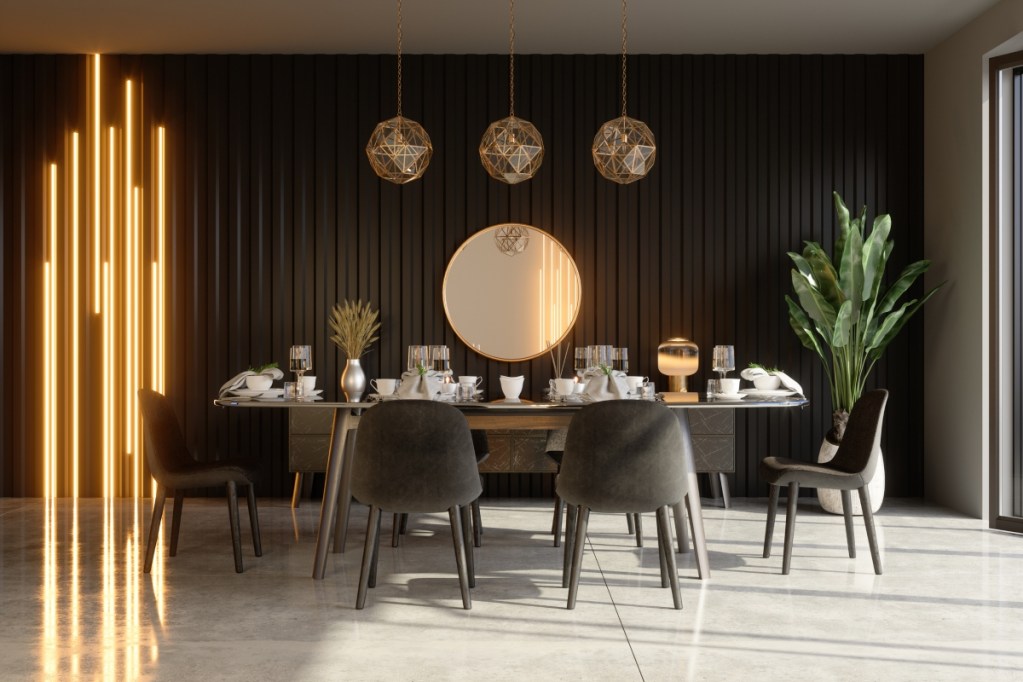 Nobody likes staring at a blank wall while sitting for a nice meal at the dining table. But styling your dining room walls can be tricky, and often, it's easiest to gravitate toward the classic gallery wall whether it suits your room design or not. What if we told you that there are several dining room wall decor ideas that aren't just the classic gallery wall?
Today, we're sharing some amazing ideas to help you style your dining room with decor ideas that diverge from the overdone gallery wall trend.
Try out a decorative cabinet and mirror
Take inspiration from this Pinterest pin by Melissa Royalty Whitlow and opt for a decorative cabinet and mirror against your blank wall. Decorative cabinets are a fantastic way to bring more storage solutions to your dining space while also enhancing the design. Furthermore, a grand mirror is a great way to add decor to a blank space while also expanding the room visually. Add some small vases or potted plants to spruce up the decor and allow the mirror to become a feature in the space.
Add dimension with a wainscoting wall
When you're working with blank dining room walls, sometimes it's not enough just to opt for a cabinet or hanging decor. And if you're limited on space, a cabinet may not be the best option. If this is the case, we recommend experimenting with wainscoting. Wainscoting is an amazing and customizable choice for homeowners looking to spruce up a plain wall in their dining room. Check out this Pinterest pin from Sincerely, Sarah D. The designer added wainscoting against the far wall and a few framed pieces of artwork to help draw the eye up.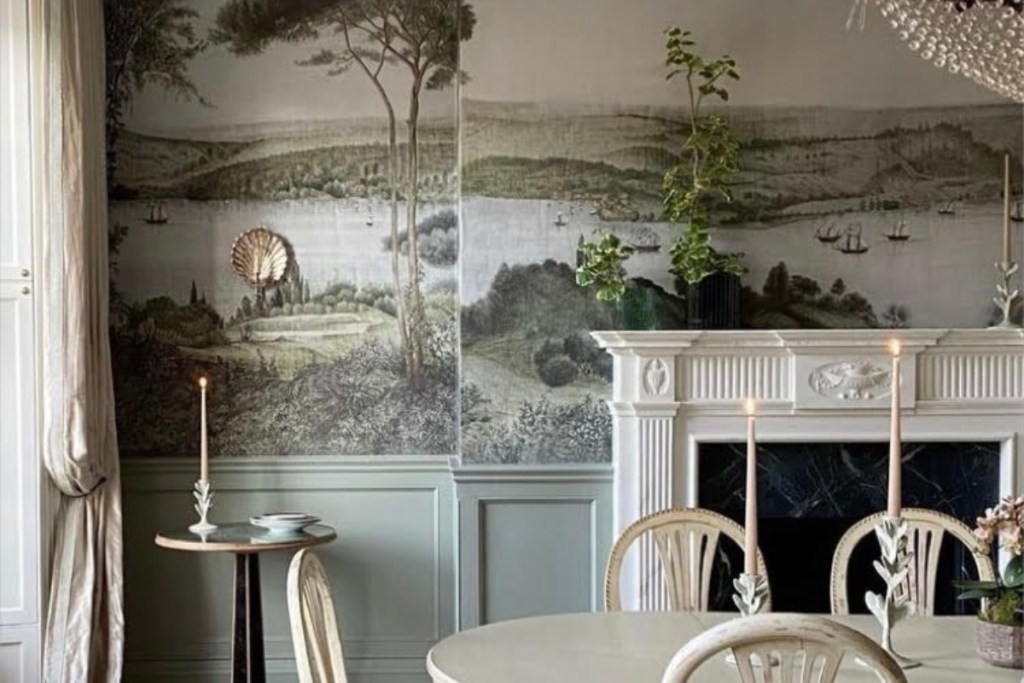 Go with a customizable wall mural
Of course, if you want a unique look in your dining room, you can always follow Schumacher — Home Décor on Pinterest by adding a mural to your dining room. A mural wall is an original and expressive way to show off your unique style while avoiding having a blank wall in your dining room. Whether you paint your own mural or opt for wallpaper with the pattern of your choice, this is a great way to save space while still adding an eye-catching feature to your dining room.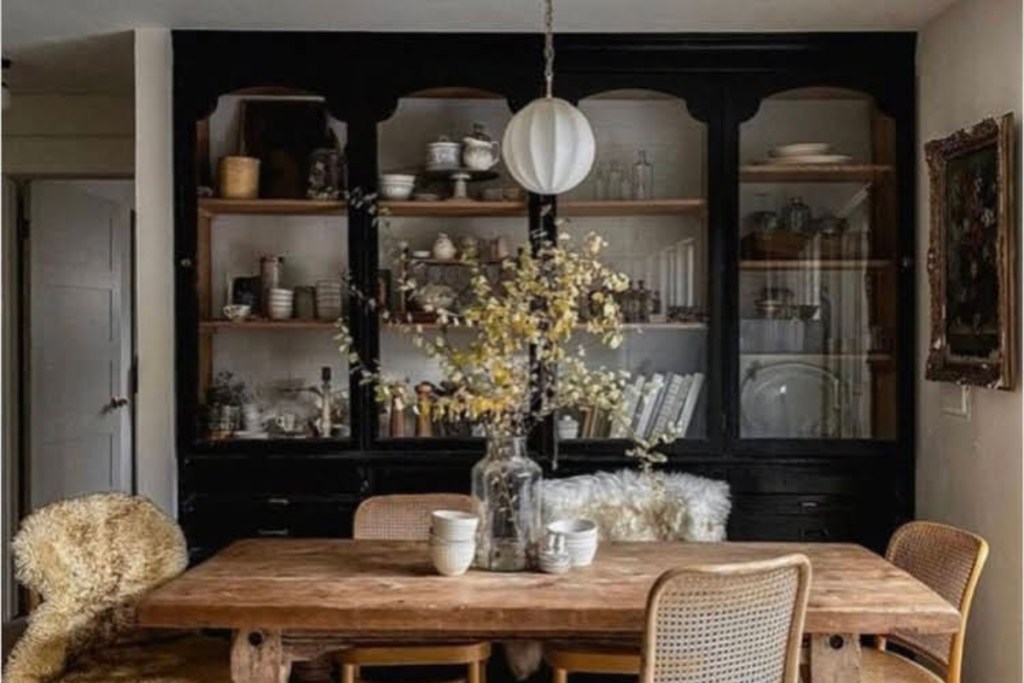 Opt for a built-in china cabinet
If you want to tackle a fun DIY project, consider adding built-in cabinets to your dining room. Like this pin from Most Lovely Things, adding built-in shelves for displaying fine china and other wares is a great way to spruce up the dining space. Not only are these built-ins functional, but they are also excellent for adding decor to the dining room that suits your style and feels cohesive.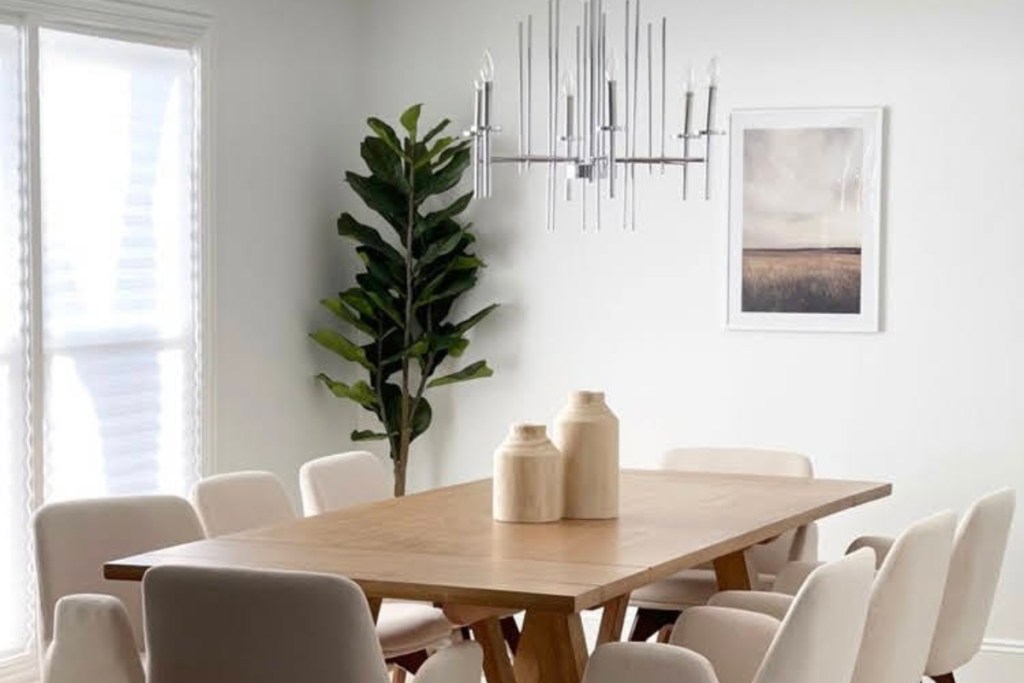 Keep it simple with a single frame
For a more minimal look, the classic gallery wall is not always the best option. Gallery walls can be a bit bolder and more maximalist, which isn't ideal for a minimal design. Instead, opt for one large framed piece, as seen in this pin from Farh From Ordinary. A single framed art piece or photograph can become a focal point in the room and make for a great centerpiece on the wall. Just be sure to have an appropriately sized frame for the space. If it's too small, it may look out of place.
Gallery walls have been a quick solution to sprucing up a plain wall, but they're not always the best choice. When decorating your dining room, you don't have to settle for this overdone trend. Instead, consider the options above to make your space feel more sophisticated and unique.
Editors' Recommendations