The dining room is where you host family and friends for holiday dinners, birthday parties, and regular Tuesday night family meals. It should be functional yet cozy, a place where people feel welcome but a space where you, as the host, can easily get to what you need. The warmth and homey feel will come from how the room is positioned, decorated, and what materials are used, and we've found 18 ideas to create a cozy dining room worthy of your time.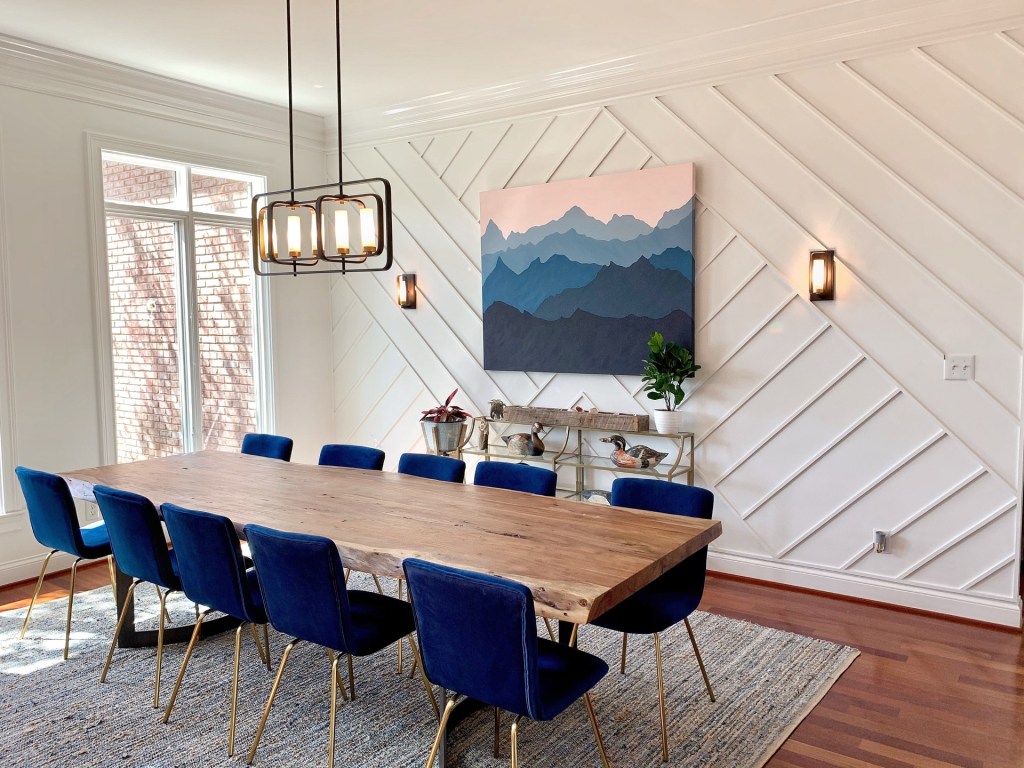 Dining room decor ideas
The sky is the limit when it comes to dining room decor. You want it to feel like a snug, cozy spot without overwhelming the space with too much furniture or wall decor, so it doesn't feel super cramped when entertaining.
Create mood lighting
Starting on the ceiling, find lighting that gives off enough brightness but can be dimmed after dinner for late-night conversations, like this one from Ballard Designs.
Invest in dramatic curtains
We love heavy velvet curtains over a dining room window; just be sure you can pull them back to let in plenty of natural light.
Find furniture that combines wood and metal
For storage, choose buffets and drinks cabinets that combine wood and metal for an industrial farmhouse feel, like this Aris cabinet, also from Ballard.
Use a mirror
Find a large mirror and place it on one wall to reflect light, like this muted gold one from Anthropologie.
Don't forget the floor
Finally, find a cozy area rug to place under the table to keep guests' feet warm and give added texture and color.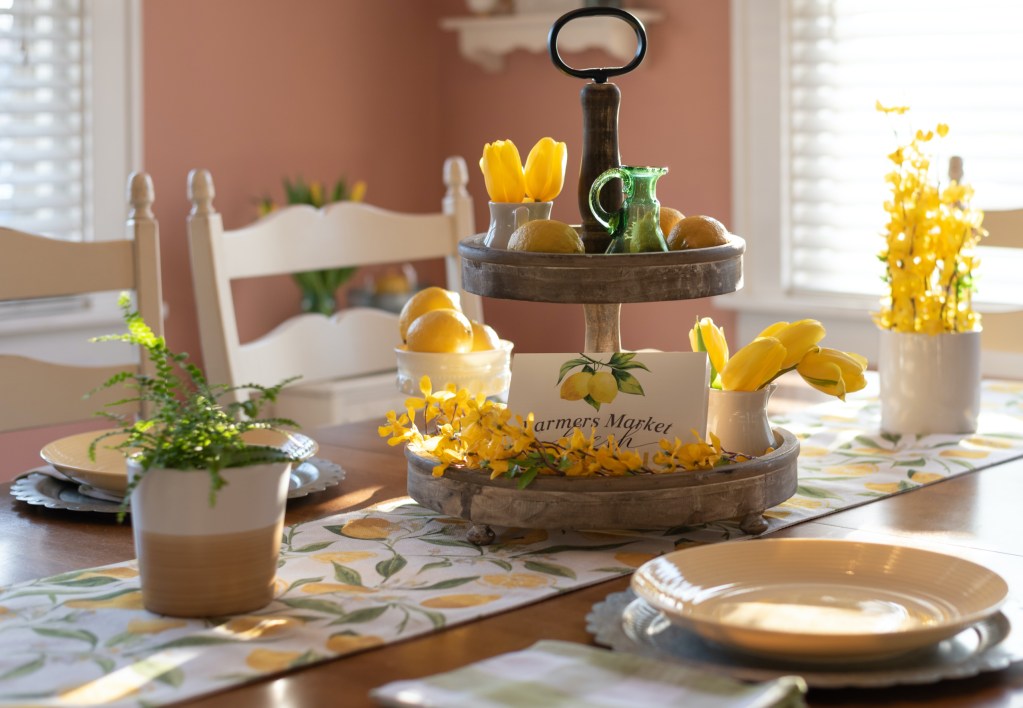 Dining table decor ideas
Creating a cozy dining table starts with the decor you showcase on it. We found six ideas we feel will make your dining room pop.
First, bring nature in with a wooden basket filled with fruit or vegetables from the season. We love this split wood square basket filled with green apples or artichokes.
You can also add small planters for greenery or herbs in a grouping or lined down the table.
Another way to bring softness to the table is with a tablecloth, and we love this oversized option from Pottery Barn.
Still, another idea is to use candles — be it chunky pillar candles placed on wood trivets or skinny tapers of varying sizes. The light cast from them will make the space feel cozy and smell gorgeous.
You can also get background lighting by twisting string lights down the center of the table.
Finally, adding a pop of color to a solid wood table can also give it character. We love this turquoise bowl, also from Pottery Barn.
How to create cozy dining room walls
We have four ideas for making the dining room walls come alive to create a cozy, lived-in feel.
Choose your wall color wisely
This is one of the easiest ways to warm up a room. We love dark colors like this Signature blue from Magnolia Homes or a similar boldness like Cracked Pepper from Behr. Dark colors make the space feel more serene than a brighter, primary color or white would do.
Add tall wainscoting
This can add warmth without it feeling too formal, especially if you pair it with more casual decor.
Add a feature wall
You can use wallpaper (we've seen this pheasant print in a dining room and adored it) or shiplap to make the room feel more inviting and interesting.
Create a picture collage
We also love the idea of a picture collage on one wall of all your family trips, holidays, and time spent celebrating each other. You can choose a singular color for the frames or mix and match multiple colors. If you don't want to display family pictures, we love a collage with various-sized mirrors, shelving, dishes, wall art, and other knick-knacks hung on one wall.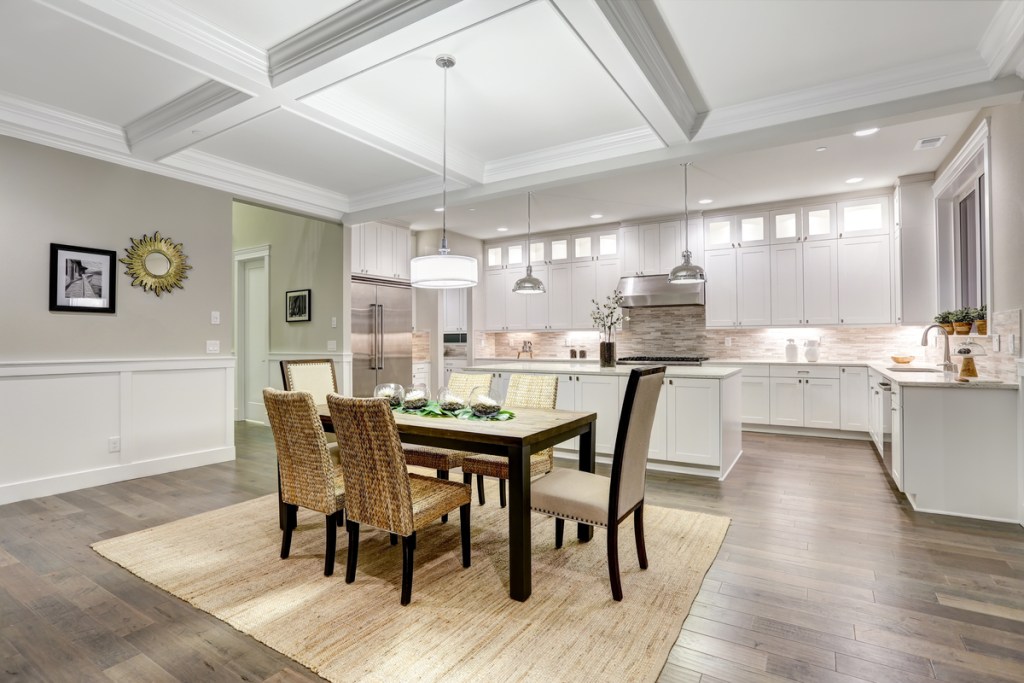 Cozy dining room furniture
We love a rustic farmhouse design to create a feeling of coziness. This can be accomplished in many ways, but one idea we love is a solid wood table flanked by fabric chairs. The colors are a personal preference, but we adore this Aero Wood table from Restoration Hardware paired with the Leigh armchairs.
We also love the idea of a bar cart that can be wheeled around to serve guests. The Lex bar cart comes in three finishes and has tons of storage.
Finally, if you have the room, we love the idea of a window bench as a way to bring in more color to the room and provide additional seating for guests.
We know this is a lot to absorb, but all of these ideas will go a long way in transforming your dining room from a functional place to eat into a magical, cozy setting that you'll look forward to spending time in. Whatever colors, styles, and patterns make you happy will rub off on your guests, so find pieces that speak to you, and you can't go wrong.
Editors' Recommendations