If you're looking for some brick fireplace ideas that will transform the look of your living room, then we have eight spectacular tips for you. These brick fireplace design ideas are great for both modern, traditional, and vintage enthusiasts alike. No matter your design preference, try out one of these great hacks and make your brick fireplace a stunning centerpiece in your home.
Paint your brick fireplace
If you haven't already, try giving your brick fireplace a facelift by adding a coat of paint. Painting a brick fireplace is a popular solution for many homeowners who want to create a cohesive color palette. Unfortunately, red brick doesn't suit every design style and can feel dark, dreary, or out-of-place depending on the existing colors in your room. While white and dark gray tend to be the most trendy shades to paint your fireplace bricks, you could also break out of the status quo by using a statement or accent color in your palette. Try painting your fireplace a velvety teal or a creamy terracotta. Just be sure the color blends with your design style and existing color palette.
Update the mantel
Another way you can revamp your brick fireplace is to update the mantel. Traditional dark-toned wood mantels are a great way to create the perfect centerpiece in a family home. However, you can also try implementing a larger, more ornate mantel for a vintage touch. If you want more elegance, custom Victorian-designed wood mantel frames are a great choice for homeowners who want their space to feel luxe and sophisticated. You might also consider painting your mantel if wood tones aren't really your thing. For example, a sleek black mantel on white brick is the perfect look for modernists or minimalists who crave simplicity.
Add a mirror on the mantel
A simple way to decorate your mantel is to add a large mirror on top. You can hang a circular mirror for a stylish look that appeals to modern or Scandinavian styles. Alternatively, leaning an ornate arched mirror above the fireplace is a timeless addition for rustic, farmhouse, and vintage home designs. If you want something more eclectic, try adding multiple mirrors of different shapes and sizes above your fireplace for a mini gallery wall collage. Mirrors are a great way to open up the space, invite more light into the room, and add a bit of flair to your brick fireplace.
Decorate with lanterns
For farm homes with large brick fireplaces, you might prefer decorating with a few lanterns. Lanterns are a great alternative to a vintage or traditional candle sconce or candelabra. They come in an array of colors and sizes and make the perfect decor addition to your fireplace. Add a couple of small lanterns on top of your mantel for a sweet and simple look. Or, place one or two larger lanterns on either side of your fireplace to create a subtle frame. These large lanterns also allow you to add a "hygge" touch to your home by allowing you to take advantage of a gentle lighting source.
Add a gold fireplace toolset
Another simple addition to your fireplace decor is to add a gold fireplace toolset. Standing fireplace tool sets that include a shovel, brush, and pronged piece are not only a functional solution but also a decorative one! This is best for traditional and vintage design lovers who may have a wood fireplace in their homes. Gold tool sets are best for the traditional red brick fireplace, while black wrought iron may look best with other colors or designs. Try adding a fireplace toolset beside your space to add a functional detail to your overall design.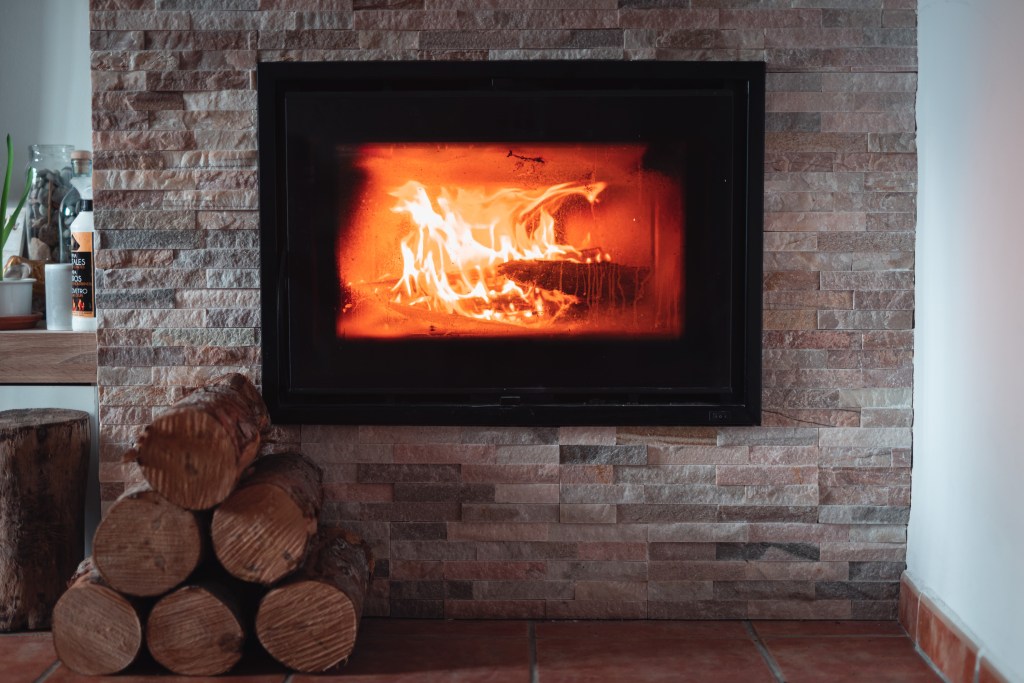 Stack firewood nearby
Along with a fireplace tool set, stacking firewood nearby can be a great detail. Both functional and stylish, firewood acts as a natural piece of decor that provides a cozy vibe to your space. Modernists and Scandinavian design enthusiasts may adore a built-in shelf beside the fireplace for stacked firewood. Alternatively, lovers of vintage, farmhouse, and traditional styles might prefer a metal stand or mini case to hold their firewood. There are several decorative storage solutions to choose from, so pick what works best for your space.
Decorate with some plants
When it comes to fireplace decor, you can't go wrong with plants. Plants add a natural element to your design that both introduces a touch of color and creates a lush and vibrant appeal. Add vine plants atop your mantel where the leaves can drape down alongside the brickwork. Or, use pots and vases to hold bundles of ferns, dried grasses, or flowers. Large flower pots on either side of the fire opening look lovely. And for farm homes, utilizing small crates, wicker baskets, and metal milk jugs can add a rustic touch to your decor.
Add a vintage fire screen
A fun way to spruce up your fireplace is by adding a vintage fire screen. Often made of metal, fire screens can be simple or elegant, so you can rest assured you'll find something that suits your style. While this decor piece is often intended for wood-burning fireplaces, nearly any style can benefit from a decorative screen. For modernists, try something simple and geometric. If you prefer the classics, a more opulent or intricate iron screen might be for you.
Decorating your brick fireplace is a simple way to introduce more life and vibrance to your design. Don't skip out on adorning your brick fireplace, as it should be a statement piece in your home. Try to incorporate your color palette into the design, and don't shy away from some quality decorative pieces.
Editors' Recommendations