Ceiling space can be prime real estate when organizing an overflowing garage. Get creative and transform your storage space. With a hook and a wall, for example, you can hang your bikes and clear up much-needed floor space. We have an amazing list of heavy-duty storage hooks for you to choose from.
Without installing any laborious structures, you can make garage storage hooks multiply your living space quickly. Tap into the height of your space from the top down. Create the perfect solution for your favorite toys like surfboards, kayaks, and anything bulky that needs to be well taken care of. Expand your garage with our curated selection of storage hooks.
Rubbermaid Fasttrack Multi-Purpose Hook
Best storage hook overall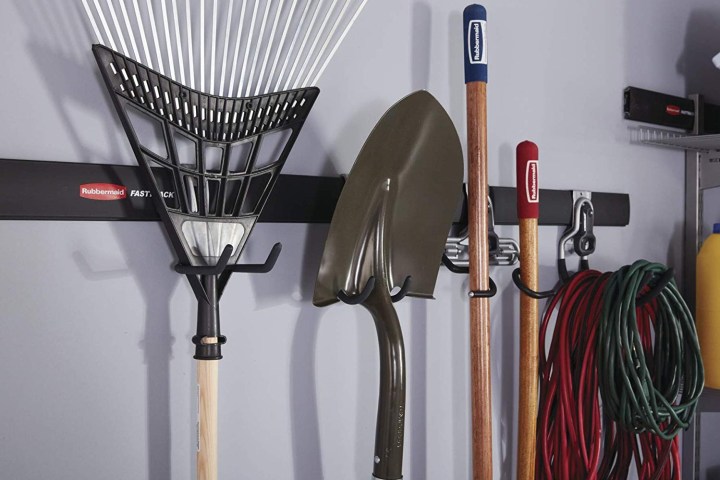 If you are looking for a top product that will last you a long time, the Rubbermaid Fasttrack Multi-Purpose Hook will live up to its brand's legacy. It is a versatile item that works on its own or can be integrated with the Fasttrack mounting system. The length of the flattened double bar hook makes it ideal for ladders, foldable chairs, brooms, or hockey sticks.
Inteli-topia Steel Garage Storage Hooks
Most versatile storage hooks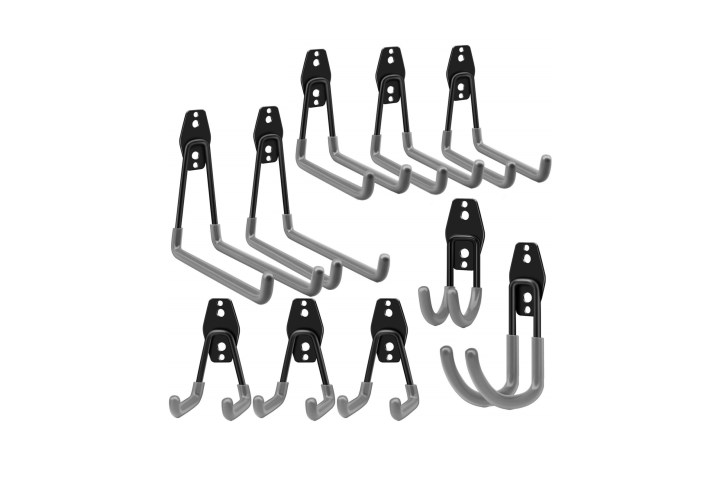 When it comes to storage solutions, nothing excites us more than versatility. That is why the Inteli-topia Steel Garage Storage Hooks made it onto the list. Built with impressive quality, this pack of 10 hooks will cover all of your needs. Three different form factors and all the mounting gear needed make this value pack the best in its class. Solid iron construction and antiskid PVC coating provide a solid and safe grip.
StoutMax Heavy Duty Bike Storage Hooks
Best storage hooks for bikes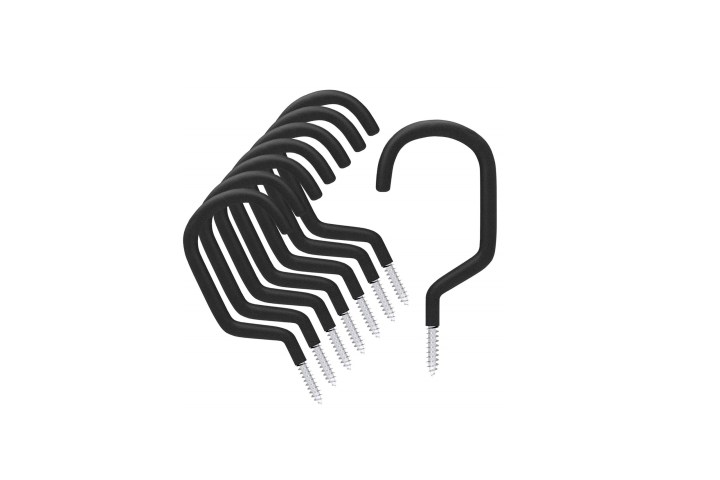 Bikes are an amazing vehicle, but they can easily get in the way when kept at home. The StoutMax Heavy Duty Bike Storage Hooks set will make sure that it is no longer the case. Designed for the garage but also useful for apartments, this is the best option to hang your bike from the ceiling safely and efficiently — whether you lean it against a wall or hoist it to the roof.
Give your garage a facelift and make all of your favorite big toys shine with a designated space for them. With our suggestions of heavy-duty garage hooks, you will find the perfect product to customize your storage space to your needs.
Editors' Recommendations