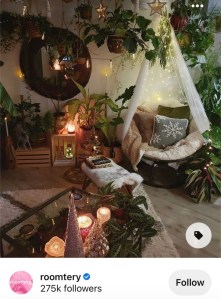 Fairycore has become a trendy design style for young girls and teens looking to create a whimsical and magical aesthetic in their bedrooms. Though, this style goes far beyond the bedroom and has proven to be a popular dorm and apartment aesthetic for young people. Thanks to the fantasy hype often seen on TikTok and Pinterest, fairycore has emerged as a unique and whimsical design style that many adore for its fairy-tale-esque aesthetic.
Today, we'll discuss exactly what fairycore is and how it has gained so much popularity with the younger crowd. And, of course, we're offering our tips on how to best use fairycore in your design. So, if you want to explore a magical and fantastical design style, then this could be just what you need.
What is fairycore?
Fairycore is a blend of soft pastel and earthy tones, plants, crystals, vintage trinkets, flowy decor, and anything that inspires a "fairy-like" aesthetic. The goal of this style is to emulate classic fairy tropes and fairy-tale scenery, particularly forest scenes and anything that reminds the viewer of fairies. As a result, you'll often see features like decorative moss, crocheted animals, mushrooms, butterflies, flowers and vines, furniture with a whimsical feel, and sheer fabrics in a fairycore design.
This trend gained a lot of popularity on Pinterest and then on TikTok, where young people shared their whimsical and fantastical bedroom designs. As the trend grew, the term "fairycore" was applied to distinguish it from other aesthetics like cottagecore.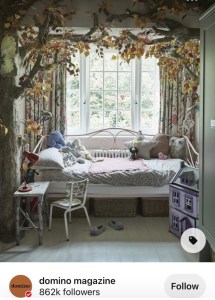 How to create a fairycore design
If fairycore sounds like something you want to achieve in your space, whether that be to add a more whimsical touch to your kitchen or sunroom or to find inspiration for a teen girl's bedroom, then we have some must-have elements to include when working with this aesthetic.

Whimsical lighting
One of the most unique additions to a fairycore design is a focus on whimsical lighting. We've all heard the term "fairy lights," and this is precisely what you'll want to include somewhere in the design. Whether you string them up on a headboard, wrap them around the ceiling, add them to a mirror, or place them around the curtains, string and fairy lights are a must-have for a fairycore design.
Vintage and antique pieces
Other crucial elements to include in a fairycore aesthetic are vintage and antique pieces. Vintage lockets, antique vanities, ornate curtain rods, keepsake boxes, tea sets, and vintage books are great decor items to include in this design style. When looking for vintage items, lean into the magical and fantastical side of fairycore. Children's fairy-tale books, items with painted flowers, vintage paintings of fairies, and celestial motifs are great things to look for.
Additionally, when choosing furniture, look for whimsically designed pieces with plenty of curves and unique details. Art deco, Victorian, and regency pieces can offer the perfect look for a fairycore-styled space, but ultimately, the focus should be on the whimsical nature of each piece.
Plenty of sheer and flowy fabrics
When it comes to linens and fabrics, sheer, pastel, and flowy materials are the go-to. Sheer white curtains on a canopy bed and simple white draperies on the windows can offer the perfect look. Additionally, when choosing blankets to adorn the sofa or bed, opt for light and delicate fabrics with pastel tones.
Alternatively, some people working with the fairycore design style lean toward a more forest-inspired aesthetic. Moss rugs made of fabric and decorative moss walls have made a lasting impact on this interior look. Additionally, some people opt for green or earthy-toned bedspreads to tie together the forest fairy aesthetic.
Small trinkets and details
Much of the fairycore aesthetic lies in the details. Suncatchers, fairy motifs, small trinkets, crystals, crocheted items, and miniatures bring a fairy-like feel to this design style. This aesthetic can take on a more maximalist appeal, with many eclectic items and collectibles featured on handmade mushroom shelves, painted bookcases, and DIY furniture pieces.
Fairycore vs. cottagecore
The key difference between fairycore and cottagecore is that the former leans toward more "magical" decor over farm life decor. Cottagecore is all about the cottage lifestyle. Farm life, English countryside themes, gardening, and simple living are some of the key aspects of the cottagecore design style. Fairycore, on the other hand, favors the magical, whimsical, and fantastical side of the countryside aesthetic.
Fairycore shares the lighter color palette, dainty furniture, and gardening aesthetic of cottagecore. However, fairycore also has elements of magic and whimsy, like mushrooms and toadstools, crystals, stars, fairy lighting, and fairy-tale book scenes.
Fairycore is a popular design trend for teen bedrooms and teen spaces. Still, that doesn't mean adults and homeowners can't borrow some elements of this aesthetic to put in their own homes. Adding suncatchers, vines, whimsical pieces, and fairy lights to nearly any space creates a more magical and youthful look. So, if you want to tap into your inner child and create a unique and trendy space, fairycore might just be what you've been looking for.
Editors' Recommendations