What if we told you that you could retreat to your very own backyard oasis? Close your eyes and imagine the sounds of bubbling water and all of the peace that comes along with it. With soothing water features you can install yourself, you can transform your outdoor space into an area of unwinding for you, your friends, and your family. The best part? You don't have to dig up your lawn and install a koi pond with a waterfall to change your yard. With a few small garden water features that require little installation, you absorb the tranquil sounds of trickling water with minimal effort and more relaxation.
Water walls
Add a modern but zen touch to your yard with the help of a water wall. Not only will the trickling water wall be a great accent piece, but it can also serve as a privacy screen, depending on where you place it and the size you choose. You can also produce a shady spot or a focal point in your yard with this statement-making piece. There are plenty of water wall options to fit every backyard style, from natural stone slabs to stainless steel frames.
Depending on the wall you choose to get, you're likely to encounter a simple installation process. However, the only caveat is that you may have to consistently refill the wall with water as needed. Hey, that's a small price to pay for the peaceful fall of water.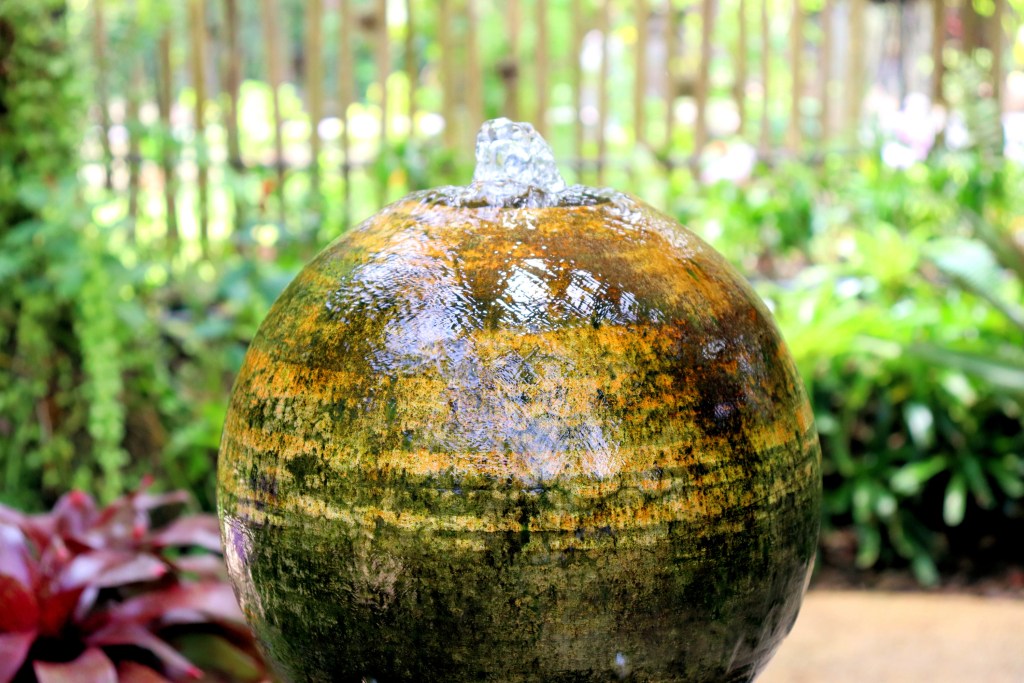 Small fountains
If you're searching for an easy-to-install water feature, you can't go wrong with stone water fountains. From cascading waterfall fountains to stone-filled bowls, enjoy zen fixtures and the soothing sounds of water almost instantly. You'll be able to stand these fountains anywhere in your yard or even inside your home if you dare.
Let's go even smaller than these standalone fixtures, instead opting for a mini tabletop fountain. Fortunately, these fountains usually come with the water pump pre-installed, so you'll just have to follow the accompanying guide to get it going easily.
Garden ponds
Good news: There's still a way to achieve a garden pond without having to dig up your lawn and go through that arduous process. Made from stone or resin, you'll be able to find large basins that can act as your very own little garden pond. Depending on the basin you find, you may have to additionally purchase a small spitter pump to generate a flow of water. Once you've installed your new mini pond, it's up to you to add any greenery, from moss to water lilies, for an added bonus.
If you still want the koi pond without the fish, you can find plenty of fairy garden-inspired ponds made from resin. These mini ponds are designed to look like the real thing, with faux fish, sculpted flowers, and even some greenery. All you have to do is add water!

Bubbling bird baths
Give the local birds a place to splash around while enjoying the bubbling noises of a birdbath. Some birdbaths come with a pump preinstalled, but if you find a favorite fountain that doesn't have a pump, you can get a bubbler separately. If you choose the latter, you'll simply have to place the bubbler in the basin water and watch it go. The splashing sounds of a bubbling pump attract more birds, so expect to see new friends fluttering into your yard daily. Plus, the pump helps circulate the water, so it's always fresh.
A few final tips
To make sure any one of your water features continues to run smoothly, you'll want to take care to do the following:
Avoid placing your fixtures where debris can fall in

Don't run your features during freezing weather

Use the specified water (e.g., distilled water)
While it may seem like a daunting task to install one of these four garden features into your yard, it'll be easier than you think. The most difficult part will be scanning your garden and yard, deciding which feature is your favorite, and then finalizing where to place it. Once you've made those decisions and have the instruction manual in your hand, you'll be listening to running water sooner than you think. Elbow grease is going to be required, but it'll be worth the final product. Kick back, relax, and enjoy the soothing bubbles of your small water features.
Editors' Recommendations