For a lot of people, some of their best memories took place in their grandmother's old-fashioned kitchen. From making pies together at the cherry red kitchen island to coloring with neighborhood friends at the linoleum kitchen table to dialing up family members on an old school rotary telephone, grandma's kitchen — and retro kitchen decor — may hold a special place in your heart.
What are your favorite pieces of vintage kitchen decor? Which items stand out in your memory from any retro kitchens you've ever visited? Let's explore some of the old-school favorites and see what kitchen decor you can work into your modern kitchen.
Vintage kitchen appliances
Nothing gives your kitchen a retro look like vintage kitchen appliances. Refrigerators, ovens, and fridge/freezer combos are really eye-catching, especially in retro colors. And the really cool part is that some of the original favorites (or original-looking favorites) can be purchased from today's brands. Go for a charming new piece modeled after a vintage version in colors like lime, orange, pink, yellow, dark red, or pastel blue. They're definitely a conversation piece for guests who wander into the kitchen. Plus, they take up less space than today's standard appliances!
Checkerboard patterns
From tablecloths to flooring, checkerboard patterns were all the rage in the '40s and '50s. Depending upon how much you adore the pattern, we suggest finding checkerboard decor to match other pieces in your kitchen. Large checkerboard flooring makes a bold statement, especially if done in the main colors of your kitchen, while a bright checkerboard tablecloth with kitchen towels and washcloths to match draw the eye across the room.
Cherry red two-slice toasters (and other items)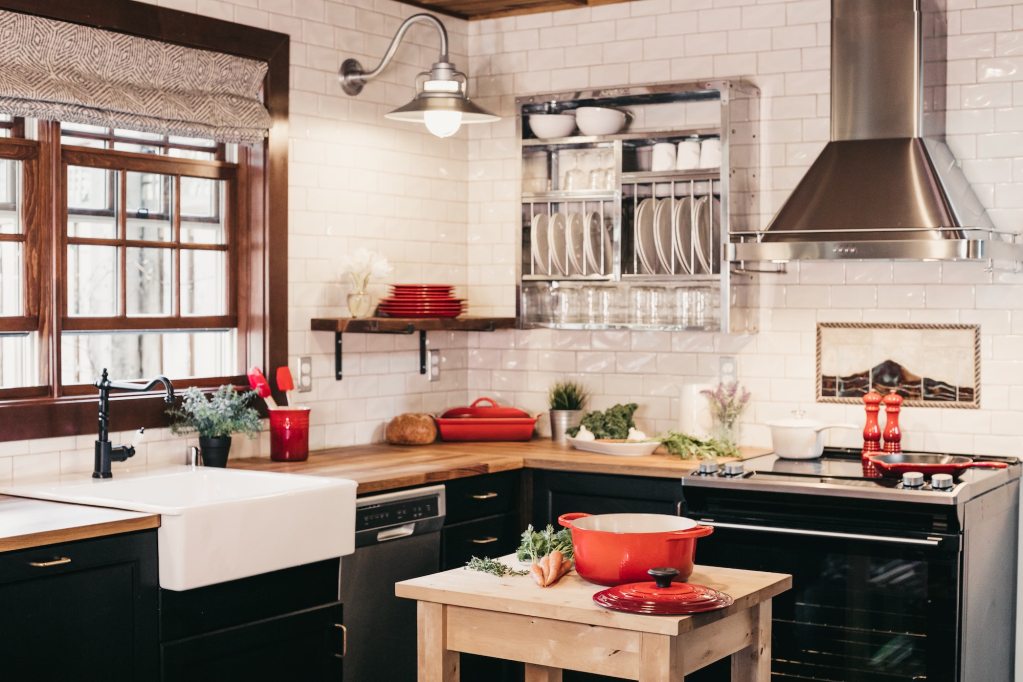 These are a retro kitchen staple, as are any of the numerous other items that match them in a chipper cherry red — chairs, old-style canisters for the countertop, a blender, a stand mixer, and more. Keep them shiny by keeping them clean and crumb-free, and your kitchen will be eye-popping, cheery, and retro-bright.
Old-school phones
Go ahead and get one — you know you love the look. A modern phone in a retro rotary style is always fun to talk about, even though they're secretly push-button and no longer make the same clicking sound they once did as the numbers fell back into place each time you dialed. Best of all, they come in all the colors retro can span, from pastels to bold colors to black. Take your pick, and find it just the right place in your kitchen.
Tabletop jukebox
Decor is sweet. Functional decor is always 10 times better, though! Pretend you're at a '50s burger and shake diner, and set your kitchen table up with an old school tabletop jukebox! They have some that play all the oldies from Runaround Sue to Heartbreak Hotel and then some — and you can keep all your change. Stock them up with your choice of tunes — as many or as few as you wish! Choose from several primary colors to match the rest of your vintage kitchen.
Wall clocks in bold colors
These are simple and straightforward, but durably made and solidly hued for a 1950s look. Some seem shinier or glossier; others are more matte. One thing is for sure with these: You'll need to learn how to tell time! None of these provide a digital face, at least not that we've seen!
Glass-front display storage for cupboards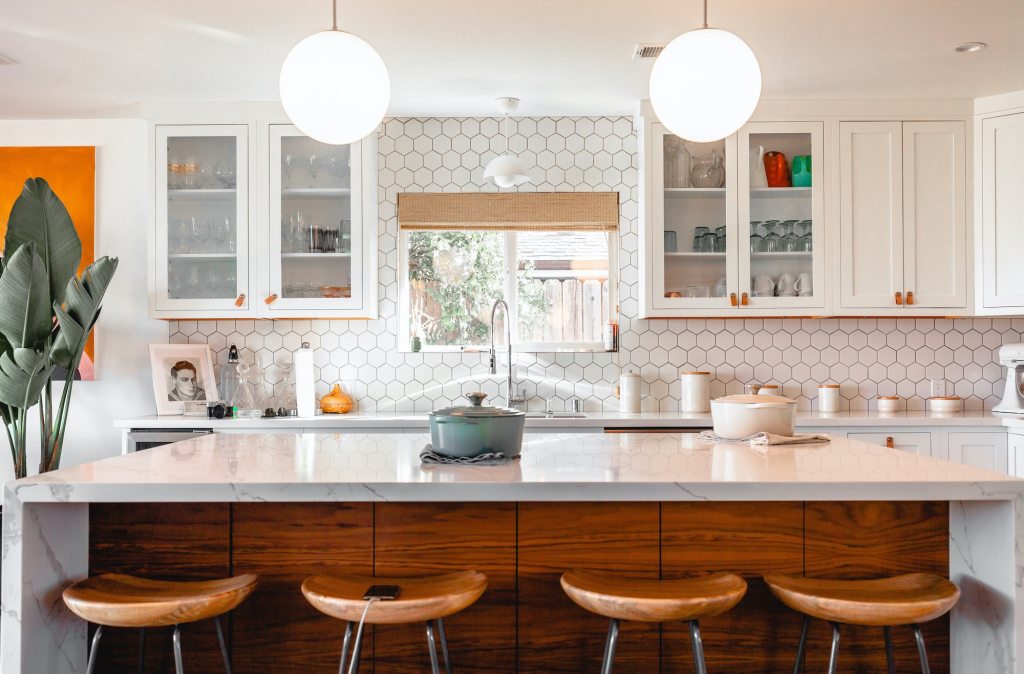 Put your most attractive dishes and canisters front and center when you opt for glass-front display cupboards. These are fun for any room, but especially the kitchen when you've got all sorts of spices, baking supplies, and other beautifully-labeled containers and jars to grab the attention of family members and guests.
Tiles on the wall
Create a uniquely vintage look when you apply pastel tiles to your kitchen walls instead of just on a backsplash. Let them go from the back of the sink to the ceiling only or put them on all the walls of your kitchen. Make them pale pink for the greatest vintage look, or select anything from powder blue to pale pastel yellow, cream, or sage green.
Stools and a divider island
Pull up to the soda shop and place your order! Anything resembling a '50s or '60s soda shop works here (think any diner with stools from the '50s). Polish it up and keep it in gleaming condition for the best results, and make sure you keep a Coca-Cola napkin or straw dispenser on the counter to complete the look.
Steel coffee tins, mason jars, or soup cans for vases
Use any of these items as a holder for flowers in a retro kitchen. See if you can make the look pop with a full bouquet of fragrant and colorful hydrangeas, daffodils, tulips, or roses, or maybe gather a few sprigs of herbs with a strand of lily of the valley. Be creative!
Citrus colors and patterns
This look will bring you back to the kitchens of the 1970s, with yellows, oranges, and limes to the max. See what you can find with happy yellow chairs and tables, fabrics in sunflower or daisy patterns, tiles in bright or light pastels, and appliances or other decor in citrus colors.
Now that you've seen some of our favorite vintage kitchen decor looks, we think you'll have a blast from the past looking for your old-school (yet still new) decor. Keep in mind that a blend of old and new works well, but you can pull in as many vintage pieces as you wish! If you need further inspiration, don't hesitate to check back for updates. Say you're interested in incorporating neutrals to your home, or perhaps you've been considering Moroccan living room furniture. If these kinds of topics excite and stir your creativity, then keep an eye on this space for future style guides.
Editors' Recommendations