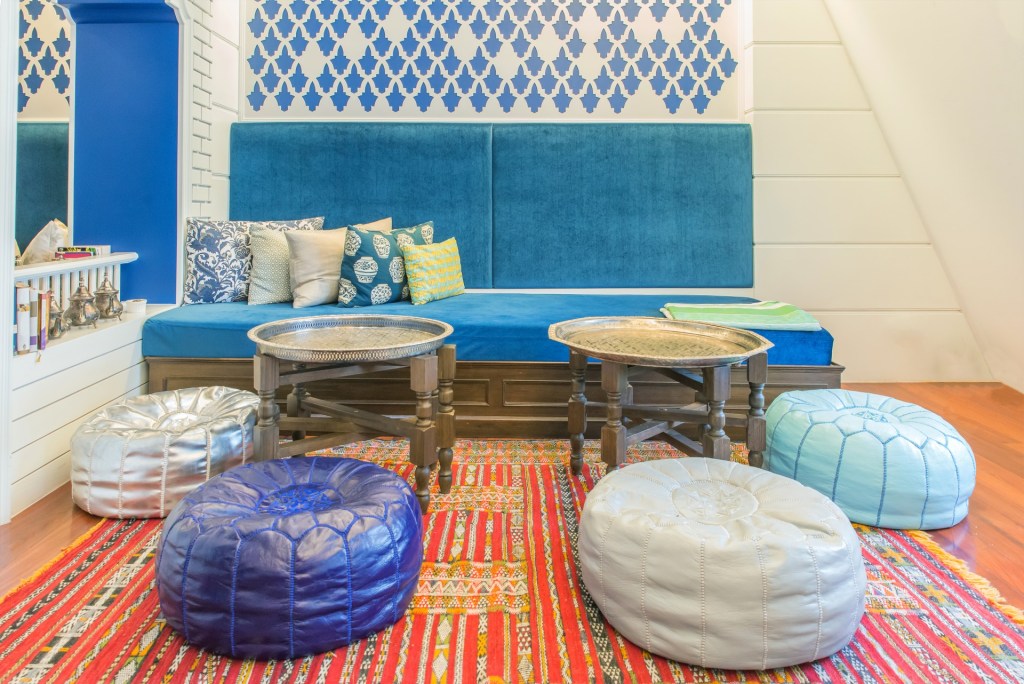 Have you ever dreamed of having a living room that perfectly married style and comfort? One that showcases a worldly aesthetic and plays with color, pattern, and texture? Moroccan living room design offers an exotic and inspiring look that is both pleasing to the eye and welcoming to guests. It harmonizes form and function by incorporating furniture pieces that invite relaxation and awaken the senses. Here, we explore how to bring this look into your space to create a living room you and your guests may never want to leave.
What is Moroccan design?
Inspired by the African country, Moroccan design embraces a global vibe that features rich, bold hues and interesting textures. Think patterned rugs, comfortable sitting areas layered with pillows in many colors and shapes, and accessories that bring added warmth. Its pieces and fabrics are often very forgiving and work well in high-traffic spaces. This style simultaneously makes a design feel like it is inspired by a far-off place yet is so welcoming anyone would feel at home in it.
Build the foundation
Moroccan living room furniture starts with a comfortable foundation of low-profile seats. At the heart of the design are pieces that invite family and friends to come together and congregate. Traditionally these may be built-in banquettes lined with large cushions and are typically surrounded by a coffee table or a series of small tables. Often they feature colorful, patterned fabric. If you love the look of the Moroccan banquettes, but built-ins are not possible in your space, find a low-profile sectional sofa for a similar look. This will echo the feel, and its lower design will encourage guests to sit back and relax.
Create layers
One of the keystones of this aesthetic is layering. Patterned rugs are a touchstone in Moroccan design. Diamond or zig-zag patterns are some of the most popular variations. This is seen in the Beni Ourain rugs, which have garnered so much popularity in the last few years they have dominated Pinterest boards and Instagram feeds alike. An authentic one will cost you, but these days you can find reasonably priced versions that will give you the look without breaking the bank. Another floor covering that works well in a Moroccan living room is a richly patterned rug with bold colors. Use the rugs to designate the seating area and add a layer of comfort to the room.
Moroccan design is also known for having added seating that provides flexibility. Leather poufs or large floor cushions placed opposite the main seating invite conversation, and carved wooden chairs or stools add interest to the space. Look for tables that are fashioned out of rich woods and feature intricate detailing.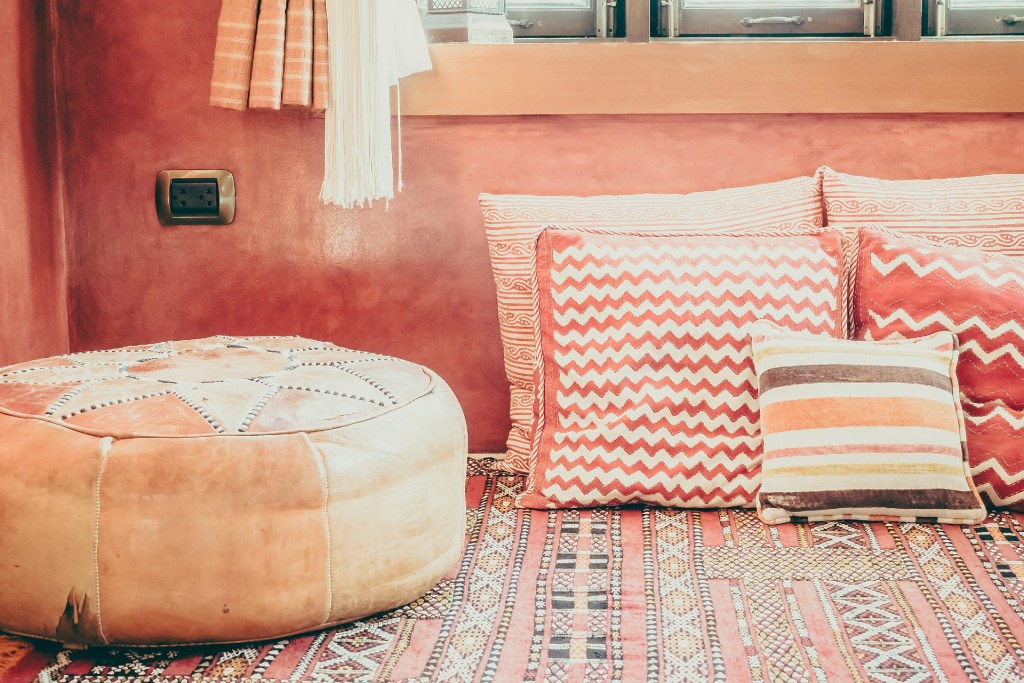 Add accents
Window coverings are often full-length curtains in gauzy fabrics that give the room another layer of softness and are usually white with textured detail, richly colored, or include repeat patterns.
To bring your Moroccan living room together, add in accents to complete the design—layer on pillows with different textures and patterns and woven throws. For example, you can drape Morrocan wedding blankets on seating areas, chairs, and tables. While color may typically be a big factor in this look, it should also incorporate hand-crafted elements such as woven baskets, wooden bowls, or warm metal accents. Lanterns are also a popular addition to this design and can be placed on tables or hung in groupings to offer a warm, soft glow in the evenings. If you want to add more dimension, mirrors in interesting shapes or framed with detailed metal or wood will reflect light in the space.
A Moroccan-inspired living room will give you a space that showcases unique pieces and welcomes guests to come together. It embraces furniture that encourages lounging and communal conversation.
Editors' Recommendations