A change of scenery in the form of redecorating may be just what you need for an overall pick-me-up. But redecorating can be tricky if you are a renter, as you don't really have total freedom with your decor options.
But there are many opportunities to do a refresh that won't mean you forfeit your security deposit, and many of those options are relatively inexpensive.
The walls and the ceilings
Your landlord might let you (or want you to) paint, and they might even let you pick the color as long as it's not too out there. Nothing refreshes your home like new paint. However, if paint is off the table, turn to removable wallpaper and decals. Do an accent wall or do a bold graphic splash. A splash down the hallway would jazz things up nicely.
Some of the peel, stick, and removable wallpaper is more washable than others. Read the fine print and pick a washable option for a new backsplash in the kitchen. If you've got one of those odd nooks, wallpaper the back. Wallpaper some insets if you've got built-in bookshelves.
Add some color by the stairs and use removable wallpaper on the risers. Or, use beadboard or shiplap on the risers. If you carefully tack the ends of the beadboard or shiplap, it won't damage the riser.
Use Washi tape to decorate a wall or two. It is flexible and comes in patterns and colors. It peels off without leaving a residue.
You can switch out the ceiling light fixtures or ceiling fans. Just save the old ones and put them back before you move out. Dress up an existing ceiling fixture by adding a medallion, which can also be removed when you leave.
Change out your wall artwork. Don't despair if you can't hang a picture—prop pictures on tables against the wall. Put large canvases on the floor or put them on shelves.
Add a full-length mirror, or two. If you position the mirror to reflect light from the window, it will make the room look bigger.
The kitchen and bathroom
Cabinet hardware can be removed and replaced. There are some awesome hardware options out there, and you can put the old ones back if you move. Be careful not to strip out the screws; make sure you use the correct screwdriver.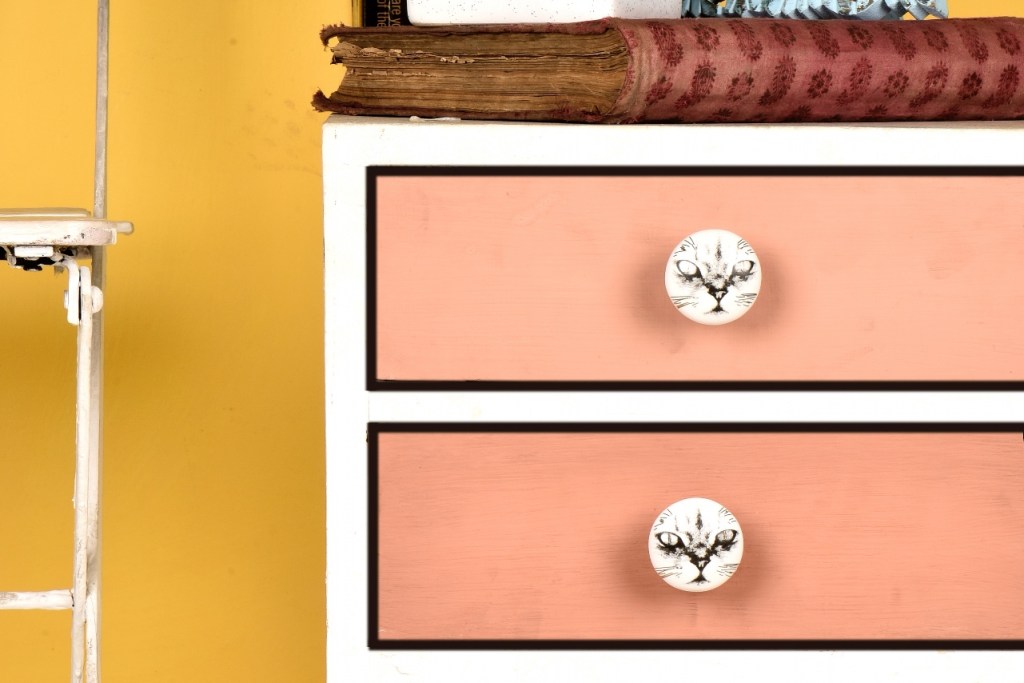 Splurge on some lovely crystal knobs for the bathroom vanity. There are likely no more than 10 knobs, so you can afford to buy some really cool knobs. When you are swapping out hardware, be aware of the footprint of the hardware you are replacing. If there is a 6-inch pull on the drawer, you don't want to replace it with a 4-inch because there will be some variation of color on the cabinet area that was previously covered up.
A new shower curtain will make the bathroom look brand new. Swap out your old towels for thick white Turkish towels that look incredibly luxurious, or get a set of deep jewel-toned ones.
Put up pegboard in the kitchen and decorate with kitchen utensils and tools. Or, put up a pegboard in your office area.
Around the house
Get plants or get new planters for your plants. Move them around to make them look new. Get new throw rugs or get them cleaned and put them in a different area.
Changing your furniture groupings can make a room look different. Angle the couch and a chair to make a conversation area. Get new slipcovers and throw pillows.
Hang bamboo blinds. They add an organic vibe and continue decorating by adding a couple of large vases with grass and other natural materials.
Swap out the switch plates. Use a bold copper or go neutral and match the wall color. You'll be surprised how different it will look.
Hate your floor and wall vents? Some decorative options look like artwork, and you can replace them with the old ones when you move.
Change out the lampshades in the living room and the bedroom. Shorter drum lampshades change how light spreads out and can change the look of a room.
You don't have to break the bank to do a refresh in your apartment. You can do as little or as much as you like. Change the backsplash in the kitchen or cover all the cabinets with peel and stick coverings. Change is good, and it will help put a whole new perspective on things.
Editors' Recommendations