When the paint starts peeling and the cabinets are looking a little too dated, it's time for your next bathroom remodel. If you're a sucker for sleek and stylish modern aesthetics, Instagram is the perfect go-to space for ideas. Creators on this app constantly share some of their best tips for incorporating modern design elements that make even the smallest of bathrooms appear awe-inspiring.
Small bathrooms can be difficult to style, especially because you must find a balance between organizational pieces, storage space, and style. In this article, we'll cover some of the hottest modern trends floating around on Instagram that will inspire you to start your own remodel.
Using glass for dividers
It's no secret that minimalist architecture can create stunning visuals, and nothing says minimal like glass dividers!
Whether you use it as a glass wall or a shower door, see-through features make your bathroom appear twice as big by expanding the line of sight. An all-glass shower setup is many designers' go-to style because it makes for a more open floor plan.
Instagram user @myhouselooks shows a bathroom that nixed the outdated shower curtain and opted for a sleek glass wall. This touch of modern simplicity can transform a room and make it feel much airier and bright.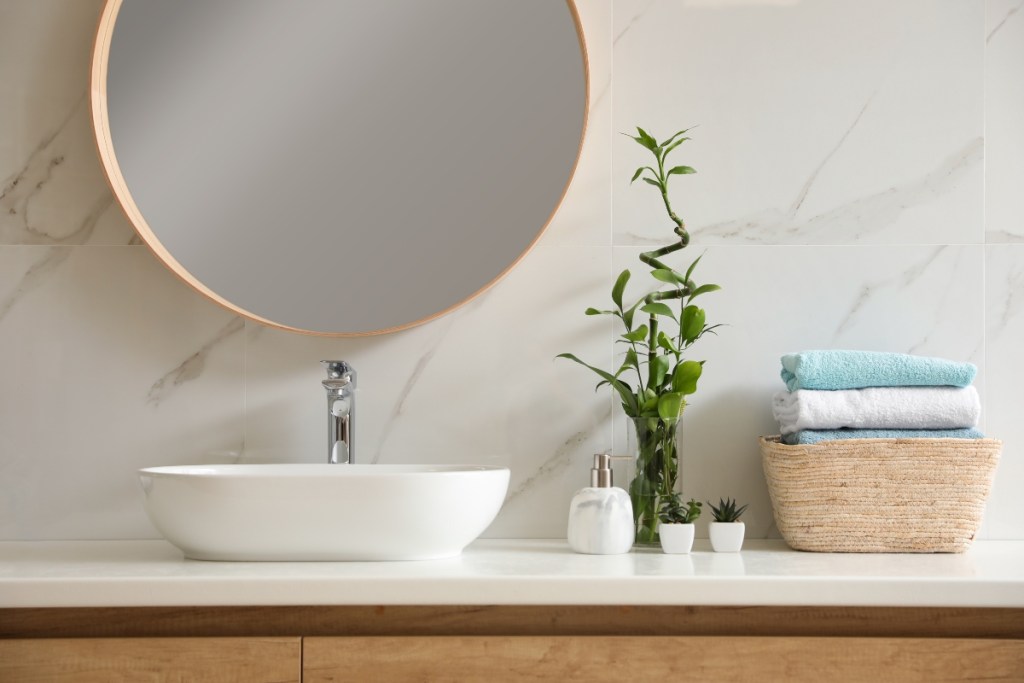 Elevated sinks
A new craze on the 'gram involves elevated sinks. User @azbukadom displays a stunning image of a modern styled bathroom with an elevated sink that draws the eye and creates an interesting focal point for any size bathroom. These raised sinks are especially functional for small spaces because it opens up more storage area in the cabinet underneath.
Additionally, this setup is fantastic for modern, sleek spaces. Elevated sinks are unique features, and they can divide up uniform walls by bringing the sink up higher and closer to one's line of vision. Because the modern aesthetic usually includes a lot of muted colors that can become boring if not broken up now and again. Consider picking dark cabinetry so the white sink adds some visual contrast.
Floating cabinets
Floating cabinets are another unique design feature Instagram designers love. Attached to the wall instead of the floor, these cabinets create a mini illusion, appearing as if that they're floating above your tiles. This feature is great for small bathrooms as vertical design features make the room appear more open and spacious. This is because seeing more open flooring tricks the eye into thinking the space is bigger.
Instagram user @nood_co features a stunning black floating cabinet in a bathroom adorned with gold and light pink accents. Elegant yet subdued, this unique characteristic enlarges the space, allowing it to feel light and ultramodern.
Light, airy colors
While modern bathrooms tend to lean towards neutrals, there's no harm in adding pops of color where you can. Muted pinks, blues, and yellows are especially popular in modern and minimalist bathrooms.
Take the design by Instagram user @gabriellesantiagodesign as a fantastic example of how to invite more creativity without sacrificing the minimalist style. Her small bathroom features a stunning pink sink, perfectly incorporating retro elements into modern home design.
Not only do these bright and light colors offer a nod to the colorful bathrooms of the '60s and '70s, but the paler tones keep it refreshing and current. It's no wonder people are falling in love with this inspiring trend.
Mixing round and square shapes
One of the best ways to take your modern bathroom to the next level is to play around with shapes! Mixing and matching square and circular items in your small space can transform it into the room of your dreams. Consider pairing round elements in your mirrors and sinks with square shapes for the showerheads and cabinets. Doing so can save the space from feeling dull or repetitive and will create that sleek, modern aesthetic that thrives off of clean lines.
If you're looking for inspiration, @comparethetradie showcases the perfect blend of cool, clean shapes. Their use of round mirrors and sinks contrasts beautifully with the clean lines of the floor-to-ceiling tile.
We hope you can pull inspiration from one, if not all, of these trendy Instagram bathrooms. They're light, bright, clutter-free, and sophisticated, all elements of a modern designer's dream room. Experiment with these aspects to piece together a design that reflects your uniquely modern style, and don't forget to post it on Instagram when you're done!
Editors' Recommendations