Dark kitchens are truly a fantastic trend that never leaves our sight. They're sleek, seductive, and sophisticated. There's no doubt to why dark kitchen ideas are preferred by so many. Kitchens are where we all spend a ton of time, so why not give it the feel you'd truly thrive in?
Whether you're whipping up a quick snack, cooking a three-course meal, cleaning up, or hosting a party, you want to make sure that you're loving it all. Will dark-colored kitchen cabinets make your whole kitchen feel dreary? As long as it's done with a plan that's well thought out, your kitchen will be far from sad and boring. Update your kitchen with the dark aesthetic of your dreams and let your cabinets be the focal point of your space.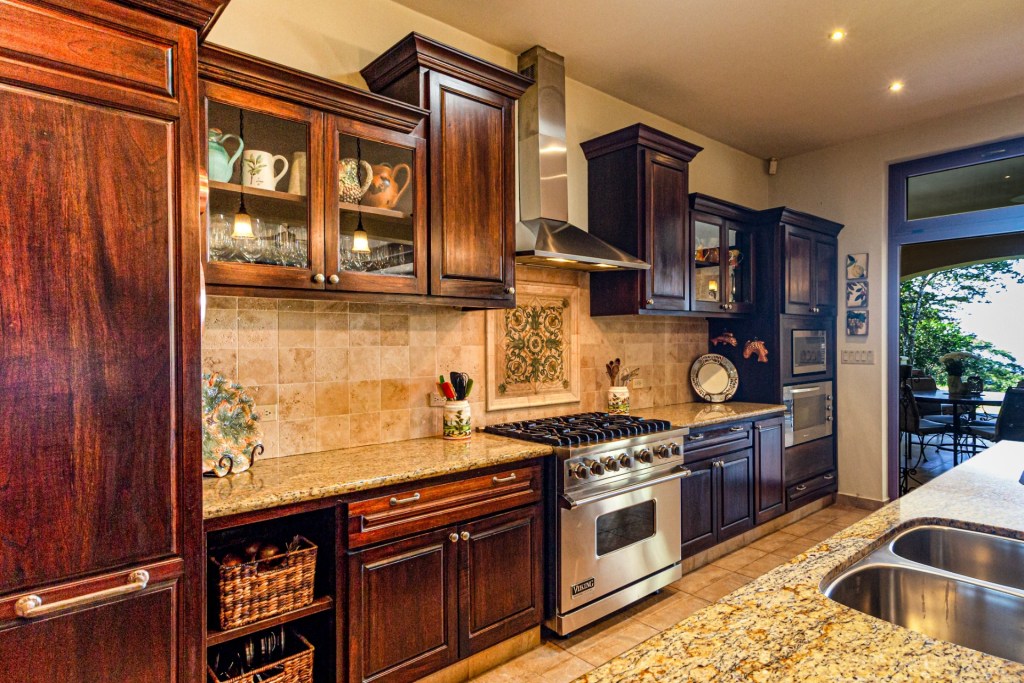 7 stunning dark kitchen

ideas

for cabinets
Give your kitchen a classy, sleek, elegant makeover by starting with what stands out the most — the cabinets.
Darken up those kitchen cabinets-

Add an elegant touch to your kitchen by incorporating dark-colored cabinets. Since cabinets take up a large amount of your kitchen space, they have a huge influence over the energy and aesthetic of the room. So why not up their game? Go ahead and consider the style, material, and dark color(s). Remember that color is frequently what grabs the most attention in a space that's usually somewhat monochromatic. Darken up those cabinets for a true feeling of grace and taste. No dreariness here.
Pick your favorite shades of dark- Black isn't the only color that'll give your kitchen that brilliant dark flavor. Of course, black shades can be utilized, but also consider other shades such as dark browns, navy, dark cherry, forest greens, dark grays, and a lot more. Mix and match your favorites. Whether you want to utilize more than one dark shade or simply stick to one color,

your kitchen would appreciate the dark aesthetic either way. The choice comes to your unique preference. At the end of the day, all dark shades will add what white, bright kitchens can't, which is suave and sleek combined!
Bring on the espresso with a little bit of creamer- Love the dark, but not too dark? Want a bit of contrast? You can still give your dark kitchen cabinets the beauty of darkness with a contemporary and chic touch. Consider a white backsplash to pair with your espresso wood cabinets. Not only will the contrast be irresistible, this dark and light duo will give your kitchen a mysterious and cozy vibe. Kitchen Magic suggests glass backsplash "or more luminescent tiles or slabs that will radiate available light back into the space."
Take on the classy black and white duo- A sleek and minimalist look can also be what you're looking for without compromising the dark feel. The black and white duo is truly the famous duo. Although they're the complete opposite, they're definitely meant for each other. There are many ways to go about this, but the idea is to mix and match both colors. Consider making your countertops white and blackening those cabinets, or the opposite. You can also paint your kitchen walls white (or black) with the cabinets being the other color. However you decide to mix and match, this classic combination is also the way to go. You'll find that a black and white kitchen conveys a terrific traditional and uncomplicated feel. William's Kitchen says, "Lighter colored countertops or floors are good ways to create contrast and to help ensure your kitchen doesn't become cave-like."
Brown, brown, and more brown-

You may be thinking, "Won't too much brown on brown be a horrible choice for dark-colored kitchen cabinets?" and the answer is — not at all. Brown on brown may seem unexciting and dull, but it really comes down to the shades of each brown. Try dark and light browns as well as glossy and matte appearances. For the ultimate contrast, make those cabinet knobs gold or silver.
You can't go wrong with a dramatic all-black look-

Yes, the classic all-black look. This one is simple — just blacken all the cabinets with a matte or glossy finish. Although painting your cabinets black may strip away the light and definition of your kitchen, try incorporating accessories such as chrome accents. An all-black appearance provides the classic mysterious, elegant look and feel. It doesn't get any more classier than this.
Smaller spaces need love, too- If you happen to have a small kitchen, don't worry about dark cabinets stripping the light away. Darken up those cabinets without compromising liveliness and light by carefully considering the floor. Consider a light wood or tile floor to really create a fluid appearance that'll enhance your kitchen. Arch City Granite says, "Although dark walls can sometimes be used in a small kitchen successfully, they should generally be avoided if you have already chosen a dark countertop."
Dark kitchen cabinets continue to be a popular choice, and the design possibilities are endless. Will dark-colored kitchen cabinets make the whole kitchen feel dreary? Not at all. So, if you happen to be interested in dark kitchen ideas, don't shy away from giving it the darkness and elegance of your dreams. With careful consideration in shades, materials, accessories, and how they should be mixed and matched, you can give your kitchen a beauty that you won't ever regret. For further inspiration, check out some great retro kitchen decoration ideas.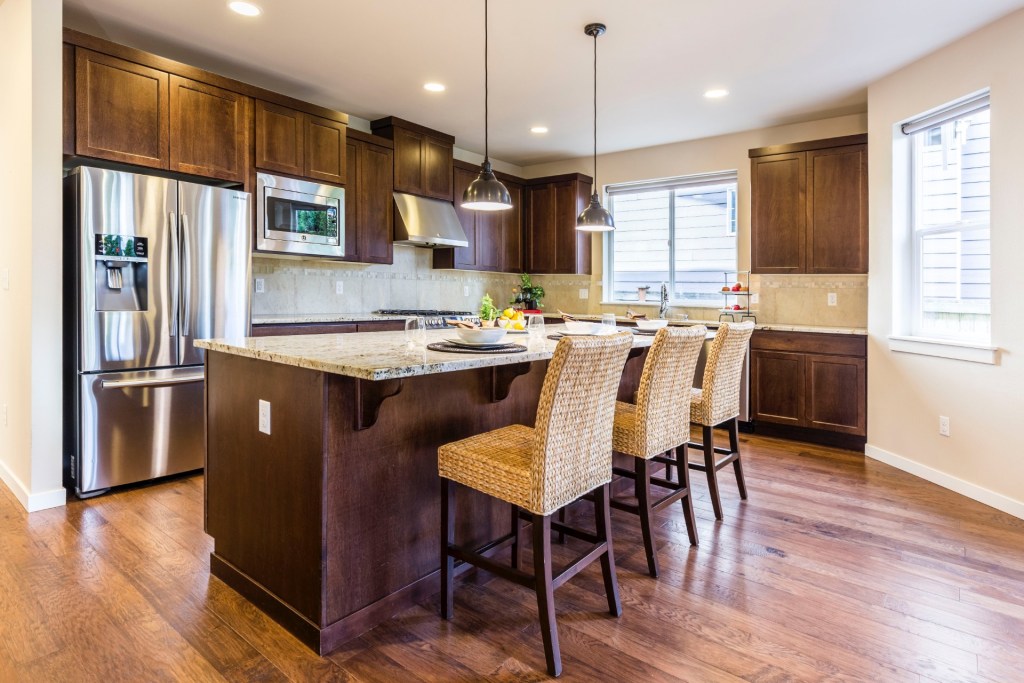 Editors' Recommendations