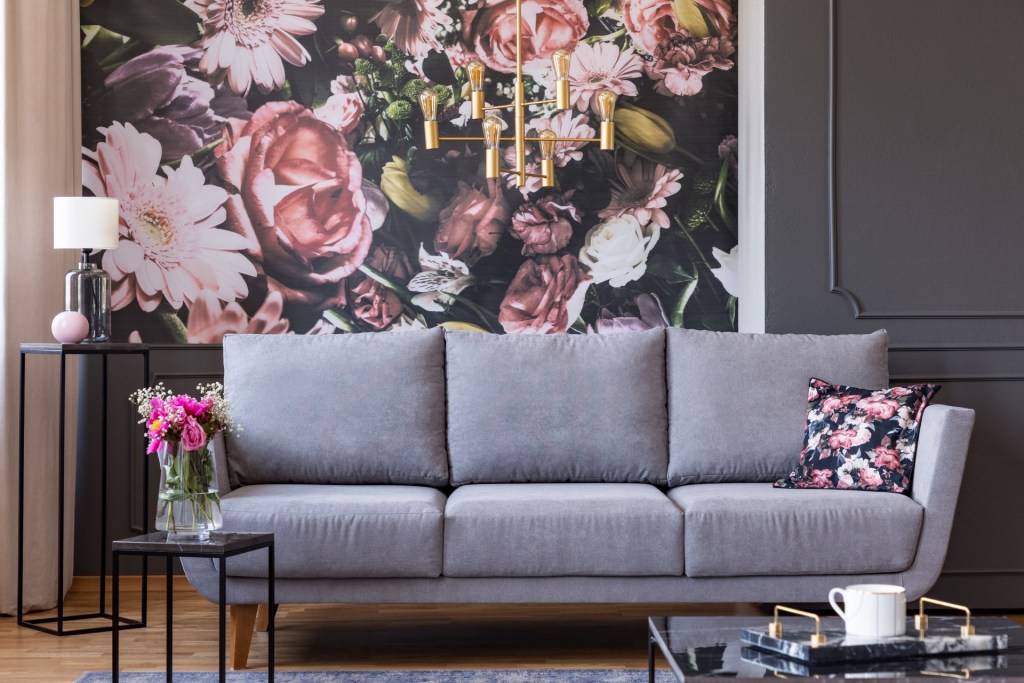 There is no better way to make your design stand out than by bringing in a vintage-look living room wallpaper. A hit with designers, the vintage look living room wallpaper trend is becoming popular and adds originality to any design. Today, there are many available that give a nod to the past but have a modern flair for creating a truly unique look that feels both comfortable and current. Here, we discuss where to find your next statement paper and how to bring it into your space for a room that will wow.
Before you buy
There are a few rules of thumb you should follow when choosing wallpaper for any room. If the room is dark and doesn't get a good amount of natural light, a very busy pattern will make it feel smaller. If you have a petite living room, stay away from large-scale patterns will be too overwhelming for the space.
Another thing to consider is the layout and architecture of your room. In an open floor plan, you can use wallpaper to define a portion of the space. Just make sure to select a paper that coordinates with the rest of the interior since they will all be visible. Wallpaper can also be a great way to draw attention to what makes a room unique. Does your room have interesting alcoves? By wallpapering the inside, you can draw the eye to them. You can also highlight fireplaces by using paper. Use it on your chimney breast or on either side to frame it.
There are ways to use paper, even when your budget is tight. Try adding it to the back of a bookcase. Find a few funky swatches of wallpaper, frame them, and hang them in a grouping for a striking art installation. Create decorative faux paneling by adding trim pieces in square or rectangular configurations and wallpaper just inside them. If you are using the paper as your inspiration for the rest of the space, keep in mind that you can match paint to any wallpaper. Just bring a swatch of it with you to the paint store.
Where to find the one
There is a wide variety of places to find your perfect paper. Here are a few of our favorites:
How to choose
With so many options in wallpapers, choosing the one for you can be overwhelming. The best place to start is by selecting your theme. Think about how you want your space to feel and what you want it to say about you. If you love the outdoors, a botanical print may be the one for you. If you gravitate to retro-modern, look for a graphic mid-century paper. The important thing to remember is it should feel personal and add interest to your room.
Another thing to consider is color. Do you want a paper that brings a bright pop of color or a monochromatic one? Wallpaper is one of the easiest ways to tie colors together in a design. Love blue and green but don't know how to bring them together effectively? Find a paper with both and use it as a jumping-off point for the rest of the space.
No matter which vintage wallpaper you choose, adding one into any design is a surefire way to make your space unique. By bringing vintage-inspired elements into a modern design, you can create a room that is simultaneously fresh and timeless.
Editors' Recommendations