If you are thinking about remodeling your home soon, you may be wondering what design trends are losing their spark and what ones are becoming hot. Interior design trends change all the time, and it can be challenging to stay on top of them. There is nothing worse than picking a design trend and realizing that it is already past its prime by the time you are finished. We have consulted with some top design professionals to find out what design and home decorating trends 2021 will make popular so you can pick a style that will last (at least for a while).
Jessica Harris is an interior designer at Living Spaces Furniture and knows what homeowners will be looking for in the upcoming months and into the new year:
We will begin to see homes designed with more purpose and functionality. Now that we are all working from home, we have seen a rise in makeshift home offices. When designing a home office, it's important to remember that, just because your space is small doesn't mean you have to compromise on style. Look for contemporary designs that maximize function – think drawer, shelf, and surface space – while maintaining slender silhouettes.
Some great ways to put Harris' advice to use is by getting creative with storage. Keeping your office space, or any area of your home, clean and organized will give it a more modern look. Cabinets and built-in shelves are a great way to make room for all of your papers, files, and office supplies. You can also hang shelves on the walls above and around your desk or other busy areas to create storage for books and other items that you don't need sitting on your desk.
Furniture is also trending toward multifunctional and is a trend that will continue to grow, according to Harris. She says, "homeowners have started to think of ways they can use their furniture in more than one way. A fold-up table can be repurposed as a desk or outdoor table and tucked away once it's no longer needed." This is an excellent tip for people who don't have a ton of space and people looking to save some money. Furniture that serves more than one purpose is a great way to save a buck, and fold-away pieces save tons of space when not in use. Secretary desks (like the one above) are a great illustration of furniture that doubles as both decoration and function.
Because the current situation in which we live has caused people to be more conscious of germs, the materials with which home items are made are being taken into consideration more. Harris confirms this by saying, "non-porous materials that germs and bacteria have a harder time sticking to will make their way into home design. Materials such as laminate, metals, cement, and smoked glass will become increasingly popular, especially in rooms like kitchens where there is a lot of foot traffic." When it comes time to remodel the kitchen, countertops will likely see this trend in action the most. For example, polished concrete has become increasingly trendy over the years, and the need for germ-proof materials may push the trend over the top. Polished concrete has a sealer on it that protects the surface from soaking up spills and germs.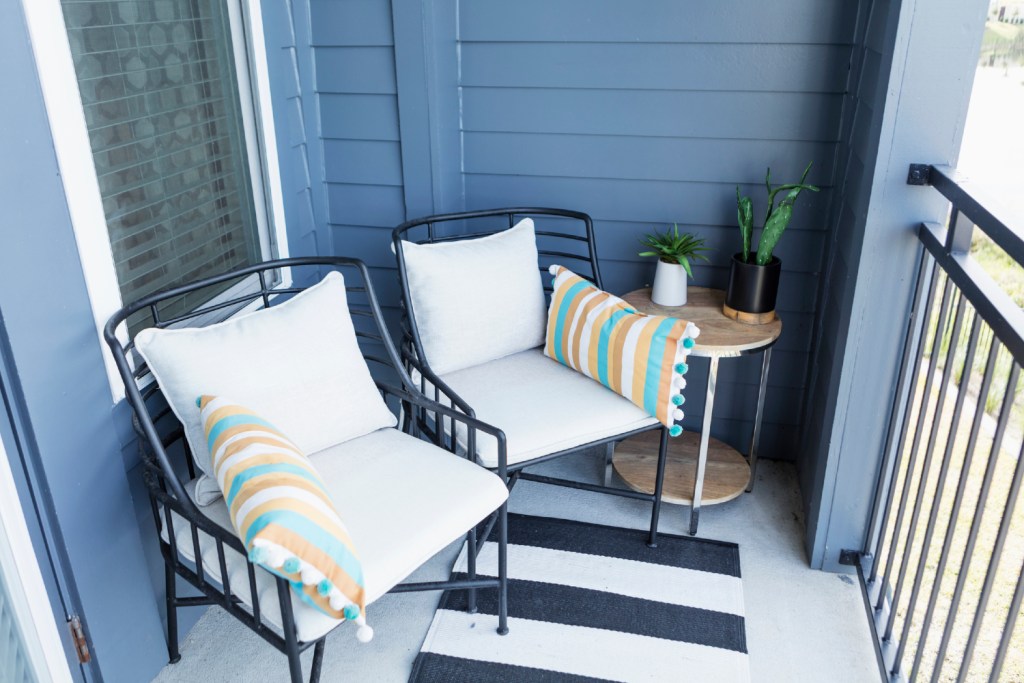 Another trend that is a direct result of the current stay-at-home world that we live in is bringing the indoors outside. This trend will be hot in 2021, according to Shelby Greene, who is a studio stylist at Living Spaces Furniture:
The need for 'settling in' – when we can't travel – means curating an outdoor space that's comfortable. Think of your backyard as you would your indoor space, starting with a floor plan. Arrange groups of seating, focal points, serving stations, and walkways for a trendy feel.
A great way to bring this trend into your yard is to purchase some outdoor rugs for your seating areas. Rugs of different colors allow you to decorate each space differently without the whole yard looking cluttered or unorganized. Put chairs, tables, plants, and other decorations around each area so your family and guests have a few different places that are welcoming and comfortable. Even a small apartment balcony or patio can be made to feel more comfortable with a rug and a few throw pillows.
When it comes to the inside of your home, something as simple as choosing a paint color can be a daunting task. As we move closer to 2021, warmer colors will be on-trend. Green confirms this by stating, "people have always gravitated toward blue tones throughout their homes. But blue can be depressing. Seeing how much time we have spent at home, people will move away from blue and choose warmer colors." Chelsey Brown is the founder and editor of CityChicDecor.com and author of Rental Style: The Ultimate Guide to Decorating Your Apartment or Small Home.
Brown has another tip for designing the inside of your home – wallpapered ceilings! Though it may sound crazy, Brown says, "wallpapered ceilings can make your room feel bigger and give it the dimension it deserves." Wallpapered ceilings can add textures and patterns to a room, and mixing textures and patterns is a trend that is set to be hot in 2021 as well. Brown continues by adding, "mixing opposite patterns used to be an absolute no in a home back in the day, but now we're realizing how much character and depth it can give a space."
No matter what your plans for 2021 are, the hot design trends will be a function of the world we live in. Since you may not be able to take a vacation, consider taking some advice from one of the design professionals above and remodel your home or yard.
Editors' Recommendations