The midcentury modern aesthetic blends fun retro designs with sleek, modern styles to create an eclectic yet time-honored look that many homeowners absolutely adore. And when it comes to the kitchen, fun pops of color, eccentric geometric details, and funky retro appliances give this style a unique look. If you're interested in adding this look to your space, we have some tips for you. Below are 10 stunning ideas to bring the midcentury aesthetic to your modern-day kitchen and inspire your next remodel.
Invest in some midcentury modern kitchen lighting
One of the easiest ways to update your kitchen is to introduce midcentury modern pendant lighting. From orb-like chandeliers to eclectic statement pieces that highlight art and form, midcentury modern light fixtures can quickly add a retro appeal to your space. For example, try a fun linear chandelier with exposed bulbs for a timeless look. Or opt for a quirky orb chandelier with brass or gold finishes. Cylindrical wall sconces, large drum pendants, and single orb pendants can also be the perfect touch.
Choose a fun geometric backsplash
Midcentury modern kitchens are well known for their fun geometric backsplashes. These backsplashes revolutionize traditional looks through triangles, pentagons, or asymmetrical shapes by incorporating an aesthetic and artistic appeal. For the best look, choose a backsplash in an unusual color. Rather than gravitating toward neutrals, jump into the mid-century modern vibe of bright hues like blues, greens, pinks, and oranges! Honeycomb tiles with three to four colors are also popular for a mid-century modern look.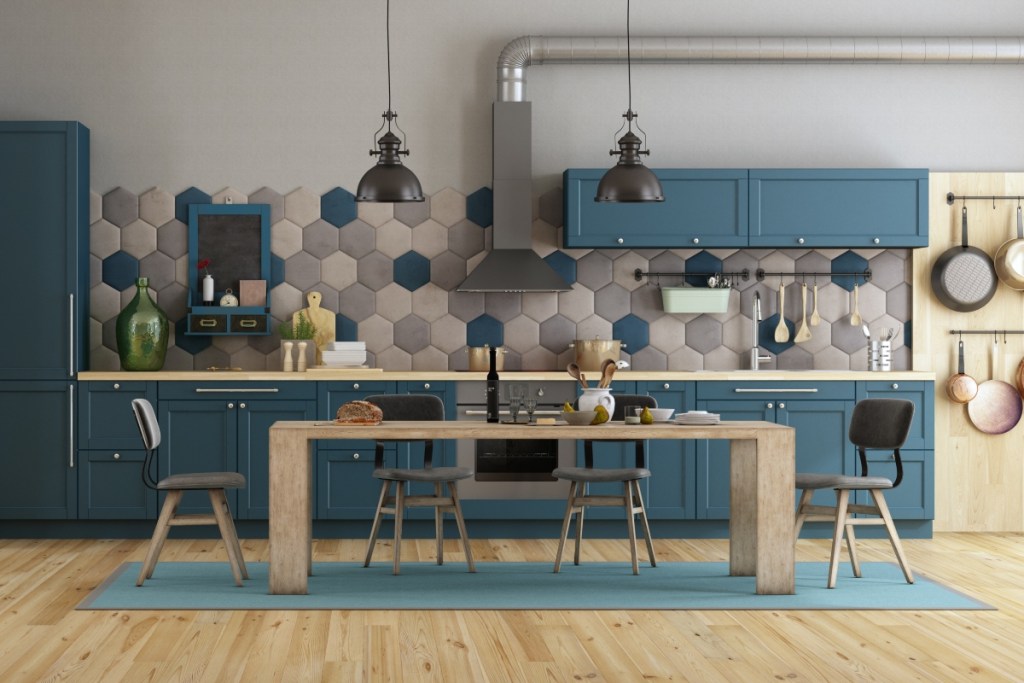 Opt for a light-colored flooring
If you're planning on going bold with your midcentury modern cabinets and backsplash color palette, we recommend choosing light-colored flooring in a subtle, neutral shade. Grey or beige tile flooring, light wood floors, or plain white tile will help even out the look of your space. This is especially important if you plan to use bold or dark tones on your cabinets or backsplash. To avoid creating an overwhelming look, try to keep your flooring subtle so you can let other areas of your design shine.
Go bold with a patterned tile
Alternatively, a bold patterned tile can be just what your midcentury modern kitchen needs. If you opt for a lighter-colored cabinet or a white backsplash, you can choose a more exciting flooring. For example, a black-and-white checkered tile can be the perfect classic addition. Or try out a colorful, patterned tile on your floors for a bold look. Just remember that the bolder your flooring, the more subdued you'll need to make your cabinets and backsplash so you don't create a visually overstimulating space.
Choose gold hardware and accents
Gold and brass hardware and accents are staples of mid-century modern style. These touches can create a cohesive look in your space, from the gold accents on light fixtures to the subtle tones on cabinet hardware. Gold and brass-colored hardware were popular choices in the midcentury, so it's no surprise that the modern version of this style favors these metallic shades as well! Add plenty of gold or brass details to curate a sophisticated look around your space.
Paint your cabinets in a vibrant hue
A great way to save money while still remodeling your kitchen is to change up the color of your cabinets. In a midcentury modern kitchen, cherrywood tones look stunning with a colorful backsplash. Or you can paint your cabinets a rich blue or green to go along with a geometric white or neutral-toned backsplash. If you already have gorgeous wood cabinetry in your kitchen, try to work with the existing color and add a fun flooring or backsplash to spice up the look.
Add open shelving for a modern touch
To ensure that you're incorporating enough modernity into the look, we definitely recommend installing some open shelving. Not only does it look fancy and boast a seamless modern appeal, but open shelving also provides an aesthetically pleasing storage solution. Place your dishware, retro appliances, plants, and other decor atop your shelves to create a vibrant and refined look in your kitchen.
Invest in some midcentury modern appliances
If you've been involved in the midcentury modern design style for a while, you've likely come across brands like SMEG, which sell colorful, retro appliances. From refrigerators to toasters, these retro-style appliances can be stunning in a midcentury modern kitchen. But, of course, you don't have to have a red fridge or orange oven if you don't want to! Simple stainless steel appliances near a colorful backsplash or painted cabinets can look just as lovely.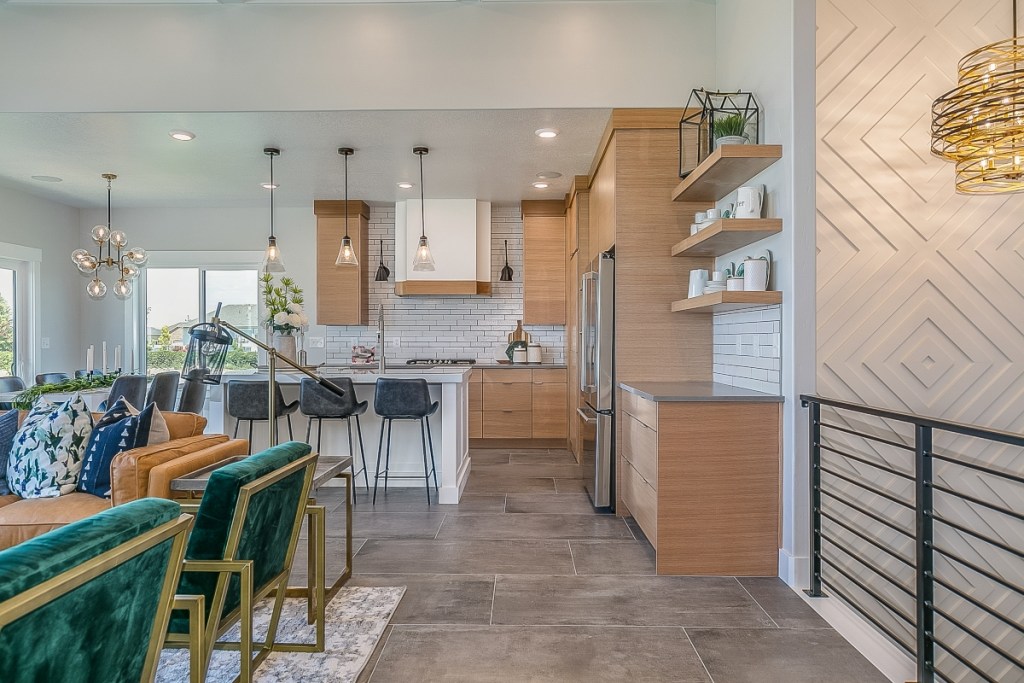 Install midcentury modern kitchen cabinets
If you plan on doing a full kitchen renovation, you might want to invest in some midcentury modern cabinets. Wood cabinets that are sleek and streamlined give the best effect, so we recommend choosing cabinetry with little to know extra molding or decorum. The simpler the look, the better! Then, add some modern gold or brass hardware to create a cohesive look. Larger cabinet doors and open shelving nearby are also staple elements to include as you plan your new midcentury modern kitchen design.
Tie it all together with a midcentury modern kitchen table
If you have room for a stylish kitchen table, you should consider adding one with a midcentury modern aesthetic. Tables with slanted metal, pin-like legs are a fantastic choice and can really complement your design. You can also choose between a square or circular table, depending on your needs. For a fun touch, highlight the use of form in your space by using a table with a tabletop and wood-toned legs to showcase the use of shape in your room.
The midcentury modern design style is all about using form, shape, and color to create an eclectic yet striking look. Use a blend of round and square items throughout your space, like orb chandelier lights or geometric backsplashes, and add plenty of vivid colors. The midcentury modern design style was practically made for the kitchen, so don't neglect to decorate this room if you love the timeless yet retro look!
Editors' Recommendations