The kitchen backsplash can span an entire wall, cover the area between the countertops and cabinets, or cover the space behind your range. No matter what decor you have in your kitchen, the backsplash is an essential part of both its appearance and its functionality. The backsplash protects the wall behind it from water splashes from the sink and grease and food splatters from the stove. Whether your motivation to switch up your backsplash style is aesthetic or practical, here are nine kitchen backsplash ideas that will transform your kitchen in no time.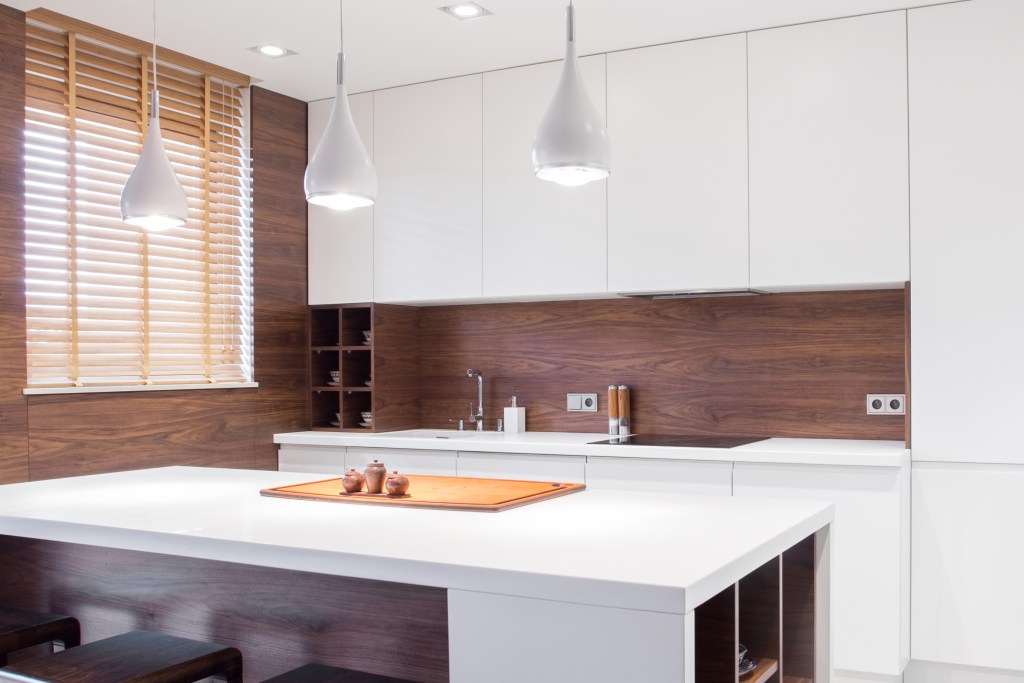 Metal or wood
Traditional kitchen backsplashes are made of some sort of tile, but if you're looking for something unique, alternative backsplash materials are the way to go. Consider metal sheet backsplashes made of stainless steel, copper, zinc, or aluminum. Even wood backsplashes such as shiplap or beadboard can work. Of course, you'll need the proper finish on the material to protect it from the abuse it will withstand.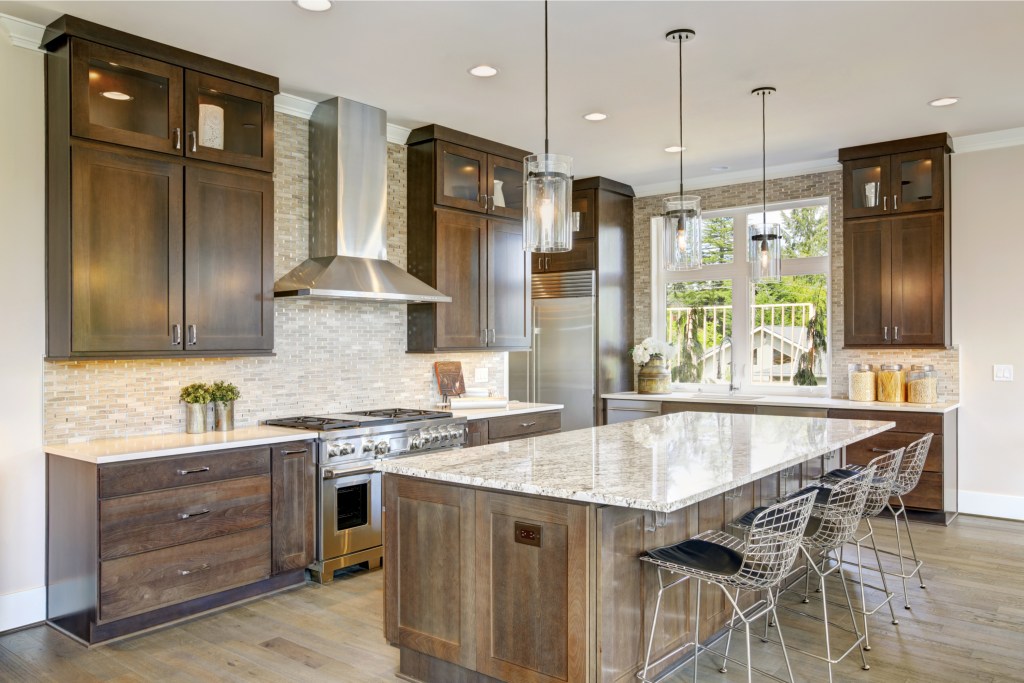 Ceiling-height backsplash
Most home kitchen backsplashes occupy the space between the countertop and the bottom of the cabinetry. Even on parts of the wall where there are no cabinets, it has been common practice to place the tile straight across on the same line as if there were cabinetry. For 2022, one of the hottest trends in kitchen backsplashes is ceiling-height backsplashes. Ceiling-height backsplashes can update a classic tile to a more modern look by highlighting a single kitchen area and thus creating a focal point.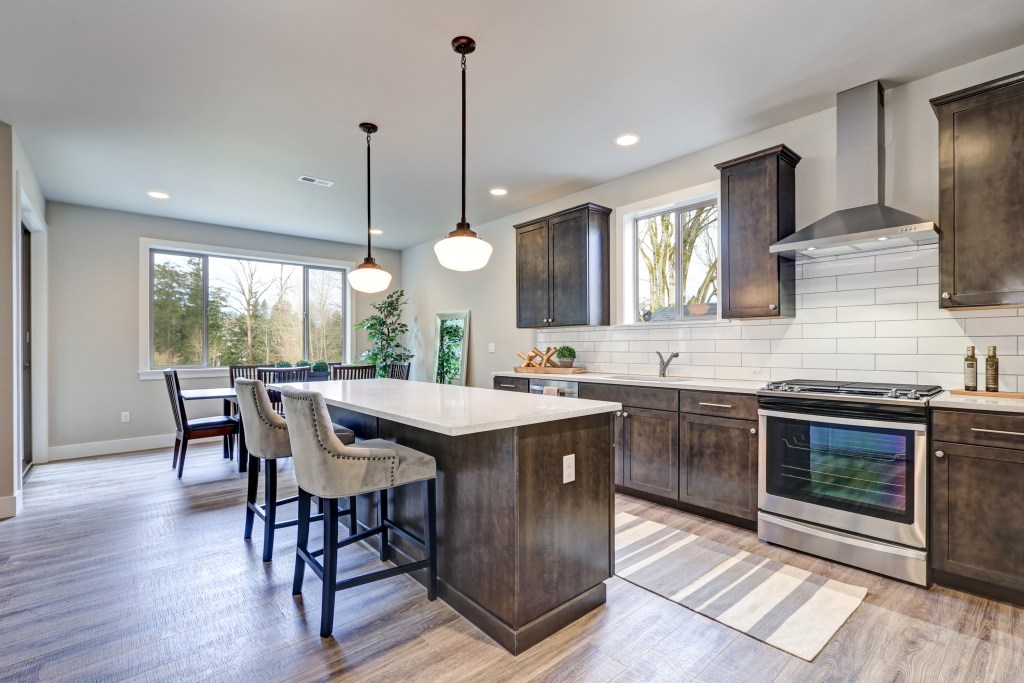 Large subway tiles
Subway tiles have been in style for kitchen backsplashes for years, but these days homeowners are looking for a bit of a different look while still reaping the benefits of the design and function that subway tiles bring. Traditional subway tiles are 3 x 6 inches, but we're now seeing tiles that measure 4 x 8 or even 4 x 12 inches. These large tiles look great in a ceiling-height application, too.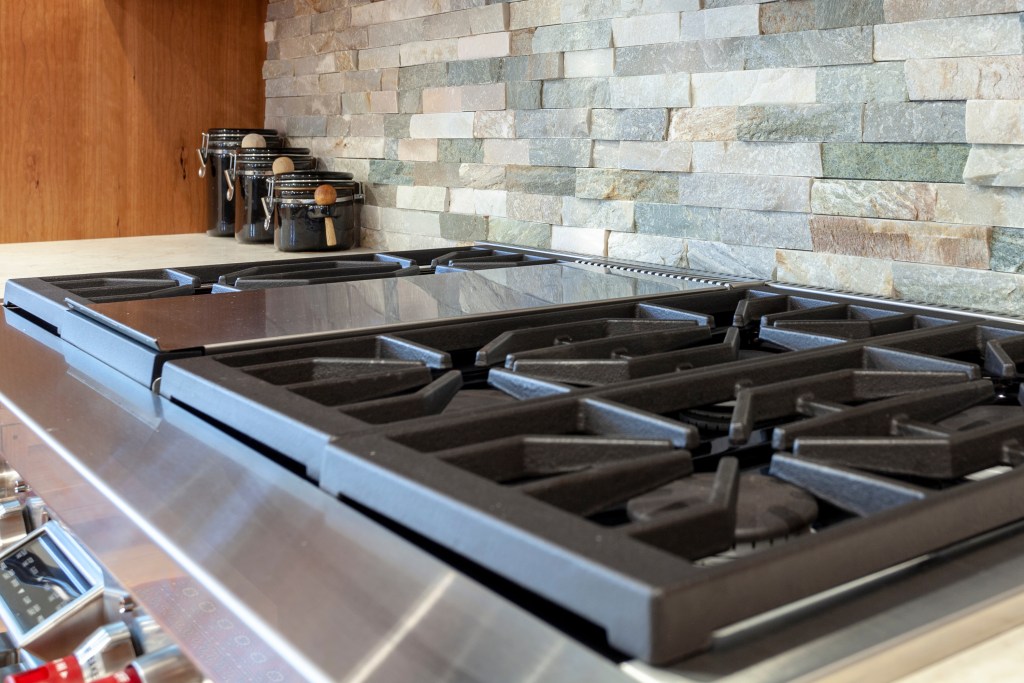 Stone
Stone kitchen backsplashes add texture and style to a kitchen's decor, and there are tons of different options out there to choose from. For a rustic vibe, look for tiles with a weathered finish. Depending on your style, you can also choose from a matte or more honed finish for your stone tiles. No matter what overall look you are trying to achieve, you'll be able to find a stone tile for your kitchen backsplash that complements the decor.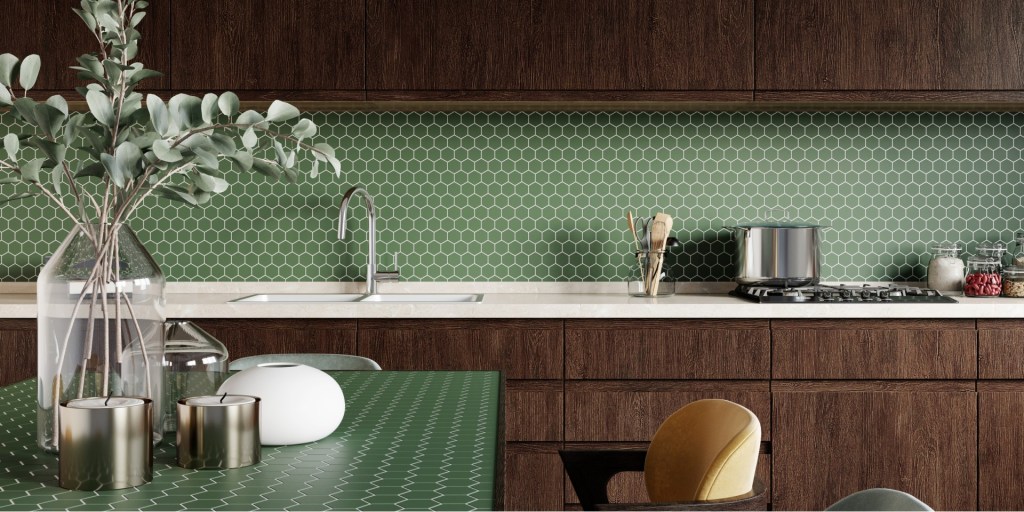 Colors
In most classic applications, backsplashes are neutral colors like gray, white, or beige, but lately, we've been seeing more bright colors in kitchen backsplashes. From a wall of blue subway tiles to a stone wall with the occasional bright yellow tile, you can achieve whatever vibe you want while creating a focal point. If you're going for classy, try black or dark gray, while blue gives a homey feeling. Don't be afraid to try a color you wouldn't ordinarily use; you'll likely be pleasantly surprised with the outcome.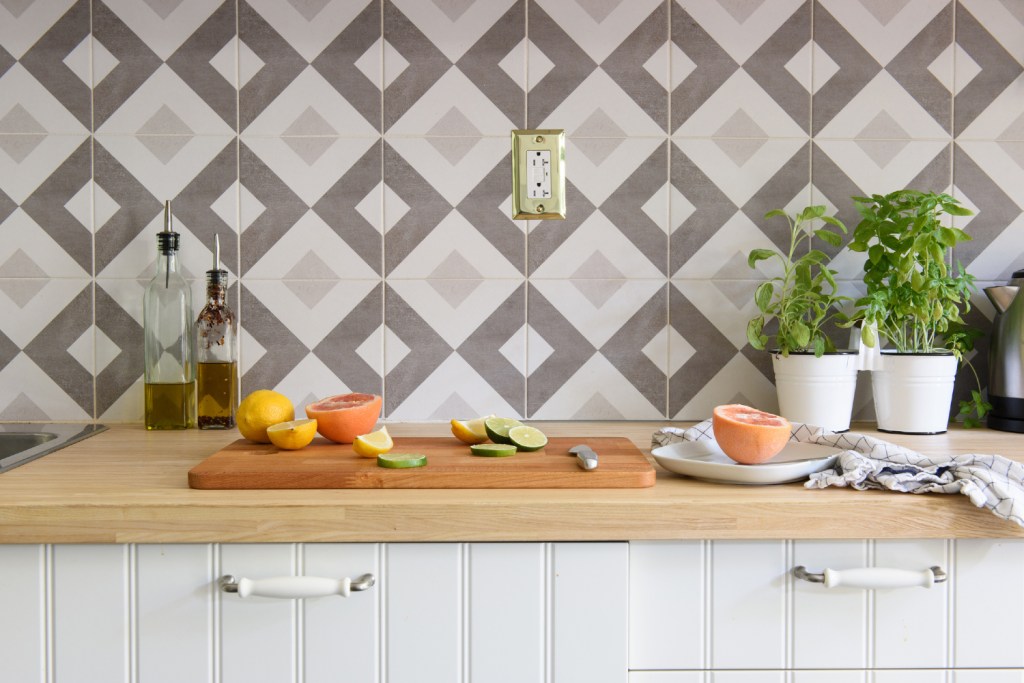 Patterns
Since many countertops and cabinets are incredibly neutral, it makes sense that backsplashes are moving toward something that draws your attention. And what better way to create a focal point or conversation piece than with a patterned backsplash? We've seen all types of patterns lately, like herringbone, chevron, and laser-cut tiles, to name a few. One of the most popular new trends is incorporating both patterns and bold colors to liven up a space.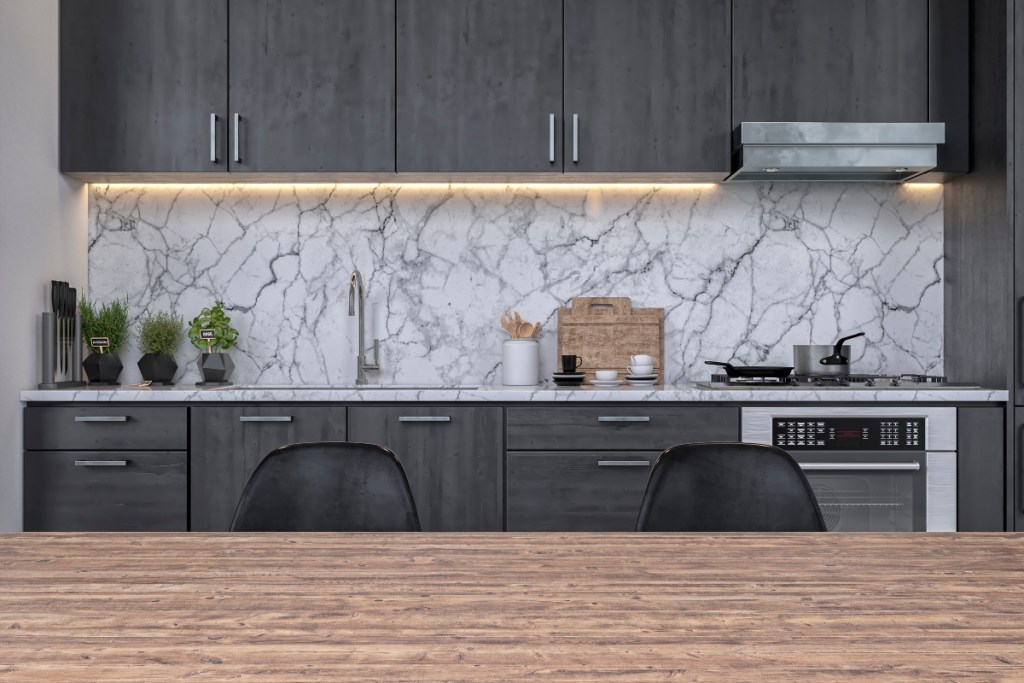 Slabs instead of tiles
For decades, tile has been the choice material for backsplashes, but lately full slab backsplashes have been showing up in kitchens. There is little to no grout, unlike tile, since there are few breaks in a whole slab application. Marble is a popular slab choice and will give your kitchen an elegant look, but you can find slabs of other materials to experiment with as well.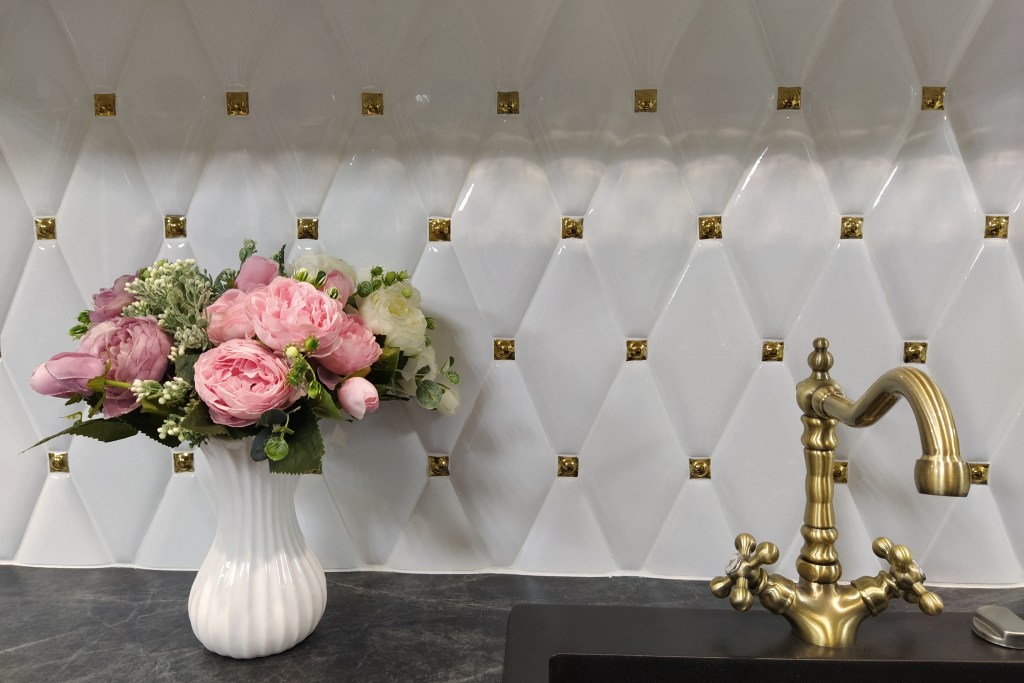 Gold accents
In what seems to be a direct rejection of bland gray grout lines, the popularity of gold accents is growing. Many homeowners are turning to different patterns that incorporate gold accents for their backsplashes to add warmth and elegance to the room. Also, if you have gold or brass fixtures in your kitchen, this is a way to tie it all together.
Windows
If you're going for an ultra-modern feel and are also remodeling your entire kitchen, consider a glass backsplash. Not everyone will be able to pull off the window kitchen backsplash, but if you can, it will really connect you to the outdoors. You can achieve a similar vibe with a mirrored backsplash if you can't swing the window backsplash. A mirrored surface will make the room appear large while still giving you a modern look.
Regardless of why you're looking into kitchen backsplashes, odds are you have some ideas in mind. Whether you're just looking to refresh one wall or planning an entire remodel, a new backsplash could be just the thing to freshen up your kitchen. With all the options available these days, you're sure to find one that will transform your kitchen.
Editors' Recommendations