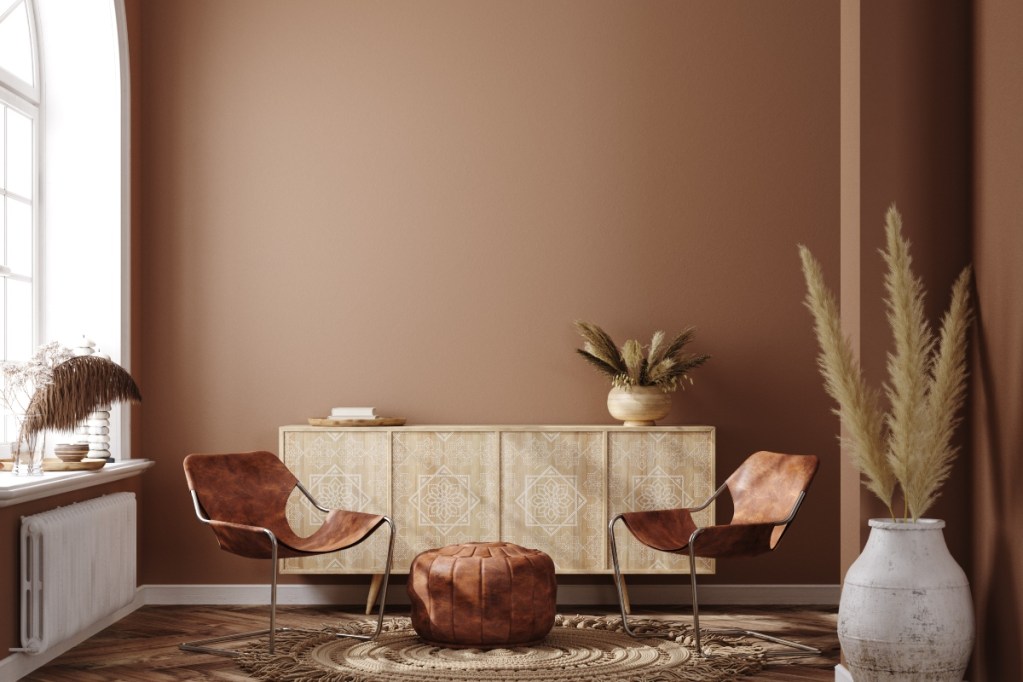 Looking for a fresh new color to boost your current palette? The biggest names in paint have just released their 2024 color collections, meaning there's plenty of opportunity for inspiration if you've been itching to change up your space. The new hues are fun, quaint, optimistic, and a little moody, making them perfect for swapping up your home design as we wind down the year. So, grab your paint swatches and get ready to add some of these stunning tones from the 2024 color of the year collections we've seen so far.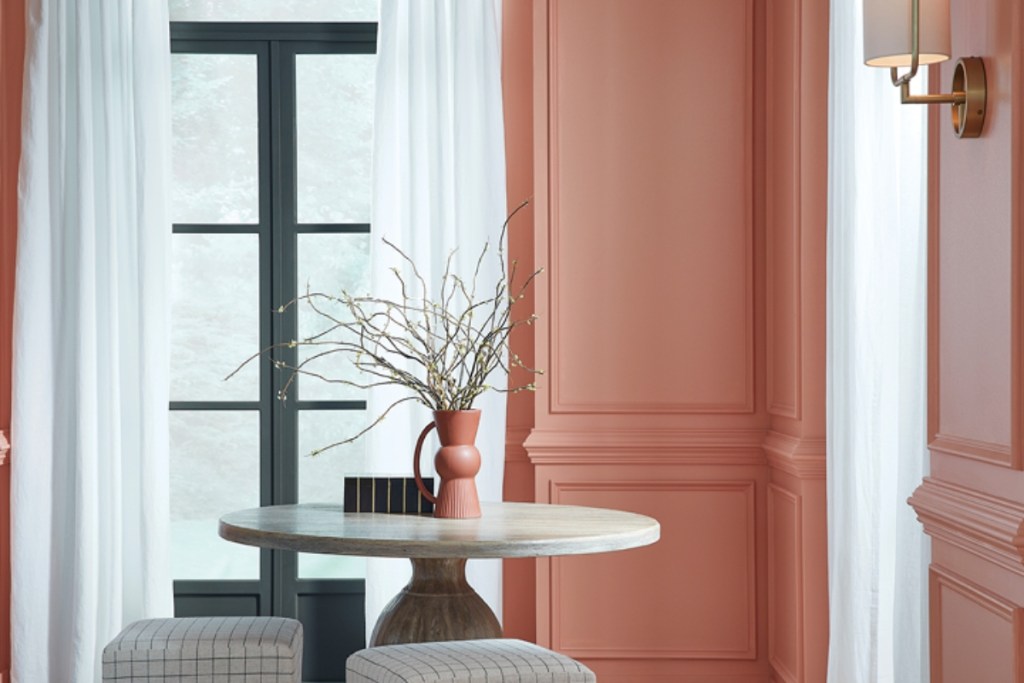 Persimmon by HGTV Home by Sherwin-Williams
HGTV Home by Sherwood-Williams released their 2024 color of the year, Persimmon, along with a collection of stunning hues they intend to invite into our spaces come the new year. Persimmon HGSW6339 is described as "an earthy terracotta infused with tangerine tones," perfect for inviting a biophilic and refreshing touch to your home. This color is fun, flirty, and a little peachy. It's a crisp pink shade with a hint of earthy brown undertones, great for adding a canyon-like feel to your space. In 2024, this fun and organic hue brings a sensation of liveliness, youth, and grounding energy into our spaces.
Cracked Pepper by Behr
For a sultry and moody look into 2024, Behr shared their color of the year: Cracked Pepper PPU18-01. Described as a "versatile soft black," this slate gray tone exudes an elegant, rich, and mysterious vibe. Hints of a blue-brown shade lay in the undertone to warm up this luxe color, making it full of depth and intrigue. Behr encourages homeowners to pair Cracked Pepper with soft cream linens and gold metallic accents to create a gorgeous and elegant statement in any room.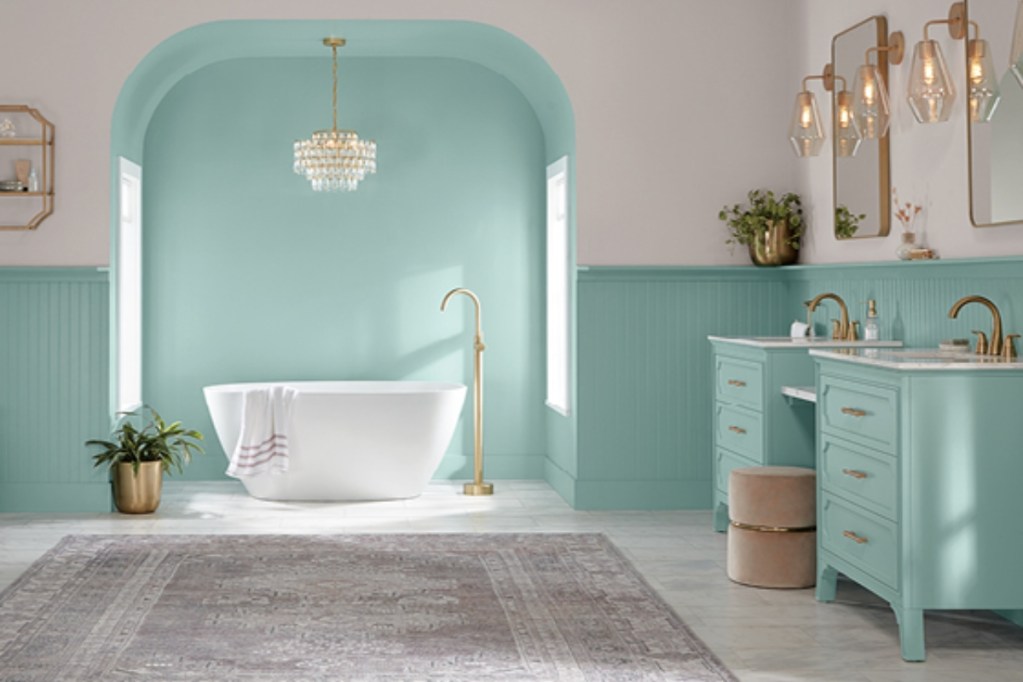 Renew Blue by Valspar
Valspar's 2024 Color of the Year aims to bring simplicity to our lives. Renew Blue 8003-37D is a refreshing light blue with a vintage feel, making it a nostalgic yet innovative tone. Valspar describes Renew Blue as "a nourishing, green-influenced blue that creates a sense of peace wherever you place it." For homeowners looking for more calming energies in their spaces, Renew Blue could be just what they've been craving. Paired with dusty pinks, warm creams, and light wood tones, this hue offers a classic, beachy aesthetic verging on a retro feel that truly lifts the mood of any room.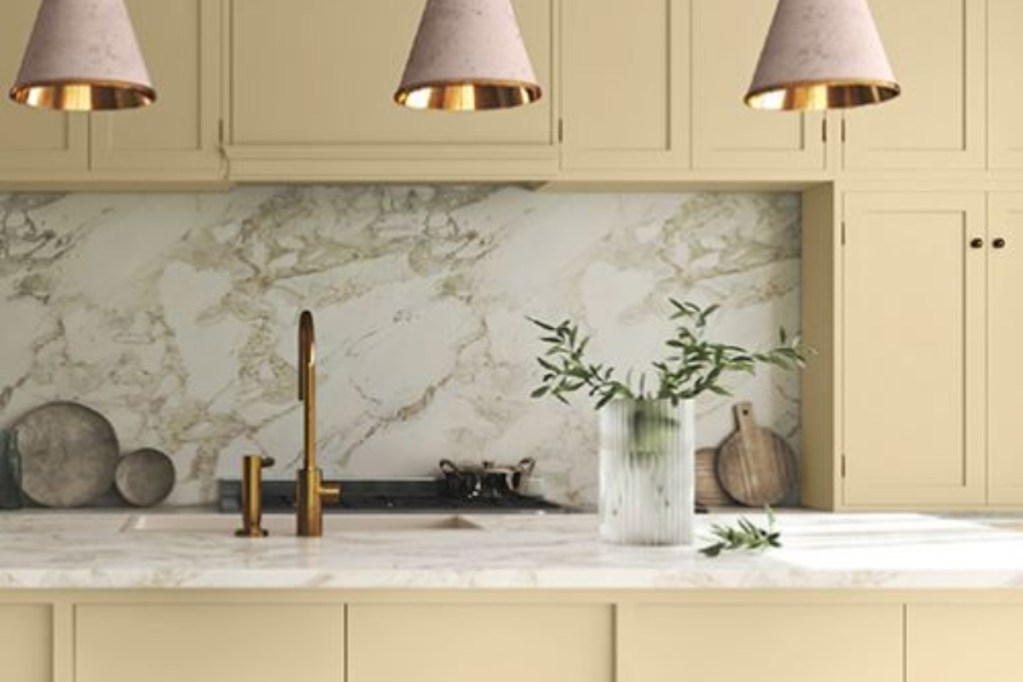 Limitless by Glidden
Glidden's color of the year, Limitless PPG1091-3, is a light and warm hue that reminds us of a quaint cottage in the countryside. Glidden says, "The 2024 color of the year is anything but yellow. Limitless contains both the power of a primary color and the essence of a neutral to support both cool and warm tones." The natural warmth of the shade feels neutral while also appealing to the newfound love of color in the home. If you want to experiment with unique tones in your palette without going all-in on a bold and brazen shade, then Limitless could be the perfect subtle and reassuring color for you.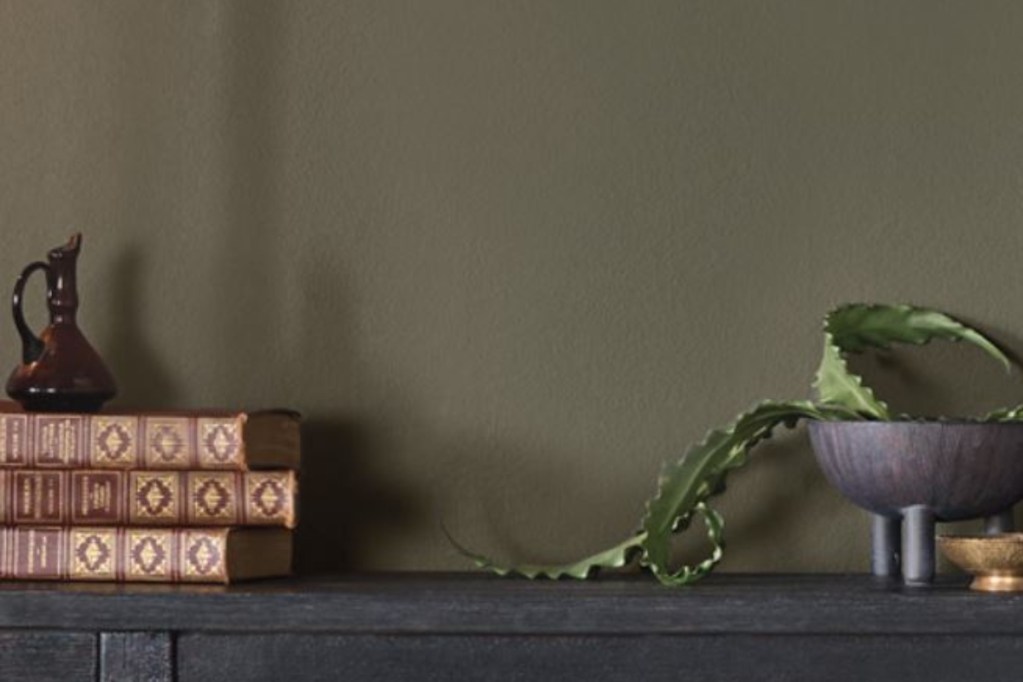 Ironside by Dutch Boy
Dutch Boy opted for a rustic and organic hue as their 2024 color of the year. Ironside 422-7DB is a sophisticated and biophilic rich, deep green. "This deep, comforting green is a richly dimensional hue that soothes and reassures," says Dutch Boy. Like a crisp and comforting evergreen, Ironside evokes a sense of standing in a dark winter forest, soaking up all of the cozy vibes. A hint of a warm gray rests in the undertones, giving it a more modern and industrial quality. Paired with mixed metals and deep wood tones, this organic color will surely soothe the senses.
The 2024 colors of the year chosen by the experts evoke a sense of tranquility, mystery, and playfulness. Unlike years in the past when heavy themes of crisp and light tones or soft neutrals dominated our palettes, 2024 is ushering in an era of calm color and an exploration into more organic, lighthearted hues.
Editors' Recommendations