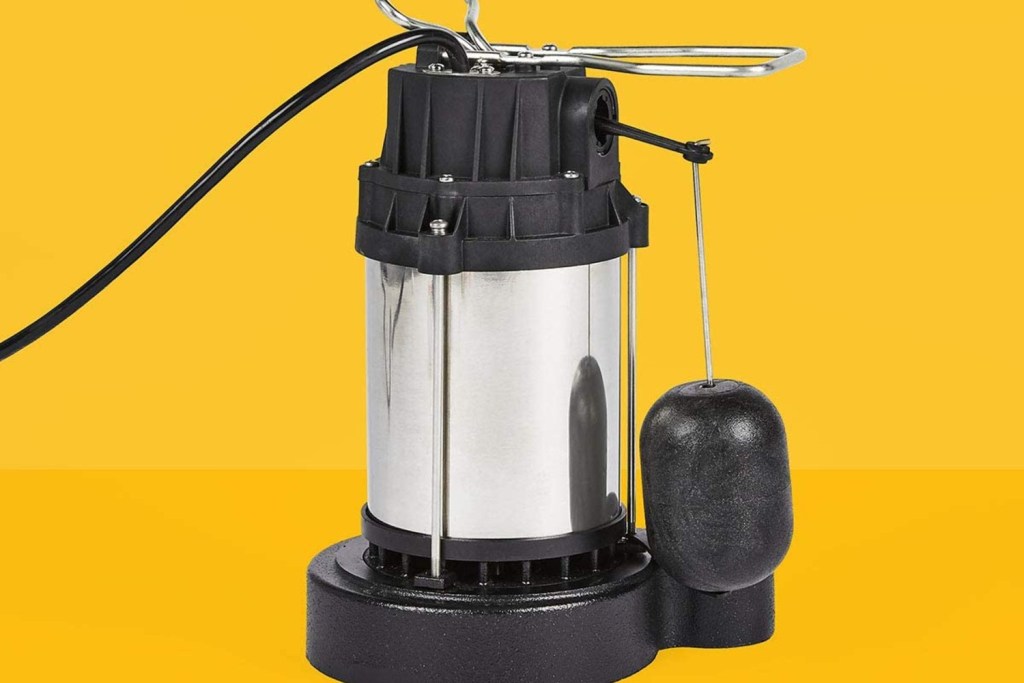 Sump pumps are definitely not the most exciting thing to buy, but they are a necessity for some people. If you've never owned a home with a basement, you may not even know what a sump pump is. A sump pump is a small pump used to remove water from a water-collection basin that is usually found in the basement of houses. The water may accumulate in the basin via a basement waterproofing system, rainwater, or natural groundwater. Whether you are familiar with sump pumps or not, you may not know where exactly to buy one. And with shipping delays and out of stock issues that many retailers are experiencing these days, on top of social distancing capacity limits in stores, it can be difficult to just go to the store and pick up items that you used to get with ease. Worry not! We have compiled a list of places that still have them in stock. Here's where to buy a sump pump.
Amazon
Superior Pump 1/3 HP Cast Iron Submersible Sump Pump

— $85, was $181

Wayne 3/4 HP Submersible Cast Iron and Stainless Steel Sump Pump

— $147, was $230
Home Depot
Everbilt 1/2 HP Submersible Aluminum Sump Pump

— $134

Ridgid 1/2 HP Stainless Steel Dual Suction Sump Pump

— $189
What Kind of Sump Pump Do I Need?
When it comes to sump pumps, bigger is not always better. There are four main factors to consider to determine the size of the sump pump you need. If your sump pump is too large or too small, it will cycle continuously, and this is not only annoying (due to the sound of the pump running all the time), it is inefficient and will cause your pump to burn out prematurely. So, it is essential to choose a pump that most closely fits your sump pit's needs. Follow the steps below, and you will arrive at the correct size sump pump for your home.
Choose the Correct Horsepower
Horsepower is the most critical factor to consider when choosing a sump pump. If you're replacing an existing pump, you can stick with the same HP rating as the old pump unless you experienced issues with that pump before it stopped working. All sump pumps have a data plate on them that has important pump information, including HP ratings, for reference. As a general rule, 1/3 HP sump pumps are for average-sized homes in areas with average water tables. 1/2 HP sump pumps are for average-sized homes with above-average water tables. 3/4 HP and 1 HP sump pumps are for homes in high water table areas, flood plains, and low-lying areas prone to flooding.
Pick a Float Switch
Most sump pumps come with a float switch, but you can purchase a replacement float switch separately if need be. Electronic float switches are the most reliable and take up less space in your sump pit. The float switch is a basic device that turns the pump on when the water level touches the switch. It's that simple.
Select a Water Alarm
Water alarms are alerts that notify you when something is wrong with the sump pump. Alarms are necessary because if the sump pump stops working correctly, you will likely have a flood on your hands, and that is the whole reason you have a sump pump in the first place. There are new wifi-enabled devices that will call, text, or email you when something is amiss. Older models feature a buzzer or beeper that sounds when something is wrong, but these don't help much if no one is home to hear them.
Choose a Backup System
If your primary sump pump fails and you don't know about it, your only hope of preventing a flood is having a backup system. Some sump pumps come with a backup system and are called combination sump pump systems. Backup pumps are primarily for when the power goes out, and you don't have a generator or backup battery on standby, or aren't home to switch the power source. You can purchase a backup system separately if your new sump pump doesn't come with one.
Editors' Recommendations