Your home's curb appeal not only impacts its value but also affects how much you enjoy your home. A gorgeous and pristine house exterior can really lift your spirits every time you arrive home, and it can give you a sense of pride and joy. If you're looking to give your home's exterior a face-lift, painting it is a great option that will make it look new and modern.
Whether you're trying to sell your home or just tired of looking at that old, drab paint job, we're here to help. We'll discuss how to paint the exterior of your house like a pro.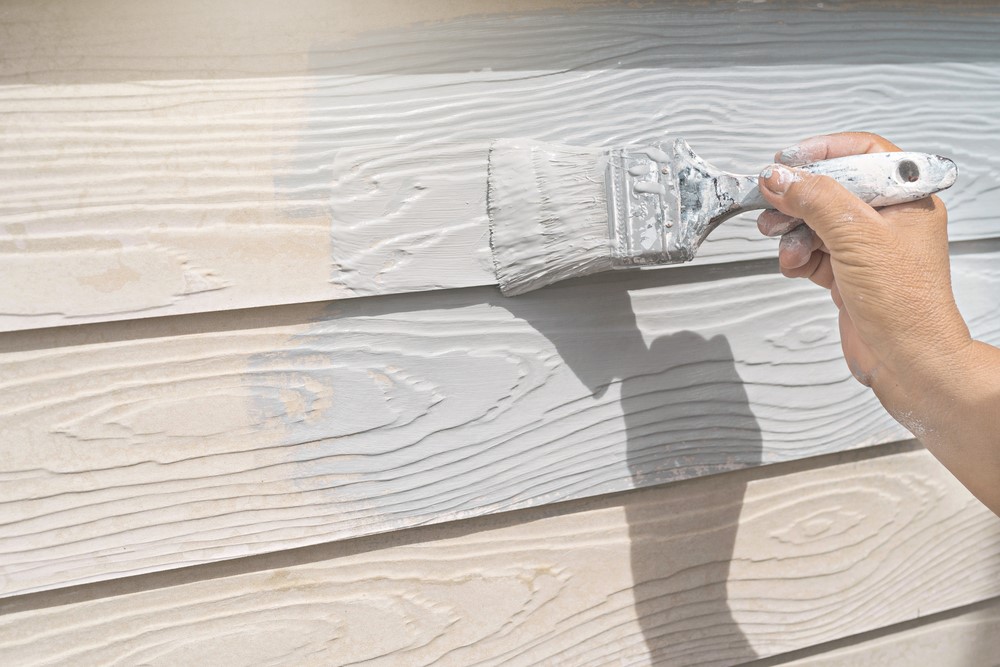 What's the best time of year to paint a house exterior?
You may think that summer is the best time to paint your home's exterior, but hot and humid conditions actually aren't ideal for outdoor painting. Those conditions can negatively affect the end result of your paint job.
The best seasons to paint the exterior of your house are actually late spring and early fall, as long as the weather forecast is clear for several days. Your paint will need time to dry, so ideal conditions are:
50-85 degrees F
50% humidity
Clear skies
What type of paint should be used on the exterior of your house?
You should never use indoor paint on your house's exterior, as it is not designed to withstand harsh conditions like hours of sunlight or wind, rain, and snow. If you use indoor paint on your exterior, you'll find that it will:
Chip, flake, or peel quickly
Turn chalky or powdery
Fade from sun exposure
There are a few different options for exterior paint, and it's best to use the same type that's currently on the exterior. If the previous paint job was done with an oil-based paint, for example, and you cover it with latex paint, you'll find that the new coat will peel off quickly.
Here are two types of exterior paint and their benefits:
Latex paint
Easy to use and apply
Dries quickly
Spills clean up easily with water
More economical
Oil-based paint
More durable and weather-resistant than latex
More expensive, but higher quality
Results are a hard finish
Often used by professionals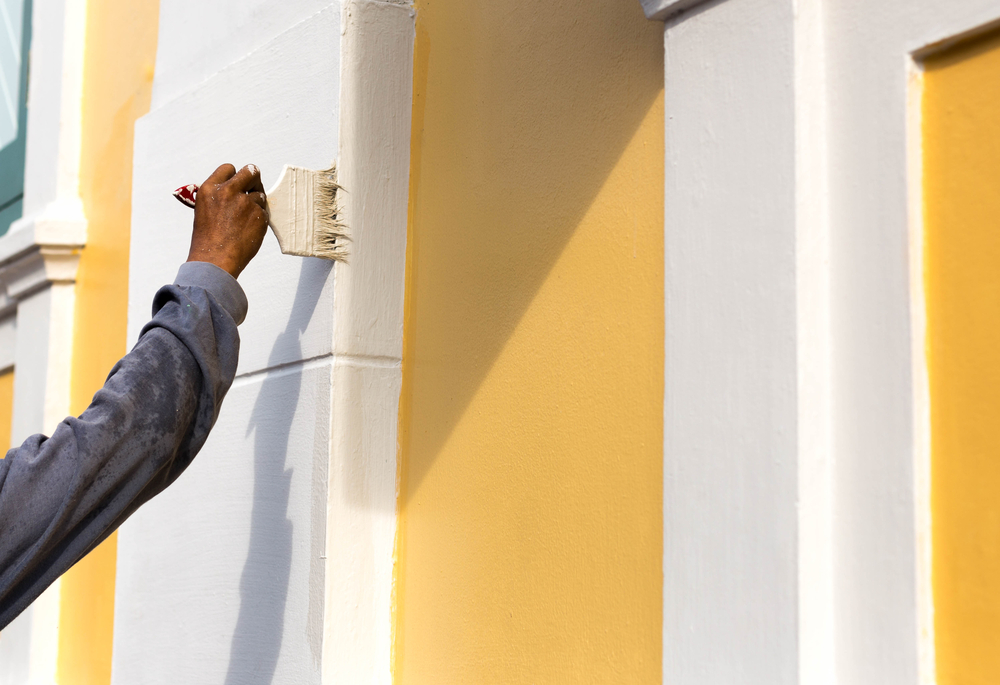 How to paint a house exterior: Clean first
In order for paint to adhere properly, you'll need to rid the exterior of dirt, grime, mold, and mildew. The best way to do this is with a power washer, but you can also use a hose and an outdoor cleaner. Either way, you may need to use a scrub brush to get off any tough grime.
Scrape off flaking or chipped paint
If there are loose portions of old paint, the new paint will not adhere and it will peel off faster. While power washing may pull off sections of extremely loose paint, you'll have to use a metal scraper and a wire brush to remove the remaining flaking or chipping paint on the entire exterior.
Check for exterior damage and reseal windows and doors
Before you paint, it's a good idea to check for and repair any exterior damages or broken seals. Rotting wood, broken or loose siding, and warping trim should be repaired before you paint in order to save time and money repainting down the road after the repairs become urgent.
Protect against drips and spills
Since drips and spills will almost certainly happen, be sure the area you're painting is protected against them. Lay down tarps or drop cloths, and hold them in place with twine or weigh them down with blocks or weights.
Apply primer and paint
Be sure you're selecting a high-quality exterior primer if your selected paint requires one. Primer helps the paint to adhere to the exterior material better and keeps it from peeling or flaking.
Step 1: Be sure you're using proper safety measures while you prime and paint, particularly when you're using a ladder.
Step 2: Use a paint brush or roller to apply your primer, starting at the highest point that you'll be painting, and working your way down. Make sure you are brushing with even strokes that go in the direction of your siding.
Step 3: Allow the primer to dry fully before moving on to painting.
Step 4: Use a brush or roller to apply the first coat of paint, using the same brushing direction and method as you did with the primer. Don't use thick amounts of paint in your strokes, as this may cause dripping or uneven coats.
Step 5: Allow the first coat of paint to dry completely before applying the second coat, and be sure to use new or cleaned brushes and rollers for the second coat.
Painting your home's exterior is a big job, and it will require a lot of time and effort on your part. However, the overall cost of a DIY exterior paint job is a fraction of the cost of a professional job. If you're looking to save some money on this update and you have the skills and time to do it right, your DIY paint job will look like it was done by the pros.
Editors' Recommendations