One of the highlights for many households during the summer months is hosting a dinner party that impresses the guests. Memorable conversation over delicious summer foods is always a welcome treat. So if you've been contemplating what to add to your menu this summer to wow your guests like never before, we've gathered some of our favorite refreshing and savory dishes that everyone is sure to love.
Sticky Honey-Soy Chicken Wings
Sticky Honey-Soy Chicken Wings are a mouth-wearing entrée, perfect for any cookout or summer dinner party.
To make this recipe, you'll need:
Salt and pepper
Sesame seeds
2 tbsp extra-virgin olive oil
2 tbsp of butter
½ cup of honey
2 lbs chicken wings
1 cup low sodium soy sauce
1 tbsp of freshly grated ginger
2 tbsp chopped cilantro
2 cloves of garlic, minced
½ lemon, juiced
First, rinse your chicken wings, and then pat dry. Next, in a separate bowl, mix soy sauce, ginger, cilantro, garlic, and lemon juice. Place the chicken wings in the marinade and coat evenly before leaving them in the refrigerator for two hours.
Take the chicken wings out of the bowl and add salt and pepper. Set a large pan over medium-high heat and add butter and olive oil. Once the butter has stopped foaming, add honey to the pan, followed by the chicken wings.
Continue cooking your wings and coating them with the glaze until they are fully cooked through. Garnish the sticky wings with sesame seeds and serve.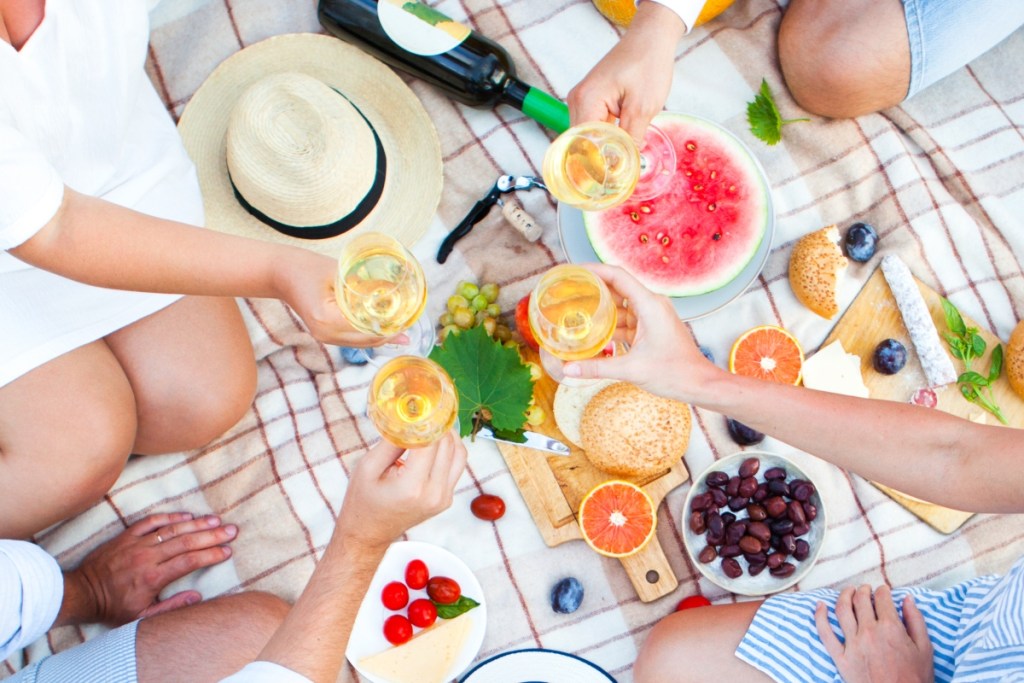 Raspberry Lime Punch
If you need a refreshing, summertime drink that transcends traditional hard lemonade, Raspberry Lime Punch is the way to go.
What you'll need:
1 cup frozen raspberries
½ cup fresh mint leaves
1 tbsp granulated sugar
¾ cup white rum
1 tbsp fresh lime juice
One 750-milliliter bottle Lillet
1 cup seltzer
Ice
Place the raspberries, mint, and sugar in a large bowl. Use a potato masher and mash together the ingredients until the raspberries are in small pieces. Stir in rum, lime juice, and Lillet, then cover and refrigerate for one to four hours.
Strain the mixture into a large pitcher or individual glasses (based on your preference), and add ice and seltzer. Serve immediately. If serving individual drinks, divide the seltzer among the glasses.
Charred Sweetcorn Salsa
If you want to go for a grilled, smokey dish with a kick, Charred Sweetcorn Salsa will not disappoint!
What you'll need:
½ tbsp olive oil
2 ears of corn, husks removed
2 tomatoes, finely diced
1 lime, juiced
1 cup chopped cilantro
½ a jalapeño, chopped
Salt and pepper
Heat oil over medium-high heat in a cast-iron skillet. Once the oil begins to simmer, add the corn and cook until lightly charred. Rotate the corn frequently for an even char.
Remove the corn from the pan and set it aside to cool. Once it is manageable to touch, cut off the kernels.
Add the kernels, tomatoes, lime juice, cilantro, and jalapeños to a bowl and toss to combine. Season with salt and pepper and serve.
Tuna Poke Bowls
Poke bowls are a summertime favorite. They easy to make, and everyone adores the variety of flavors and combinations. Here's a fun tuna poke bowl recipe that is sure to refresh your dinner party menu.
What you'll need:
1 ½ cup sushi rice
Salt and pepper
2 tbsp sushi rice vinegar
½ cup edamame, frozen and shelled
3 scallions, thinly sliced
2 tbsp fresh lime juice
2 tbsp fresh orange juice
1 tbsp low-sodium soy sauce
1 tbsp sesame oil
1 tsp fresh ginger, grated
1 lb sushi-grade tuna, cut into 1/2-inch cubes
1/2 cucumber, peeled and finely chopped
Sesame seeds
Rinse and cook your rice in your preferred method (rice maker or via the stovetop). Allow rice to absorb water and then sit for ten additional minutes.
Add rice and sushi vinegar to a bowl and stir with a spatula until the rice is sticky and thoroughly coated.
Bring a saucepan of water to a boil and lightly salt before adding the edamame. Cook edamame until it is tender and bright green. Drain and rinse with cold water.
Combine scallions, lime juice, orange juice, soy sauce, sesame oil, ginger, and ½ teaspoon salt in a large bowl. Fold in the tuna and edamame.
Add rice to the individual serving bowls and top with the tuna mixture. Add chopped cucumber and sesame seeds as toppings. Serve and enjoy!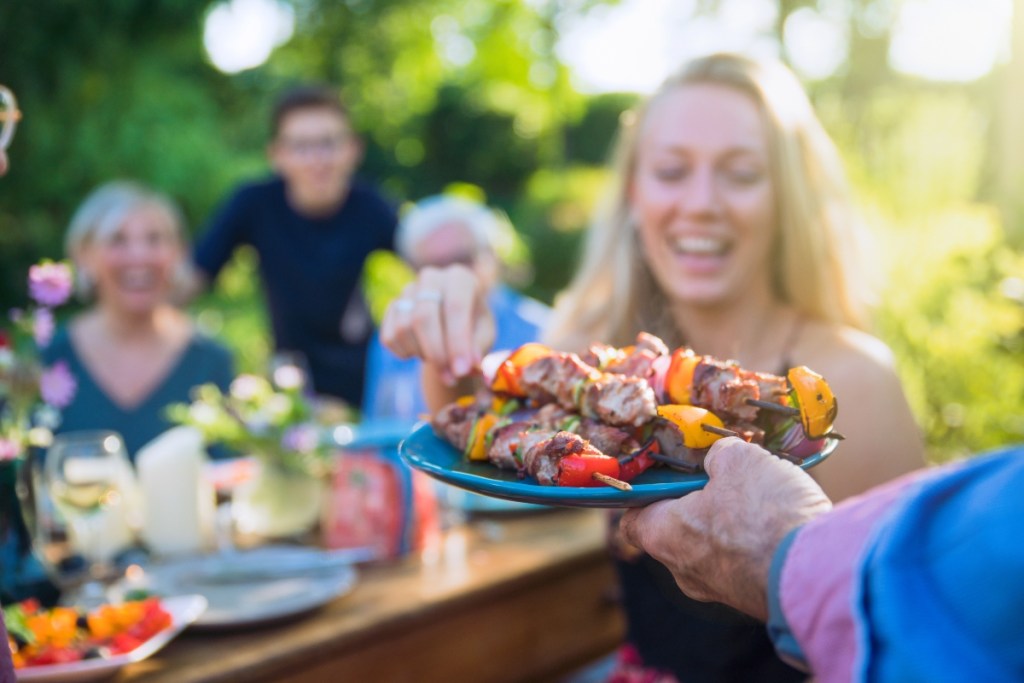 Lettuce Wedges with Blue Cheese Dressing
For a refreshing and crunchy vegetable side, Lettuce Wedges are a perfect option.
You'll need:
1 lemon, juiced
1 cup mayonnaise
1 cup buttermilk
½ cup sour cream
1 ½ tsp garlic powder
1 ½ tsp onion powder
1 ½ cup blue cheese, crumbled
2 heads of iceberg lettuce
10 slices of bacon, cooked and crumbled
1 tomato, finely diced
Pepper for seasoning
Combine all ingredients aside from lettuce, tomato, and bacon in a medium bowl and whisk together. Cover the bowl and leave it in the refrigerator for two hours.
Core each head of lettuce and cut into quarters. Add the dressing mixture on top of the lettuce wedges and sprinkle on the bacon, tomato, and pepper before serving.
Fried Chicken Salad
If you have leftover fried chicken, turning it into a delicious salad is a great way to get creative.
You'll need:
6 pieces cold fried chicken
2 stalks celery, chopped
2 scallions, sliced
1 medium dill pickle, finely chopped
1/3 cup dill pickle brine
1/2 cup mayonnaise
1/4 cup buttermilk
1 tbsp yellow mustard
Hot sauce
Salt
Rolls for serving
Remove bones and chop up the chicken into small pieces. You should have 6 cups of chopped chicken.
Combine mayonnaise, pickle brine, buttermilk, yellow mustard, and a bit of hot sauce in a large bowl. Stir in celery, scallion, and pickle, leaving about 1 tbsp of each set aside for garnish.
Add the chicken to the bowl and stir. If preferred, season with additional salt and hot sauce. Sprinkle on the remaining celery, scallion, and pickled for garnish and serve on bread or potato rolls.
These recipes are a delight for summertime dinner parties. They are refreshing, delicious, and simple to make while exploring your creativity with various flavors. Try out one of these fantastic combinations for your next dinner party to wow your guests with amazing menu items fit for a summer cookout.
Editors' Recommendations