Before the first leaves start to change their colors and you add an extra blanket to your bed or dig out your favorite cozy sweater, there's something else that emerges as a telltale sign that autumn has arrived. This special item is wildly anticipated by its lovers and usually makes its first appearance before summer officially ends. For many, its arrival is something they look forward to all year long, and if you know, you know. We're talking, of course, about the mighty pumpkin spice latte.
The fall season brings a much-adored bounty of pumpkin-flavored pie, donuts, tea, soup, ravioli, and of course, lattes — pumpkin spice lattes to be exact. Many coffee drinkers swear by this sweet, aromatic, flavorful, and a little bit decadent treat.
Though stopping by the coffee shop every morning is a fun ritual, it can become very expensive very quickly. Save your money with this must-have recipe, so you can make your own pumpkin spice lattes at home.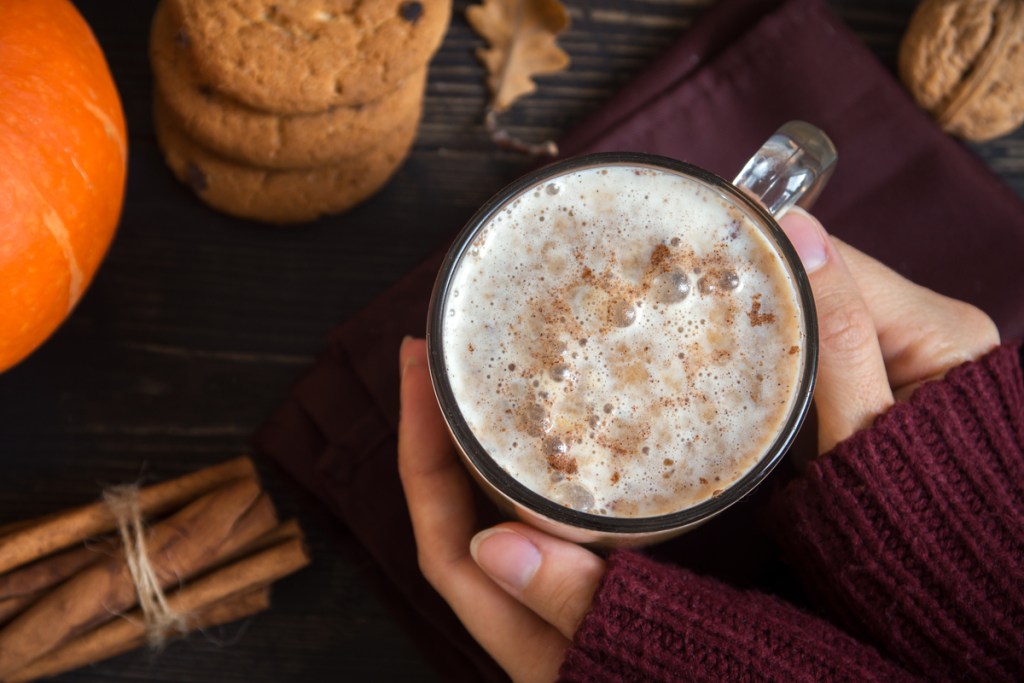 A brief history of the pumpkin spice latte
Often imitated but never duplicated, Starbucks first developed the Pumpkin Spice Latte back in 2003 after they experienced success with the launch of their seasonal winter drinks like the Eggnog Latte and Peppermint Mocha. At the time, pumpkin-flavored items weren't dominating the culinary scene, but the executives at Starbucks recognized the lure of the iconic pumpkin. They experimented with different ratios of pumpkin and spice, ultimately selecting a recipe that didn't contain any real pumpkin in it at all!
Starbucks launched the Pumpkin Spice Latte in a limited number of test markets, and, as they say, the rest is history. Sales exceeded expectations, and the company expanded this offering nationally the following year. This launched a trend of pumpkin spice products across a variety of spectrums, from home products, like candles and air fresheners, to food products such as cereal, donuts, pasta sauces, and more. In 2015 Starbucks changed the recipe to include real pumpkin puree, and it has been unchanged since then.
According to the Starbucks website, "The handcrafted beverage combines Starbucks® Signature Espresso and steamed milk with flavors of cinnamon, nutmeg, and clove to complement the real pumpkin in the sauce. Topped with whipped cream and pumpkin pie spices." Sounds pretty simple, right?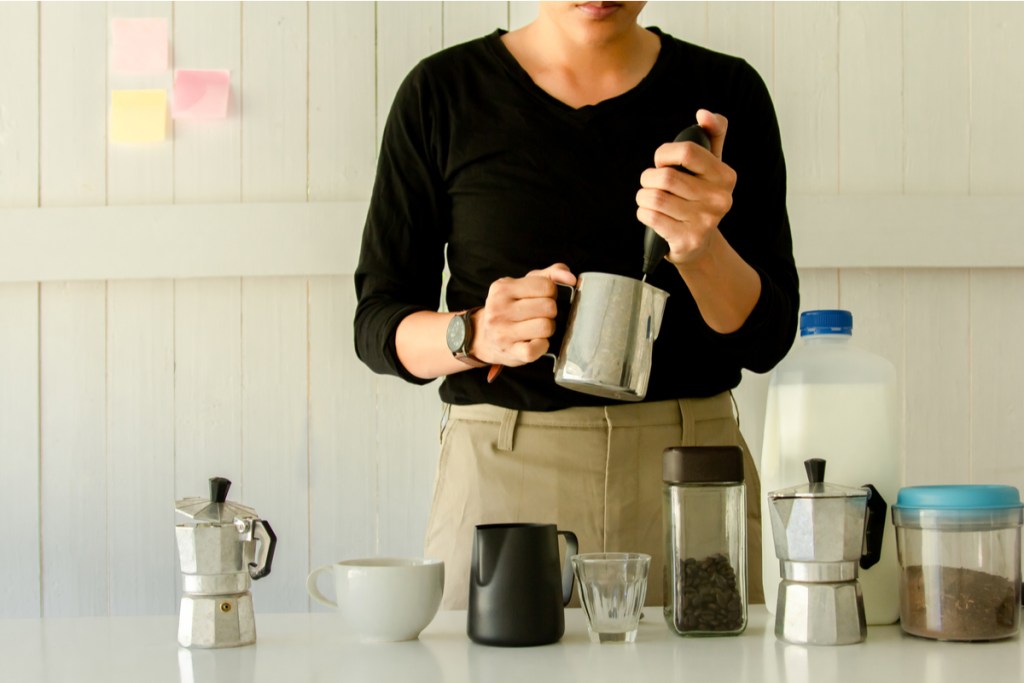 How to make pumpkin spice lattes at home
A Pumpkin Spice Latte at Starbucks can cost upward of $4.25 or more, and if you find yourself craving those fall flavors every day, it will really start to cut into your bank account. Instead, you can make your own version at home that's every bit as good as the one you can get at your local Starbucks.
This delicious recipe from Copykat tastes like pumpkin pie in a cup, and unlike the seasonal Starbucks version, you can make this one all year long!
Latte recipes include frothed milk which you can make with a frother or with a hand-held immersion blender. If you don't have either, just froth your milk the old-fashioned way: Pour milk into a large jar with a lid, filling no more than 1/3 of the jar. Screw the lid on tightly and shake vigorously until the milk is frothy and has roughly doubled its volume — between 30 and 60 seconds. Your arms may be sore, but this latte is well worth the extra effort.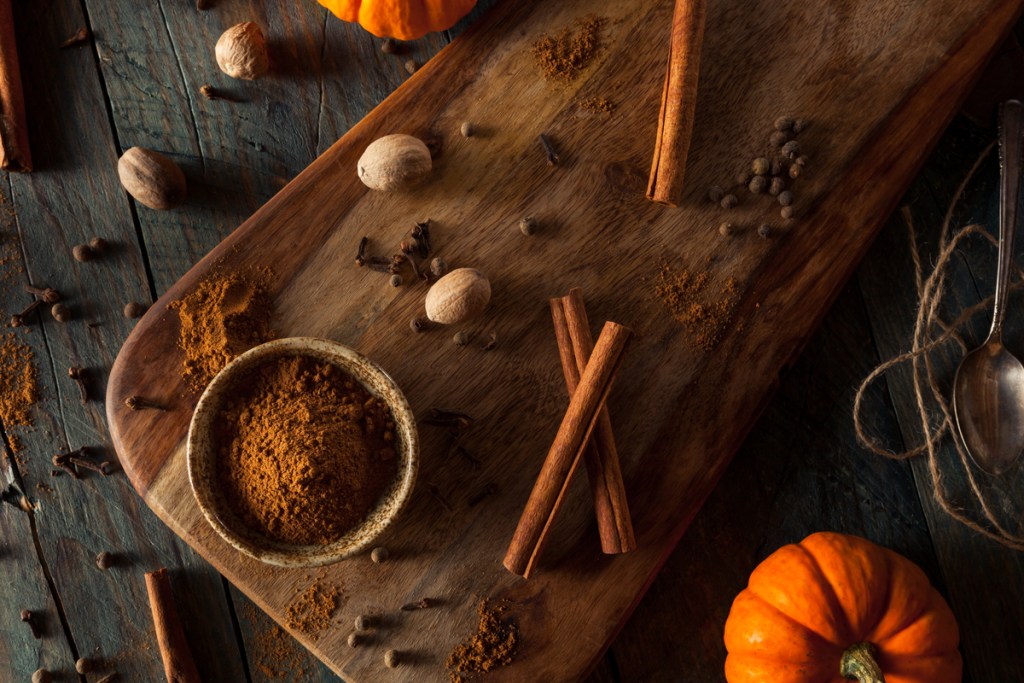 Ingredients
Pumpkin Syrup
2 1/2 cups of water
1 tablespoon of ground nutmeg
3 cinnamon sticks or 1 1/2 tablespoons of ground cinnamon
1/2 inch of fresh ginger or 1/2 teaspoon of ground ginger
1 cup of sugar
3 tablespoons of canned pumpkin
Pumpkin Latte
4 ounces of espresso
4 ounces of milk warmed and frothed
3 tablespoons of pumpkin syrup
2 tablespoons of whipped cream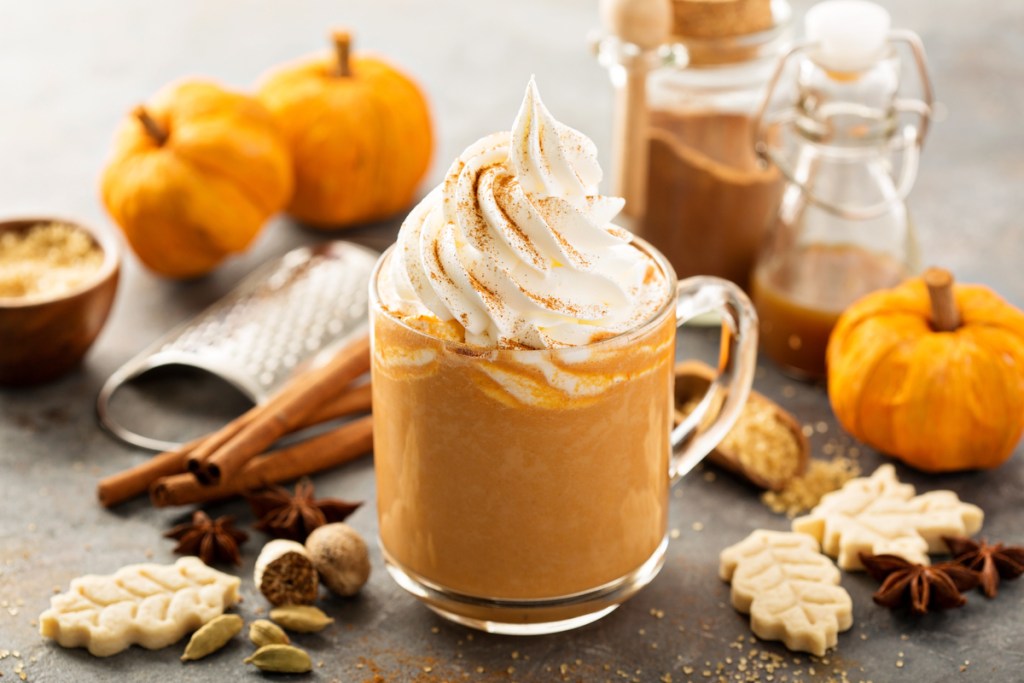 Directions
To make pumpkin syrup:
Step 1: Combine spices and water in a medium-sized saucepan. Bring water to a boil, then turn it down to a simmer. Allow the spiced water to simmer for about 20 minutes.
Step 2: Strain out the spices by pouring the water through a coffee filter, resulting in smooth, spice-flavored water. You don't want to be picking pits of ginger or cinnamon out of your teeth all day.
Step 3: Place the water back into the pan, and add the sugar and canned pumpkin. Mix well, then simmer for another 10 minutes.
Yield: 1 pint of pumpkin syrup mix. Store in an airtight container in the refrigerator.
To make the pumpkin spice latte:
Step 1: Prepare espresso or strong coffee.
Step 2: Pour a couple of tablespoons of pumpkin syrup into a coffee cup, then add coffee.
Step 3: Gently pour frothed milk over the coffee and stir.
Step 4: Top with whipped cream and a dash of ground nutmeg.
You've done it — you created a barista-approved Pumpkin Spice Latte that's every bit as delicious as the coffee shop, but available whenever you want one — even well past the official pumpkin spice season. Enjoy!
Editors' Recommendations