Lower temperatures mean the best season of the year is here: soup season. No one has said it better than George Costanza when he declared, "I gotta focus. I'm shifting into soup mode." Soups are great comfort foods that warm up your heart and soul, and, whether it's the cozy season or not, there's little else more satisfying than that first bite of homemade soup. One that stands out from the rest is chicken tortilla soup.
This traditional Mexican soup is easy to customize, so you can dress it up and down however you want. To warm up those chilly bones during the winter or just have another dinner option that the whole family will love, this low-calorie tortilla soup recipe from the Food Network is sure to be a fan favorite. The best part? Each serving is only 275 calories.
Traditional and delicious
The combination of the crunchy tortilla strips against the thick consistency of the soup and the spicy bite of pepper is perfectly balanced, making a delicious and exciting soup. But, unlike chili or cream-based soups, chicken tortilla soup will fill you up without leaving you wanting a nap right after. It's also lower in fat than other cream-based options, so you won't find ingredients like milk, cream, cream cheese, or a ton of butter in this recipe.
It's time to dust off your crockpot or grab your favorite pan and try this amazing chicken tortilla soup recipe.
What you'll need
1 cup shredded chicken (cooked)
1 cup corn
6 cups of chicken broth/stock (look for low sodium)
2 tablespoons vegetable oil
2 garlic cloves (or more, don't ever let anyone tell you how much garlic to use)
1 chopped onion
1 chopped tomato
1 diced chipotle pepper in adobo sauce
1/2 cup cilantro
1 tablespoon chili powder
2 teaspoons salt
3 limes — 2 for the soup and 1 for garnish or extra taste
Tortilla strips
While fresh ingredients are best, this soup is also a great way to use up your leftovers. Shred any leftover chicken to give it a new life in this recipe.
How to make the magic happen
You don't have to be a professional to make this tasty dish. In fact, it's so simple you can even get the kids involved to help make dinner.
Heat up the oil in a medium pan.
Toss in the garlic, onion, chili powder, salt, and chipotle.
Cook for around 5 minutes.
Add the chicken stock, bring it to a boil, then let it simmer uncovered for about 10 minutes.
Throw in the corn and cook for another 5 minutes.
Take the pan off of the heat and add the remaining ingredients.
Serve the soup topped with tortilla chips and a lime wedge.
Once you've completed all of the hard work, you can dig in. This should make about 4 servings, so feel free to double or triple the recipe to make sure you have enough to go around.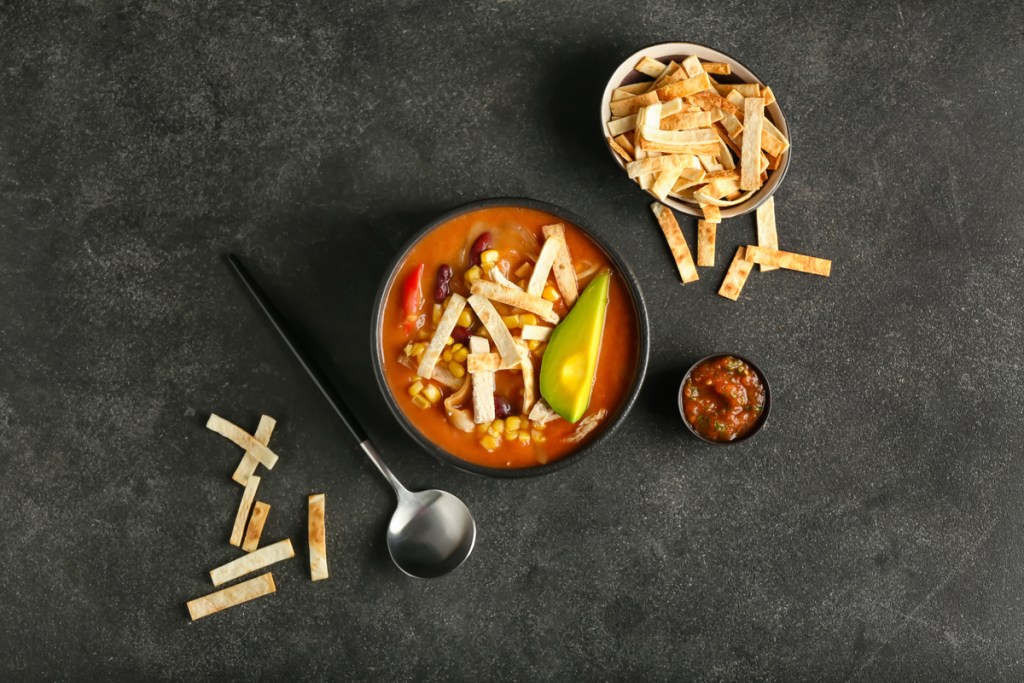 Other tips
Cooking is all about creativity, so explore other toppings and additions to really make this recipe your own.
Top your soup with slices of avocado
Avocado is rich in fiber, nutrients, and a good kind of fat. Adding this on top of your soup will add a bit of creaminess without pouring in any actual cream.
Make your own tortilla strips
For the freshest crunch, grab your favorite brand of corn tortilla, cut them up with a pizza slicer, and pop them in the oven at 425 degrees for about 10 minutes. Make sure to flip them at 5 minutes for the best results.
Add black beans
Black beans are packed with antioxidants, calcium, and vitamin A, making them a great addition to any meal.
Try different peppers/chilis
Depending on what your spice comfort level is, you can try a new spicy pepper or chili each time to find your favorite. Green chili or jalapenos always make for a good addition.
Use your favorite pan or crockpot
If you don't want to stand around adding the ingredients bit by bit, throw them all in the crockpot. Simply add the ingredients and let the soup simmer for a few hours and you're well on your way to an easy dinner.
This winter, fight off those cold nights with a light, fresh soup that's full of nutrients and protein. It's easy enough for cooks of any level to make, and it freezes really well so you can make a double batch and pop the leftovers in the freezer. Have fun trying different toppings and mixing until you perfect a recipe that's uniquely yours.
Editors' Recommendations