The classic Thanksgiving dinner is chock full of traditions, nostalgia, and family comfort food recipes that have been passed down for generations. This annual holiday meal can, however, become a bit boring if the same-old Thanksgiving sides are served every year. This year, put one of these modern twists on your Grandma's classic Thanksgiving sides and put a little bit of excitement into your family's Thanksgiving dinner. You'll still have the ingredients you love while introducing new and tasty flavors. Maybe you'll even start a new Thanksgiving food tradition that will be passed down to your own kids.
Apple-orange cranberry sauce
Traditional cranberry sauce is one of those classic Thanksgiving sides that you either love or hate. Some people slather it on every bite of food to get that tart and savory flavor combination, while others can barely stand to look at those cranberries sitting on the table.
This year, serve a cranberry sauce that everyone will love. This apple-orange cranberry sauce softens and sweetens the classic tartness of cranberry sauce with apples, and it has a refreshing zing of orange flavor as well.
Sweet potato stacks
Sweet potato pie, sweet potato casserole, and candied yams are classic sweet potato Thanksgiving sides that easily satisfy any sweet tooth. With all the sugar piled inside, and sometimes even marshmallows on top in some family recipes, these dishes can be overly sweet.
To give this traditional Thanksgiving side dish new flair, harness the naturally sweet flavor of the root vegetable by roasting up some sweet potato stacks. This recipe takes sliced and stacked sweet potato medallions and roasts them in muffin tins with butter and herbs for a delicious savory-sweet combination with no added sugar.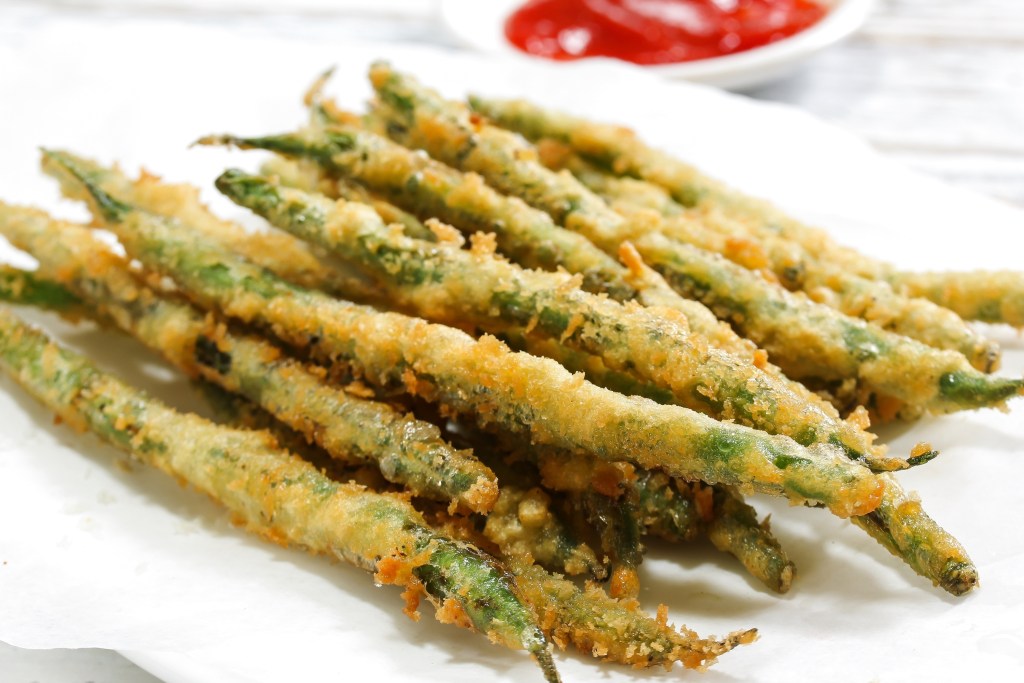 Tempura green beans
Green bean casserole is another dish that is either loved or hated. While it has the light and crispy punch of French fried onions and it even has those nutritious green beans inside, it can be quite heavy on the belly with all that mushroom soup and cream poured in.
If you're over this traditional Thanksgiving side dish, try this tempura green beans recipe, which crafts a light and crispy breading on the beans, and includes a recipe for a mouthwatering shallot dip. These green beans will surely appeal to everyone at the table with their salty, savory, and satisfying crunch.
Rye, kale, mushroom, and pumpkin seed stuffing
Stuffing is a fan favorite in many households, and every family makes it differently. With stale bread pieces and fatty sausage traditionally the main ingredients, it's a heavy Thanksgiving side dish that is not all that nutritious.
Jazz up your stuffing this year by adding in some hearty superfoods like kale and pumpkin seeds. You can even make this recipe meat-free for your vegetarian family members by swapping out the chicken stock for vegetable stock.
Dauphinoise potatoes
A staple in many diets and certainly many Thanksgiving dinners, traditional mashed potatoes are often a fan favorite at the holiday dinner table. If you're tired of them though, or if you want to try a new potato dish, you can swap out the mashed potatoes with a new and often forgotten classic potato recipe.
Originally made famous by Julia Child's recipe, Dauphinoise potatoes are also called scalloped potatoes or potatoes au Gratin. This dish is deliciously made with thin slices of potatoes that are smothered with butter, cream, herbs, and sometimes even crispy melted cheese. Potato lovers won't be disappointed.
Harissa-and-Maple-Roasted Carrots
Carrot dishes are traditional autumn dishes, and traditional glazed carrots make it onto the table of many families' Thanksgiving dinners. If you want to try a new spin on this fall recipe, try one with a punch of spice.
This flavorful version of roasted carrots combines maple syrup with Harissa paste for a delicious spicy-sweet combination your family will love.
While the holidays are a time for traditions, heirloom recipes, and overall family togetherness, there's no rule against innovating in the kitchen with new and exciting recipes. If you want to add a bit of your own taste and personal flair to this year's Thanksgiving dinner, try swapping out one or more of your family's traditional Thanksgiving sides for one of these new versions with a modern twist.
Editors' Recommendations