So you're ready to spring clean, but you're running low on supplies. Are you out of cleaning essentials, such as disinfectant spray, wipes, soaps, sponges, and vacuum bags? If you're eager to do a deep clean of your home but you're on a tight budget, you'll want to know how to get cleaning supplies cheap.
There are many different ways to find cheap cleaning supplies. Some of them require flexing your DIY skills, while others involve couponing or getting a little resourceful. For a fabulous spring cleaning that won't break the bank, try these eight creative ways to get cleaning supplies cheap.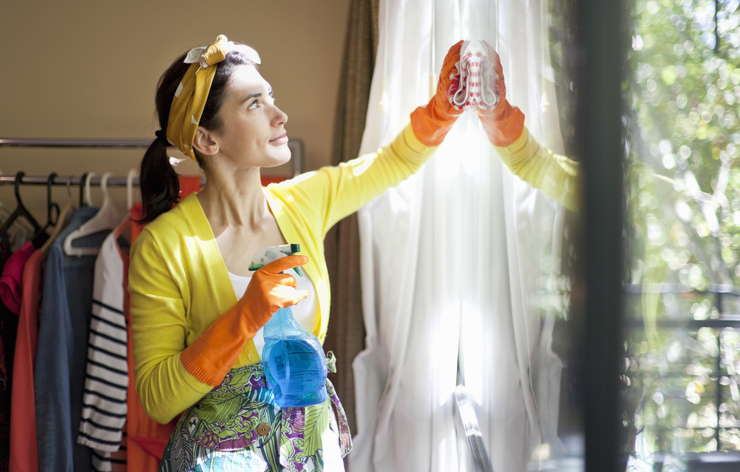 Use dish soap around the house
Dish soap doesn't have to be reserved only for washing dishes. It can clean many other parts of your home, too. Dish soap is one of the most inexpensive cleaning staples out there. You can usually get a large bottle of it for a low price, and it will last you much longer than other cleaning liquids. Plus, its cleaning effects are not to be underestimated. Grab a sponge and some dish soap and you can scrub down countertops, bathroom wall and floor tiles, some furniture surfaces, and more.
Make your own all-purpose cleaner
If a spray cleaner is more your style, you can use dish soap to make your own. There are several different methods for creating a homemade all-purpose cleaner, but here's one we suggest. Mix together 1/2 cup of vinegar or rubbing alcohol with 2 to 3 cups of hot water. Then, add two to three squirts of dish soap, shake the bottle, and spray away!
Use reusable rags
Skip the paper towels and use reusable rags instead. Reusable rags or towels are cheap, not to mention good for the environment. Whereas you'd need to use many paper towels to get through your spring cleaning, just one or two rags will do. They're absorbent and easy to use, and they can be thrown in the wash to use again and again.
Go to the dollar store
Many of the cleaning supplies you need can be found at your local dollar or discount store. They might not be exactly $1, but they're still often cheaper than most other retailers! Dollar stores usually have plenty of different options for bathroom cleaners, along with brooms and dustpans, mops and mop buckets, dish soap, rags, and sponges.
Use coupons
If you have coupons for your local grocery store, drugstore, or convenience store, put them to good use to buy cleaning supplies. Coupons can be found in print circulars in your neighborhood. You can also get them through a store's email newsletter or directly on the store website or app.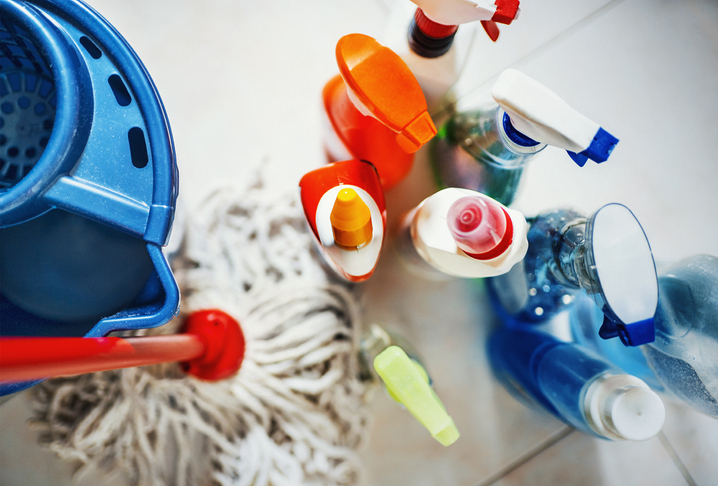 Borrow from a neighbor
If you're friendly with your neighbors or live near family or close friends, it might be a smart idea to borrow certain cleaning supplies. Maybe you need a new vacuum or mop but don't want to buy one just yet, or maybe you can't find a cheap carpet cleaner. Tag-team the job with a buddy so you can share supplies and help each other with spring cleaning.
Use vinegar
Many people keep vinegar in their cabinets. This household item makes a great multi-use cleaner. Use it to scrub your bathtub, glass doors, or tough-to-clean spots. Vinegar is rough on dirt and grime that may have built up in the corners of your home. There's no need to buy pricey specialty cleaners if you can just use some vinegar to give certain areas of your home a good scrub.
Buy store brand
As we said, fancy brand-name or specialty cleaners are usually unnecessary. To budget your spring cleaning, look out for the store brand at the grocery store or drugstore. Each store-brand item is usually at least $1 or $2 less than other leading brands. That all adds up to big savings on your spring cleaning supplies.
Spring cleaning will only cost you a fortune if you let it. There are so many simple ways to save money and get spring cleaning supplies cheap, including buying store brands, shopping at a dollar or discount store, or borrowing from a neighbor. These cost-effective methods will not only benefit your bank account but will also give your home the deep clean it deserves.
As spring cleaning season rolls around (or at any point in the year that you're cleaning the house), consider buying cleaning supplies cheap. Whether you create your own all-purpose cleaner or stash away coupons to buy supplies, your wallet and sparkling clean home will thank you.
Editors' Recommendations