Having indoor plants is nothing new. Homeowners have long understood the healthy benefits of indoor plants; not only do they soak up carbon dioxide to make the air you breathe cleaner and better for you and your family but, they also provide a design element that shouldn't be overlooked. Living, breathing plants add color, warmth, texture, and dimension to any setting, and when displayed properly, they can actually become the focal point of a room.
You'll want to be mindful of which direction your window faces and the amount of light that shines through so you can select your plants based on light requirements. Measure the windowsill space and choose windowsill planters and pots that fit. Always water plants thoroughly, and use a drainage container beneath pots to avoid water damage on the windowsill. Check plants regularly during the first few weeks for signs of stress, cold, or water irregularities.
Finding the best plants for windowsills for your indoor garden can be difficult, but we'll help you liven up your windowsills with these great plants!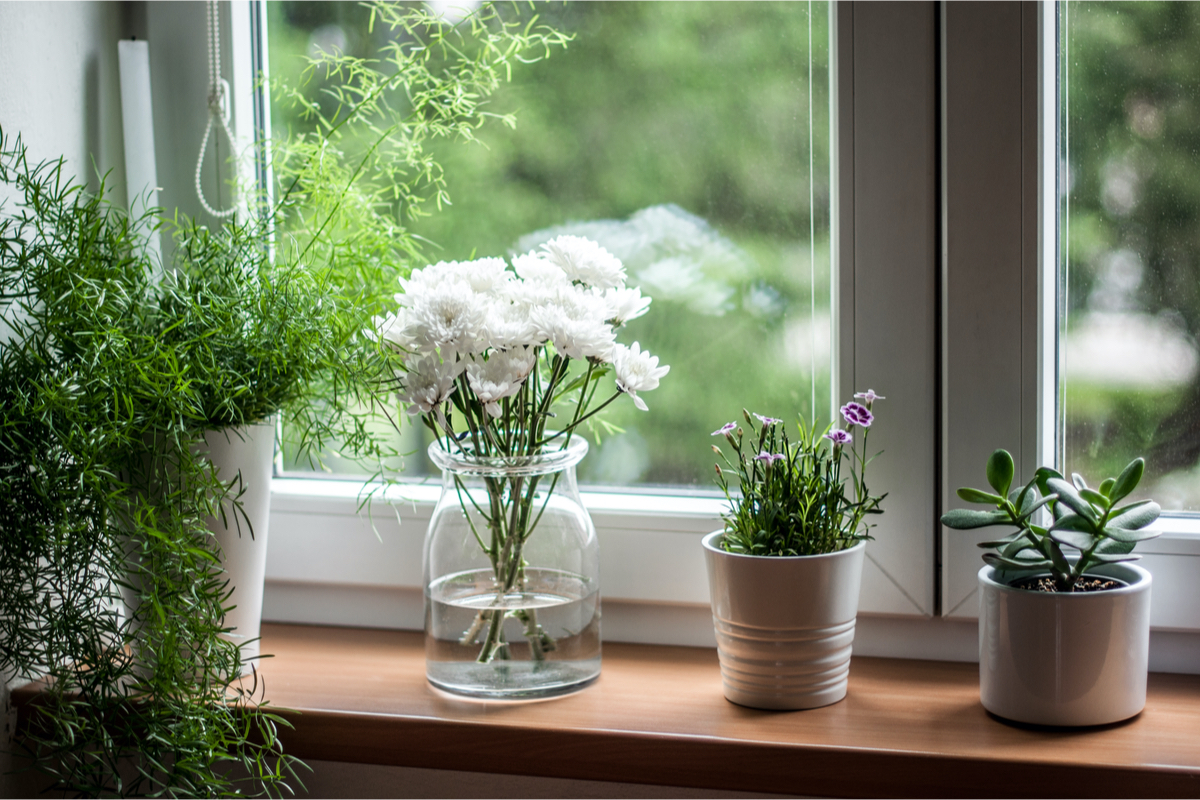 Good: Succulents
If you're looking for low-maintenance plants, there is no better choice than succulents. There are many different succulent varieties available for your windowsill garden, and the only real care they demand is consistent warmth. Be careful not to overwater.
Use glass jars or terra cotta pots in different shapes and sizes for maximum appeal. Succulents can be packed together in a single planter or alone, so they have plenty of room to spread out and grow. Use a base of gravel or small rocks beneath potting to give the succulents the extra drainage they require. Just a little water will do — succulents prefer drier soil to really thrive.
Better: African violets
Want to add a little bit of color and fragrance to your windowsill garden? Many flower varieties thrive on a sunny windowsill, including geraniums, hyacinths, and daffodils.
But our absolute favorite flower for a windowsill garden is African violets. Available in purple, white, and red color variations, African violets thrive in bright, indirect sunlight. Because they don't require a dormant rest period, they can actually bloom all year round. A low-maintenance flowering plant, African violets do best in containers that allow watering from the bottom. For best results, keep moist, maintain humidity, and move to a larger pot as needed.

Best: Herbs
Perfect for growing in smaller spaces, herbs are the most readily found plant category for windowsill gardening. When planting in a kitchen window, your little garden provides a constant source of fresh herbs for cooking. You can even group several herbs together in a single windowsill planter, providing they have similar water needs.
Love fresh mint? Give it its own container; it grows abundantly and will crowd out any other plant it's with. And, you can't beat the aromatic appeal you'll find with a fresh rosemary plant.
Whether you have extensive gardening experience or you're a veritable 'green thumb' novice, it's so easy to brighten up your home with live plants grown right on your windowsill. With our Good, Better, and Best picks for the best windowsill plants, all you need to do is pick the perfect sunny windowsill. Get ready to bring the garden indoors all year long.
Editors' Recommendations