Herbs are a delicious addition to so many dishes, so how great would it be if you could grow your very own herbs inside? Many of them flourish indoors when you have the right setup. And then there are some great, hardy herbs out there that can survive nearly anything. No need to have a green thumb when it comes to these indestructible plants. Check out some of the best indoor herbs and some other tips and tricks to get you on the right path to plant success.
The 13 best indestructible indoor herbs
Herbs oftentimes attract insects and other pests, so growing them indoors is a huge benefit. Here are some of the hardiest herbs that you can grow in your very own home:
Basil

.

Basil is a staple in nearly all kitchens, and is perfect for adding some fresh flavor to Italian classics like pizza, tomato sauce, caprese salad, soups, and so much more. You can blanch basil in hot water, dry it, and freeze it for later use.
Chives

.

This herb packs plenty of flavor in its hollow stems. Chives are best used fresh and can be a tasty addition to comfort classics like baked potatoes, soups, omelettes, and more.
Mint

.

The fast-growing nature of mint means that it should be kept in a separate pot to ensure it doesn't overcrowd other herbs.
Parsley

.

Parsley is known for having very long roots, so it grows best in taller pots.
Oregano

.

This Italian and Greek staple is a delicious herb to have around. It grows beautiful, bushy green leaves for you to chop up and add to your dishes.
Thyme

.

Thanks to its hardy structure, thyme is great for growing in nearly any environment. This tough plant is perfect for soups, vegetables, and meats.
Rosemary

.

This fragrant herb will bring a lot to your indoor herb garden. It has a powerful flavor, so a little goes a long way.
Bay Laurel

.

You may be more familiar with the term bay leaf. This plant produces this lovely leaf that is perfect for all types of cooking.
Cilantro

.

This zesty herb has a very distinct flavor that you can't miss. It is commonly utilized in Mexican, Asian, and Mediterranean dishes.
Sage

.

There are many varieties of sage, so it is important to find the best one for indoor growing. A common type is the Dwarf Garden Sage plant.
Dill

.

When looking for dill, or dill weed, it is important to differentiate it from dill seeds, so make sure you don't get them confused! Dill weed is great for adding to mustards and other sauces.
Tarragon

.

This classic French herb is ideal for indoor growing, just as long as it has access to plenty of sunlight.
Coriander

.

This herb is oftentimes used in different types of cuisines like Indian, Mexican, and others.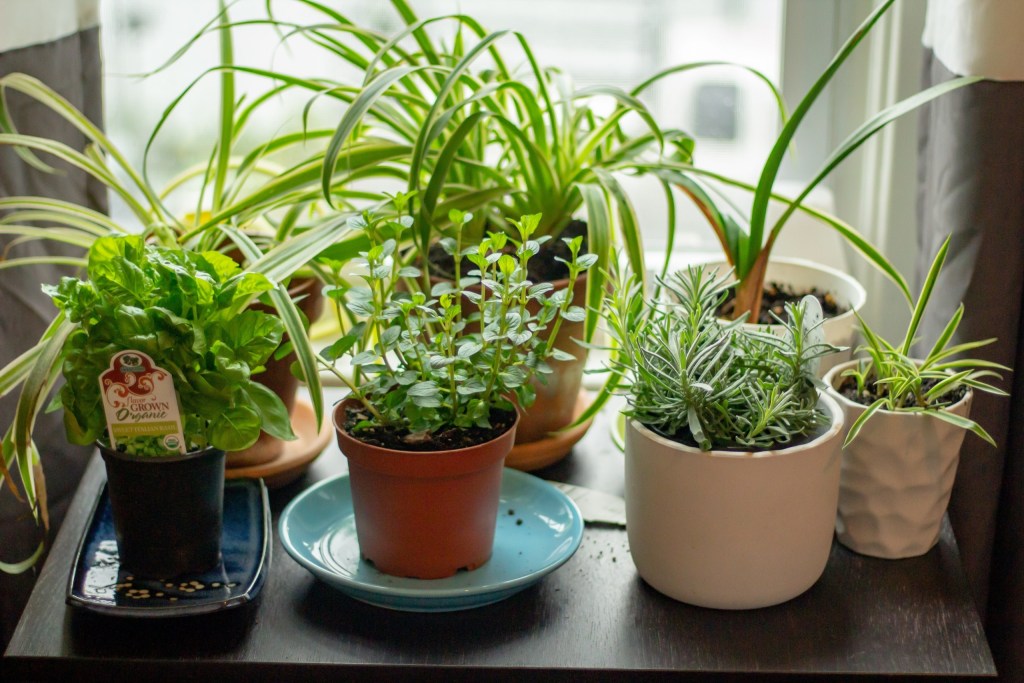 What is the best indoor herb garden kit?
The Spruce lists quite a few indoor herb garden kits. When it comes to picking out an indoor herb garden kit, there are a few things to look out for. There are hundreds of great options online to choose from, so the selection process is all about preference and finding the right herb kit for you. It can be helpful to purchase a kit that has something similar to the following items:
Seed varieties of your favorite herbs

Seed trays

Humidity dome

Full-grown herb plants

Pre-potted herb plants

Pots

Soil disks

Step-by-step instructions and tips

Markers for labeling each herb type

Lighting fixtures
It all comes down to your own preference and how involved you want to be in the process. If you want to start from scratch, then a kit with seeds may be the best option. If you want a head start, then pre-potted, full-grown plants are the way to go.
Is it worth growing your own herbs?
The question of "is it worth it?" all comes down to individual preferences. If you love gardening and/or fresh herbs, then having your own indoor herb garden is definitely worth it. You can have a great time harvesting your herbs and using them in your own delicious dishes for that fresh pop of flavor.
What herbs will grow together?
Before you start trying to grow every herb you can think of, it's a good idea to have a plan. Certain herbs can grow well with others because they are more compact and don't tend to spread as much. It is also important to consider how much water and sunlight each herb likes for the perfect pairing. The Gardening Channel says some of the best herb partners include:
Sage, thyme, and oregano

Basil and parsley

Cilantro and dill

Chives and dill

Coriander and parsley
Herbs that need their own pot include:
There is a lot to consider before you start your indoor herb garden, but choosing the hardiest herbs is a great first step. Choosing an herb kit that best suits your preferences is a great way to ensure that indoor herb gardening is a pleasant and easy experience for you to enjoy. Don't forget to center your garden around your favorite herbs, so you always have enough on hand for cooking.
Editors' Recommendations