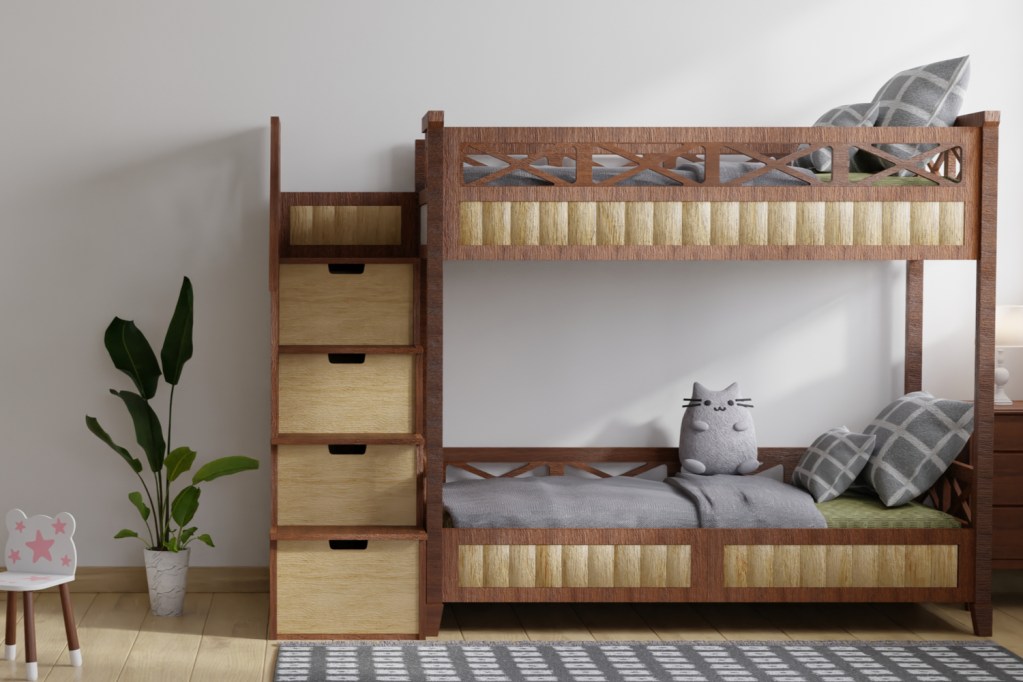 It's not always practical to have one bedroom per kid, especially if you live in a home that has limited space or bedrooms to choose from. Additionally, many bedrooms can be quite small, presenting several challenges when it comes to saving space while also organizing your kids' clothing, toys, etc.
Thankfully, this video on TikTok shares a fantastic small bedroom design to help maximize space for two kids to make the room more functional and practical.
Start with the bunk bed
HomeCraft on TikTok shares a 3D model of a small room that can only fit two children comfortably. The room is shown as being three meters by 3.6 meters (nine feet by 11.8 feet), making it challenging to try to squeeze two beds, two desks, and a sizable closet for two kids. One of the first things the creator suggests in this video is to start with the bunk bed.
Bunk bed setups are fantastic for saving space in a small room. HomeCraft takes a unique approach to the bunk bed setup by off-setting the two beds rather than using the traditional method of placing one atop the other. The offset utilizes the window ledge for a small staircase to the top bunk as well as additional storage.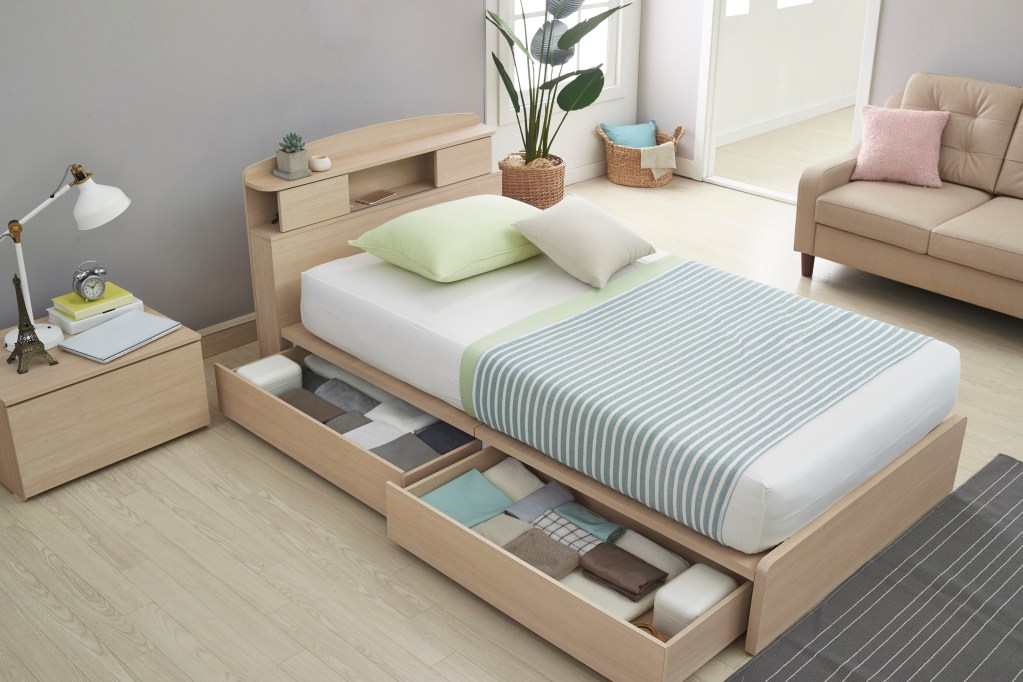 Utilize under-the-bed storage ideas
Following the bunk bed layout, HomeCraft utilizes the space beneath both beds for additional storage. Beneath the top bunk, a small closet can be built with partitions to store hanging clothes and larger items. The room beneath the lower bunk can be perfect for storing toys and other kids' items for easy access and organization.
Under-the-bed storage comes in a variety of ways. From small built-in closets to large pull-out drawers, there are several storage solutions to use in your small bedroom design.
Consider a wall-mounted desk arrangement
HomeCraft presents several small bedroom ideas that are unique and functional. One of the most intriguing suggestions is to add dual, wall-mounted desk arrangements for additional storage and to create separate workspaces for both kids. In the video, HomeCraft says to "position a large desk in the middle of the room and use the ceiling space for an inverted ceiling closet as a partition." This provides additional storage space and a visual divide within the room to give each child their own work area.
The built-in shelves above the desks also provide more room for bedroom decor where each kid can show off their personality and sense of style. It gives more square footage for decor and prevents clutter from piling up on the floor.
This small bedroom design is practical, functional, and filled with organizational tools to keep the room tidy and uncluttered. The storage solutions presented in the video highlight some amazing and unique ways to design the space while also maximizing the room you have for clothes, toys, and other necessities. When choosing a layout for your kids' small room, consider uniquely utilizing bunk beds or maximizing storage in different spaces to create the perfect space.
Editors' Recommendations