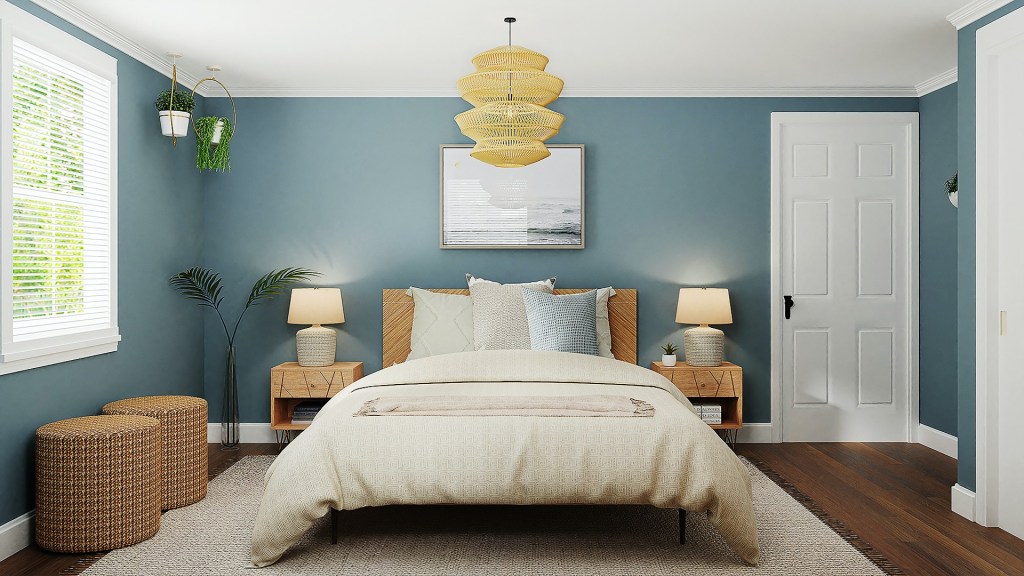 Want to feel like you are on vacation without having to leave home? Why not turn your bedroom into a beach-inspired oasis. Coastal, nautical, or beachy—no matter what you call it, this timeless look has a way of making any room feel like a restful retreat. The best part? Even if you are miles from the shoreline, no beach is needed. Here, we share our coastal bedroom ideas to transform your space into a serene sanctuary.
Start with color
As with any design, the first step is creating the perfect backdrop. Beach-inspired bedrooms pull from nature. Blues represent the ocean and sky, beige and tans the sand, and white the foam of crashing waves and puffy clouds.
If you are looking to create an open, airy space, try soft blue on the walls. When paired with tans and whites, this will create a dreamy, relaxing feel. Benjamin Moore's Iceberg (Iceberg 2122-50 | Benjamin Moore) is a muted blue with just the right amount of soft color to contrast. This hue will invoke the feeling of ocean breezes and tranquil shorelines. For a richer shade of blue, try Benjamin Moore's Nantucket Fog (Nantucket Fog AC-22 | Benjamin Moore). It offers a bit more depth but pairs perfectly with neutrals like tan and gray.
If you want to amp up the color, add in splashes of coral, deep turquoise, navy, or red. We especially love Benjamin Moore's Coral Reef (Coral Reef 012 | Benjamin Moore) as a bright accent color for a beachy bedroom vibe. You can add it in small doses throughout the space—try painting a mirror frame, small table, or a dresser to bring more personality to the design. If you are looking for a classic deep blue, Sherman Williams' Naval (Naval SW 6244 – Neutral Paint Color – Sherwin-Williams (sherwin-williams.com)) is a timeless shade.
Wallpaper is another way to bring in the theme. However, an entire room covered in wallpaper can be overwhelming. Instead, consider adding a fun paper to one accent wall. In a bedroom, this would typically be the wall the bed is on. To give your room a custom look, apply wallpaper that ties all the colors used in the space to the back of shelves or on the insides of door panels. This is a cost-effective way to make a space feel individual.
Bring in organic materials
How can you bring in a coastal feel without being literal? Organic elements are a great way to convey the theme—start on the floor. Natural fiber rugs give you a neutral base and help define different zones in the room. Want a softer feel for the bedroom? You can find chenille and jute blends like this one from Pottery Barn (Chenille Jute Basketweave Handwoven Rug, 8×10′, Natural | Pottery Barn) that offer the look with more comfort underfoot.
Wood and natural fiber bring warmth to an aesthetic. Weathered wood headboards, tables, and dressers echo the feeling of driftwood or an old wooden ship. Bamboo shades paired with gauzy white curtain panels are an easy way to bring the feeling of ocean breezes to a room instantly. By adding pieces that look aged and worn, your design will have more depth and character.
Create the perfect bed
In a bedroom, the bed is the focal point, and in a coastal-inspired one, it should elicit the serenity you feel when you are at the beach. Putting together an inviting bed is all about layering. Start with sheets, add a textured blanket, fold a quilt at the bottom, add layers of pillows in different pillowcases and shams, and top it off with accent pillows.
Your bedding doesn't need to have sailboats and whales on it to get the beach look. Again, think more about color. Soft blues, sandy tans, and crisp whites work well. Throw pillows are a great place to bring in more playful prints and patterns and offer more flexibility if you want to mix it up down the line.
Dress the walls with art
The key here is remembering that less is more. Hold back on kitschy pieces and find a few that are the right scale for the room. One striking large print or a trio of complementary ones will have a greater visual impact than many scattered pieces.
Add in accessories
Here is where you can add the finishing touches. Small, well-chosen accents can drive home the beach theme. A dish of shells or sea glass, sculptural driftwood, classic starfish propped on a shelf or displayed on a tabletop, and plants that echo what you would see at the shoreline are all good examples.
As you are selecting pieces such as lighting and storage, make sure they support the look, too—baskets with an earthy vibe, an accent light with an ocean blue glass or rattan base, and cozy throws that invite relaxation. With those final additions, your room is sure to be a place you will look forward to escaping to each night.
Editors' Recommendations